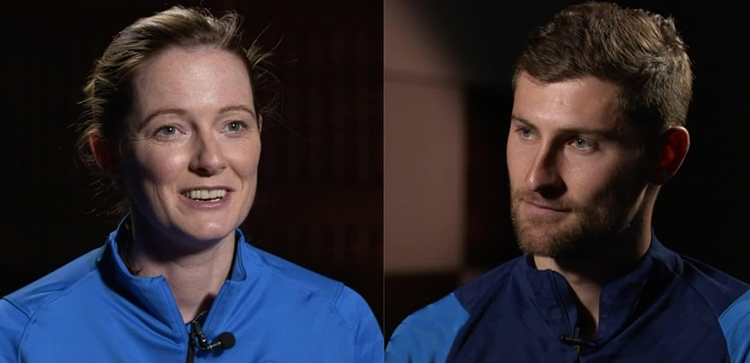 Ben Davies and Helen Richardson-Walsh speak up on Rainbow Laces
@SpursOfficial
Wed 01 December 2021, 17:30|
Tottenham Hotspur
Ben Davies and Olympic gold medalist Helen Richardson-Walsh sat down recently to show their support for Stonewall's Rainbow Laces campaign.
As well as her role as part-time Performance Psychologist with Tottenham Hotspur Women, former hockey star Helen is also a Patron of Proud Lilywhites, the Club's official LGBTQ+ supporters' group.
Ben and Helen sat down to talk about this year's Rainbow Laces campaign which is encouraging people to 'Lace Up and Speak Up', emphasising the importance of holding open conversations in support of LGBTQ+ communities.
During their talk, Ben and Helen had the opportunity to speak about how the power of sport brings people together, why it's important for fans to see their club captains of both the men's and the women's teams wearing the rainbow armband and why it's vital everyone continues to speak up against all forms of discrimination.
Helen said: "This year's Rainbow Laces campaign, Lace Up and Speak Up, is so important – this is exactly what is needed as we continue to strive to make sport a safe space for all LGBTQ+ people. Visibility is crucial and it continues to play a vital role, but if we are to really drive meaningful change, we must start conversations with those around us, call out discrimination when we see it and make commitments to welcoming the LGBTQ+ community to sport."
Ben commented: "I am incredibly proud to be part of a Club where equality and inclusion is at the heart of everything we do. Campaigns such as Rainbow Laces help raise awareness and spread the message that football is everyone's game."
Our team captains will wear rainbow-coloured armbands in our upcoming games and our stadium will be illuminated in rainbow colours at tomorrow's Premier League match against Brentford.
The Club was one of the first to establish a LGBTQ+ Supporters' Association, with the Proud Lilywhites launched in February, 2014.
Since then, Proud Lilywhites has continued to work closely with the Club to help combat issues relating to homophobia within the game and create a safe and inclusive environment for lesbian, gay, bisexual, and trans fans.
The group regularly runs training sessions and educational workshops for Club staff and matchday stewards, with the Proud Lilywhites signature flag on display at all home matches.
Proud Lilywhites membership has grown to over 700 and in 2018, the group was awarded the Fans for Diversity Award by the Football Supporters' Federation.
As a statement of support for the LGBTQ+ community, in 2020 the Club launched a Proud Lilywhites merchandise range, dedicated to celebrating our LGBTQ+ fans and allies. The rainbow colours and pride flag feature on a range of different products including accessories, homeware, stationery and clothing which are all available to purchase online and at The Tottenham Experience.
Last year, the Club was honoured with the Professional Game Award at the first ever Football v Homophobia Awards. The Club was recognised for showing dedication to improving the landscape of football for LGBTQ+ people and who have worked in numerous ways to create better inclusion and participation at all levels of football.
Through the Tottenham Hotspur Foundation, the Club also runs a number of projects within the community aimed at promoting inclusion for all, including educational workshops for local school children.
To find out more about Proud Lilywhites, visit www.proudlilywhites.uk.