Alfie Whiteman: Surviving in Sweden, on and off the pitch
@SpursOfficial
Tue 21 December 2021, 19:09|
Tottenham Hotspur
Venturing into town every day from among the southern Swedish forests where his apartment nestled, Alfie Whiteman relished the chance to branch out and play regular top-flight football during his loan spell at Degerfors.
Having made his competitive debut for us against Ludogorets in the Europa League last year, our home-grown goalkeeper joined the newly-promoted Allsvenskan side in August for the second half of the Swedish campaign, playing 13 consecutive games as they battled to avoid an immediate drop back to the second tier.
That goal was ultimately achieved on a thrilling final day of the season earlier this month as a 1-0 victory over Ostersunds, coupled with a goalless draw for rivals Halmstad at champions Malmo, made sure of their safety. The remarkable story of the club's survival in their first top-flight campaign since 1997 was captured by Swedish national television, with an eight-part documentary due to be aired in the New Year.
Unfortunately, an injury picked up in training the day before that dramatic finale meant Alfie was only fit enough for a place on the bench at Jämtkraft Arena. But having established himself as a key member of his club's squad, the 23-year-old was still able to celebrate a terrific achievement with his team-mates on the nine-hour coach journey back to Degerfors after the game.
"You could feel among the town, the team and everyone involved with the club, just how much it meant to them. It's a small town but everyone there just lives for the football club, so it was an amazing thing to be part of," said Alfie, who has now returned to London and reported back to Hotspur Way. "I got injured in training the day before the Ostersunds game, we had a long coach journey and there was hope that I'd be fit for the game so I travelled, but that night and into the next morning, it was decided that I wasn't fit enough to play, but they still needed me to sit on the bench because they had no other keeper. It was a real shame that I didn't get to play that last game, but we dominated, we missed a lot of chances and our keeper wasn't too busy in the end.
"Our game finished, we won 1-0 which we had to do, but there were five minutes of injury time in the Malmo-Halmstad game and if Halmstad were to have scored, they would have avoided the relegation play-offs and we'd have gone into them, so we were all in the middle of the pitch surrounding someone who had the stream on their phone, all watching and waiting for it to finish. As soon as their final whistle went, we just ran over to our fans and the celebrations started. We were in the north of Sweden and we had a nine-hour coach journey back, so the singing didn't stop for the whole time! Then we went straight to celebrate with all the locals. It was pretty surreal."
Although his loan ended in delight, there was frustration at the beginning, with Alfie forced to wait more than a fortnight for a work permit before he could take to the field. Joining Degerfors on 12 August, he finally made his league debut 16 days later against Mjällby, his first clean sheet following in a goalless draw with Varbergs BoIS on 2 October.
"It all came about really quickly – I literally found out one afternoon that I'd be going, I packed all my bags and flew out the next morning," he explained. "There was definitely a settling-in period and a need to get integrated into the team – when you're waiting to play, waiting for the work permit to come through and all the players are asking when you're going to be able to play, it's tricky to stay patient, but when I finally got to play, it was great. We had a tough start because the team had lost a couple of games and we continued to lose a few, so that was a real challenge coming in and trying to turn our luck around, but eventually we did, we managed to beat one of the big teams, AIK from Stockholm, at home which then started a run of four unbeaten, which was really great. We were one of the smaller clubs financially and facilities-wise, so every game was a fight and a tough test, every point mattered and it was really an experience for me to be in a relegation battle where people's jobs and livelihoods were on the line every week for those points. It literally did go down to the last day when we managed to stay in the league."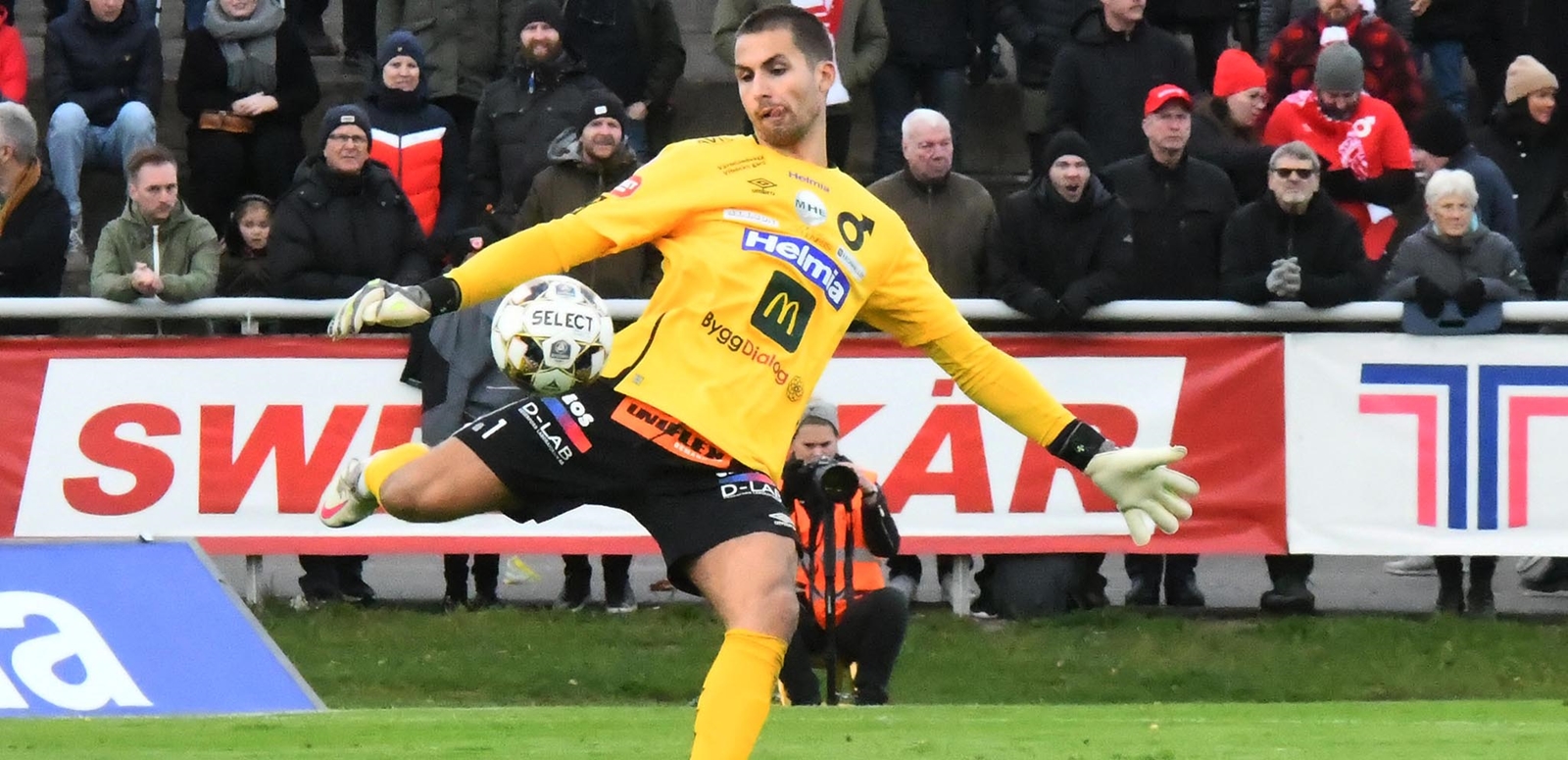 Degerfors has a population of about 7,000 and is renowned for metal production, but Alfie needed to call on his inner steel upon arrival as he was thrust into a new way of life. Living alone in an apartment 10 minutes outside Degerfors in Karlskoga, his friends and family were unable to visit him during the first few weeks of his stay because of a travel ban from the UK owing to the pandemic, meaning he spent much of his free time by himself.
"Degerfors was an old town, they had a steel factory, but I lived in a slightly bigger town called Karlskoga," he said. "There were forests everywhere, a huge lake, it was beautiful. At the back of my apartment, I had a forest that I would go on walks in most days, but then I was one train journey away from Stockholm as well so I would get the train there on a day off sometimes and it was really nice to explore that city. Sweden is a lovely place and luckily a lot of the people speak English – I was grateful that they could accommodate me. I started to learn a little bit of Swedish but it's such a different language to English, it was quite tricky with some of the pronunciations. I picked up a few basics and when I went into a shop, I'd start trying to speak Swedish but then they'd notice that I was English and they'd start speaking English to me instead! I knew it would be an adjustment but I was happy to take on that challenge – I'd been wanting to have an experience like that and test myself football-wise and as a person, putting myself outside my comfort zone with a new country and a new culture, so yes, it was a great experience and it helped me so much because it was amazing to get into the swing of playing games every week. I really noticed the difference when I got into the rhythm, so it was great in that respect as well and I'm thankful to everyone at Degerfors for having me."
Spurs fans have also 'noticed the difference' since Alfie's return to the UK – the final word has to be about his new bleached blonde hairstyle: "I was trying to fit in!" he joked. "Lots of people are blonde over there! When I went I had long hair because of the lockdown but then I decided to cut it all off. There wasn't a whole lot to do on certain days, so maybe it was a case of trying to spice things up a bit!"