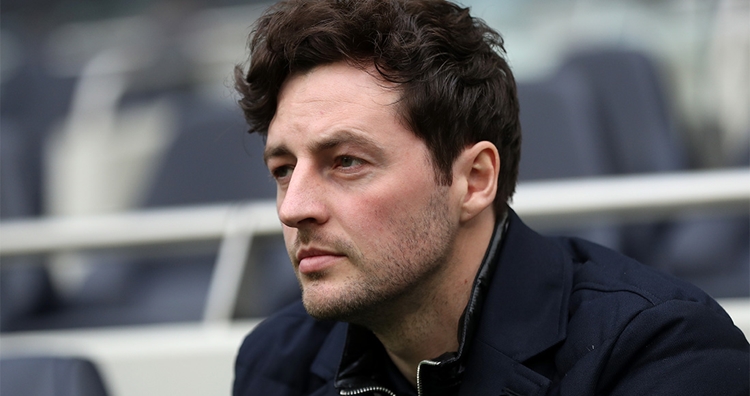 Ryan's five-point preview - Carabao Cup Final
@SpursOfficial
Sat 24 April 2021, 10:00|
Tottenham Hotspur
Our second preview with Interim Head Coach Ryan Mason takes us to Wembley and Sunday's Carabao Cup Final against Manchester City.
It's a journey he's made before both as an Academy player and fan in 2008, and as a first team player in 2015. But let's start with a whirlwind week…
1 - This week
Ryan took over as Interim Head Coach at the start of the week, won his first game in charge against Southampton on Wednesday and is now preparing for a cup final...
Ryan: "Crazy... it's been a mad week, so much change in my life but the most important thing has been to try to remain calm and good around the place, I know absolutely everyone who works here, so I've been made to feel comfortable, the players have been great, the result on Wednesday night against Southampton helped and everyone is looking forward to the final on Sunday. I've said all along it's not about me, it's about the football club. I was asked to come in and help the team, the players and the football club, and at the moment it's going okay, early days, but the feeling around the place is good, and when you win games, that's the most important thing. The group feels positive, the energy is good, we're happy."
Did he watch the Saints game back? Did he get to sleep on Wednesday night?
Ryan: "I've not watched anything! I've kind of shut myself away from everything because my mind has been consumed with preparation. Wednesday was massive, we had such a short space of time, but in terms of sleep, Thursday night was the first night I've had a good night's kip! I actually fell asleep with my son, he's only young, at half-past seven. I needed that!"
2 - Team news
Ben Davies remains out, Joe Rodon is cup-tied - Friday's team news centred around Harry Kane's fitness...
Ryan: "It's still the same. Harry wasn't with the group today (Friday), and we'll see how he is tomorrow. Progress? Yes, definite progress. Like I've said all along, Harry is probably one of the most professional footballers in the world, and there will be no doubt that he'll be doing absolutely everything to get this injury gone as soon as possible."
3 - Wembley way
After being there as a fan and player, had Ryan thought about how it might feel to lead the team out in a Wembley final?
Ryan: "It sounds crazy, but I haven't really thought about it! I've just been trying to prepare the team. I was there for the 2008 final, involved in the Club, got tickets, watched it, and it was incredible to watch Ledley lift the trophy with Keano. Ledley was an Academy guy, came through the system, and being within the Club and seeing that was 'wow', something to aspire to. I had the opportunity as a player six years ago and the difference of emotions was huge. It was a surreal day. It just went like that. I try not to think about it too much, but it's often brought up, and the fact my career was cut short as well, I'd never get the opportunity to play in a final again, so that was difficult. Sunday will be great for the Club. It's important this Club is playing in cup finals, and we'll go there full of confidence."
4 - City
Champions-elect, City have won the League Cup for the last three years. What is Ryan expecting from Pep Guardiola's men on Sunday?
Ryan: "They are a great side, been together for a while, a manager with stability at the club, and the best team in the country at the moment, there is no doubting that. But it's a cup final and we'll go full of belief. We feel like there will be certain situations where we can hurt them and affect the game, and anything can happen. The most important thing for me was Wednesday's result, going into the final off the back of a win was much needed, and the pressure on Wednesday was huge to try to create that energy to go into the final. We did that, now we can focus on ourselves and have a good go at it."
5 - A final thought...
Our final question - what would it mean for Ryan and the team to lift that trophy on Sunday?
Ryan: "From a personal point of view, a lot, because I've been involved in the Club for such a long time, but I think, more importantly, for the fans, everyone involved in the Club, everyone who follows the Club... it's been a long time, and hopefully that ends at the weekend for everyone involved and associated with the Club."
Ryan on Spurs TV