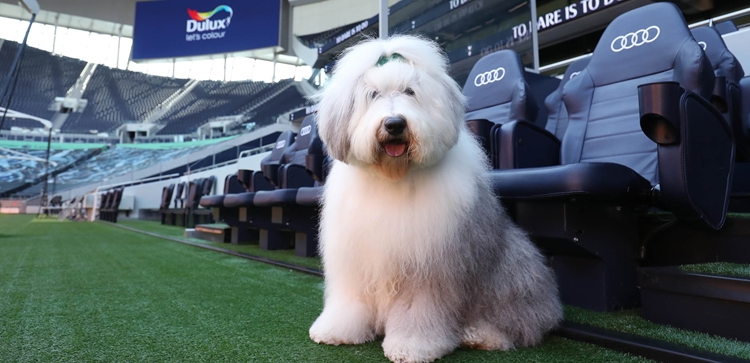 Dulux becomes Official Paint Supplier to Tottenham Hotspur
@SpursOfficial
Thu 15 April 2021, 09:00|
Tottenham Hotspur
We are delighted to announce Dulux, the nation's number one paint brand, as our first ever Official Paint Supplier.
The relationship will see us benefit from the unrivalled expertise in paint and colour that Dulux provides.
As part of the launch, the world-famous Dulux dog was given a behind-the-scenes tour of the Club's Stadium and Training Centre – tune in to N17 Live when we take on Southampton on Wednesday 21 April for an exclusive video!
Working together, Dulux colour experts have identified paint colour matches for our iconic Club colours – this innovative colour matching technology will be used to bring spaces throughout Tottenham Hotspur Stadium, Lilywhite House and the Training Centre to life in Club colours.
The Dulux Trade range of high quality paints is being used exclusively by the Club, with hard wearing Dulux Trade Scuffshield and water-based paints like Dulux Trade Diamond Eggshell and Dulux Trade Quick Dry Satinwood providing a formidable defence against wear and tear.
Nuno Pena, AkzoNobel Marketing Director for UK & Ireland, commented: "Our relationship with Tottenham Hotspur is a perfect synergy of two iconic British brands.
"Spurs are one of the best-known football teams in the Premier League and in Europe, while at Dulux we remain the nation's number one paint brand.
"Our extensive research and commitment to new product development means we can provide Tottenham Hotspur with high performance products that will tackle the most challenging of requirements, while also meeting the most stringent of environmental standards.
"These products will be combined with colour palettes that our colour experts have curated to focus on enhancing better health and wellbeing outcomes for staff, visitors, players and the coaching team.
"Together, we are joined by a shared passion for colour. Spurs fans will know only too well the powerful impact putting on their white and blue scarves and shirts has on a matchday, and as a business we're committed to using colour to transform lives.
"We know it's the small details that make the difference and give you the competitive edge – in sport and in decorating – and we're looking forward to expanding on our firm foundations to explore this power of colour together, in both the stadium and in people's homes, in the years to come."
Jon Babbs, Stadium Director at Tottenham Hotspur, added: "We are delighted to welcome Dulux as our Official Paint Supplier. It is important that we have the best products available as we strive to maintain excellence at our Stadium and Training Centre facilities."
For more information on the relationship, visit: www.duluxtrade.co.uk/tottenham-hotspur.