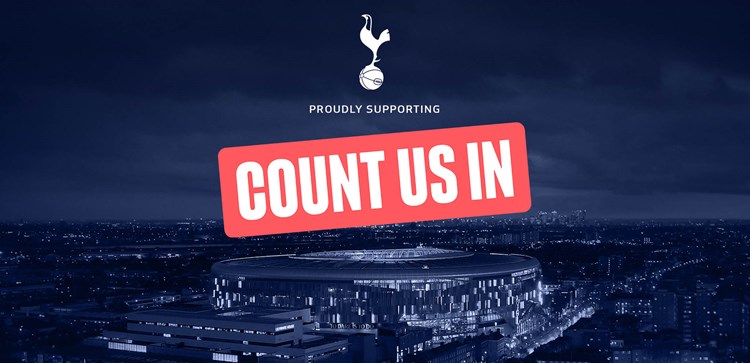 Tottenham Hotspur becomes founding partner of Count Us In
@SpursOfficial
Sat 10 October 2020, 09:00|
Tottenham Hotspur
Tottenham Hotspur is proud to become a founding partner of Count Us In – an unprecedented global movement aiming to mobilise 1 billion people to act on climate change.
Launched at today's TED Countdown, Count Us In aims to inspire citizens everywhere to take 16 practical and high impact steps to protect what we love from carbon pollution before it is too late.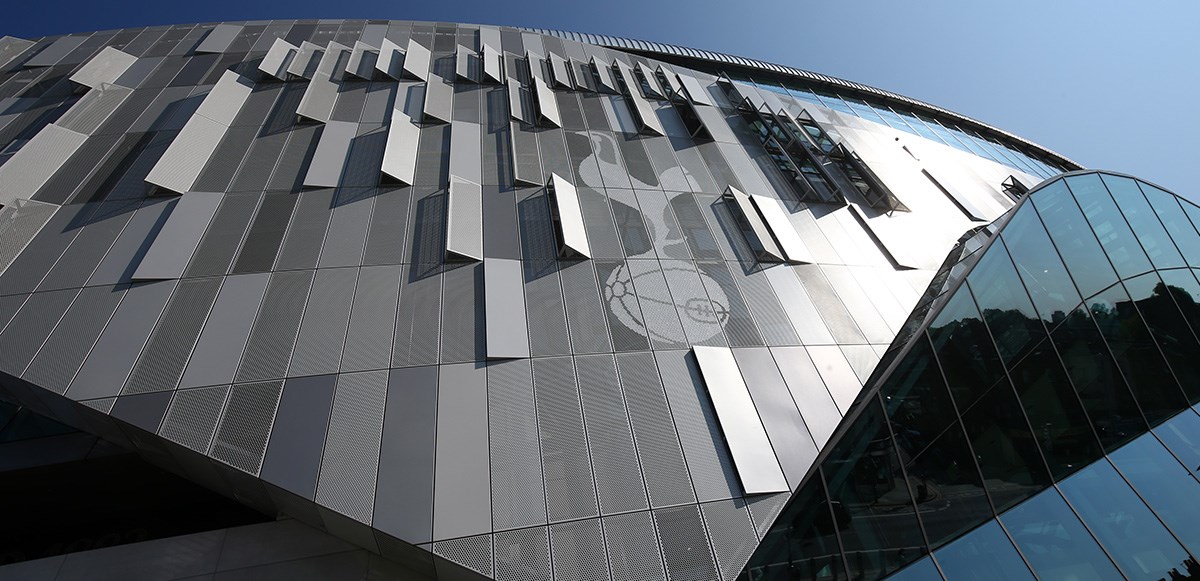 Tottenham Hotspur becomes founding partner of Count Us In
• Club joins global movement to mobilise 1 billion people to act on climate change.
• Count Us In champions 16 practical steps for people to take to protect what they love from carbon pollution.
• Campaign forms part of Club's commitment to minimising the environmental impacts of its activities across all operations.
Tottenham Hotspur is dedicated to minimising the environmental impacts of its activities across all Club operations.
We embrace initiatives and technologies that reduce our environmental impact whenever possible, working towards improving efficiency and sustainability across the Club at all levels – encouraging employees, suppliers and partners to do the same.
Daniel Levy, Chairman, Tottenham Hotspur, said: "As a Club, we have always taken our responsibility to care for our environment seriously.
"When we built our new stadium, one of the key aims was to make it one of the most sustainable stadiums in the world – we have implemented a range of environmental measures both here and at our Training Centre, and are always looking at what more we can do.
"We are proud to become a founding partner of Count Us In, using our global appeal and reach to encourage others to take simple steps, whether at home or at work, to address the issue of climate change.
"Prior to the pandemic, carbon emissions reduction and caring for nature and the environment was at the forefront of our minds. It is vital that it continues to be and we, as a Club, shall be playing our part in that."
We are offsetting our carbon footprint in a myriad of different ways – to date, we have planted thousands of new and semi-mature trees and tens of thousands of new plants, hedges and flowers across our Training Centre to establish an ecological habitat.
The Club was previously a founder member of the 10:10 initiative, which called on individuals, businesses, schools and other organisations to cut their emissions by 10 per cent in a year. This founder membership and the Club's work during that period has informed our policies moving forward since implementation in 2009.
We continue to lead the way with a range of sustainable measures, including:
• Recycling waste products generated across the Club and increasing waste diversion away from landfill.
• Reducing our single-use plastic footprint with the aim of eliminating its use across Club operations, seeking to source more environmentally sustainable materials and introducing a reusable cup scheme at the stadium on event days.
• Educating and inspiring young people in our communities.
• Promoting alternative forms of transport for fans and staff to and from the stadium and Training Centre that have a reduced impact on the environment.
• Identifying locally and sustainably sourced food options to be served at our stadium and Training Centre.
• Ensuring plant-based food options are available at our stadium, The M and Training Centre.
• Installing Solar Panels and air source heat pumps at our Training Centre to deliver renewable energy.
• Insulating the building fabric of our stadium to reduce heating and cooling demands, with LED lighting (including floodlights) and high-efficiency building services systems in place to reduce energy use.
• Minimising water consumption across the stadium with waterless urinals and low-flow fittings and fixtures.
• Installing a sedum 'green roof' to significant portions of the main Training Centre building to enable the capture and re-harvesting of rainwater across the site.
As we build towards the UN Climate Change Conference (COP26) in November, 2021, the Club will be delivering a range of activities involving its staff and players, aimed at engaging its global fanbase to take on any of the 16 steps advocated by Count Us In.
You can take on your own sustainability challenge today by visiting www.count-us-in.org.