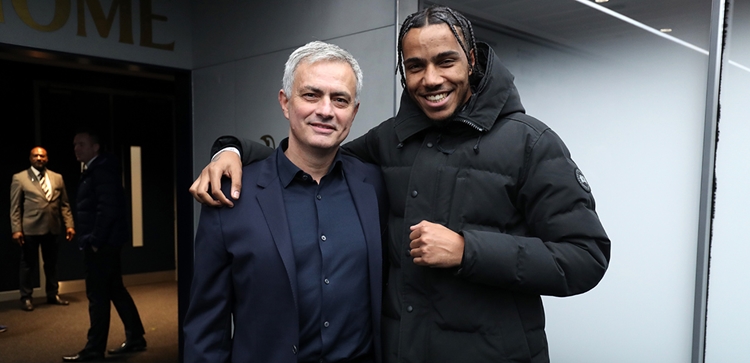 AJ Tracey is our special guest on N17 Live on Sunday
@SpursOfficial
Thu 15 October 2020, 17:38|
Tottenham Hotspur
AJ Tracey is our special guest on N17 Live as we return to action against West Ham on Sunday.
The rapper, singer, songwriter, and record producer will join presenter and fellow Spurs fan Ben Haines at Tottenham Hotspur Stadium for this eagerly awaited derby in the Premier League. Kick-off is 4.30pm, N17 Live will begin at 3.45pm.
Now one of the biggest grime/rap acts in the UK, AJ began raising eyebrows with the release of Thiago Silva with Dave back in 2016. That track went platinum, and he hasn't looked back.
False 9 provided the soundtrack to our Nike kit release in the summer of 2017, with AJ a billboard star of our kit promotion. The EP Secure The Bag soon followed and made it into the top 20 of UK charts. His first, self-titled album AJ Tracey dropped in early 2019, and climbed as high as number three. The single Ladbroke Grove also reached the top three and his last three singles - Rain, Dinner Guest and West Ten - have all made it into the top five.
AJ, from Ladbroke Grove, is very much 'one of our own'. "My dad used to live in Broadwater Farm (Tottenham), he supported Tottenham and the day I was born, he put me in a Spurs kit. It's been my team forever," he told us, back in 2017.
N17 Live
Unveiled on the return of football after lockdown in June, N17 Live has proved a hugely-popular destination for Spurs-focussed pre-match analysis, and we will now provide the quickest possible post-match reaction from Jose Mourinho and the players from our team at pitchside.
Fronted by lifelong Spurs fan Ben Haines, from 90min.com, the show can be accessed via our official digital  platforms - Facebook, Twitter, YouTube and the Spurs Official app - from 45 minutes before kick-off (3.45pm on Sunday), no matter where you are in the world. You will see the stream appear at the top of your feeds, and we'll be straight into the all-important team news with the players out to warm up soon after.
Stay with N17 Live right up until the teams walk out before tuning into your preferred broadcaster for the match itself - stay with Club channels for our live Match Centre, complete with live text and audio commentary, goal alerts and stats, via the Spurs Official app and tottenhamhotspur.com, as well as live updates on all social media platforms.
N17 Live will then return on the final whistle, when we will bring you the reaction of the men that matter as soon as possible.
Competition time!
Look out for a special competition during our N17 Live shows against West Ham and LASK in the UEFA Europa League on Thursday (8pm, N17 Live from 7.15pm) - we'll be giving away a copy of FIFA 21 for the PS4 (West Ham) and Xbox (LASK).