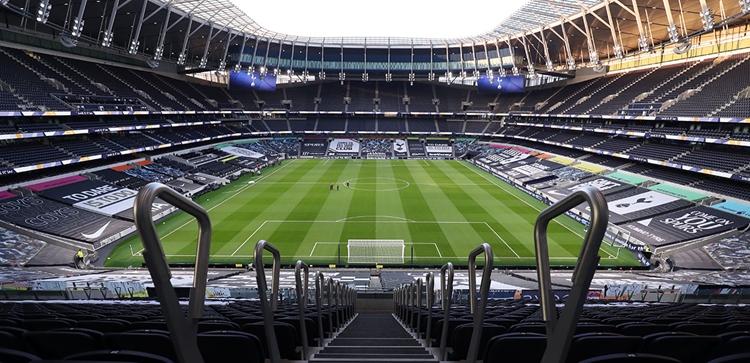 Fans to return to Tottenham Hotspur Stadium
@SpursOfficial
Fri 27 November 2020, 12:00|
Tottenham Hotspur
• The Club can confirm we shall be welcoming 2,000 fans back to Tottenham Hotspur Stadium for our Premier League clash with Arsenal on Sunday 6 December
• Season Ticket Holders and Executive Members now have the opportunity to access match tickets via ballots
• All match tickets will be digital and activated upon completion of a Health Questionnaire
• Supporters will be asked to agree to our new Code of Conduct for reduced capacity matches
We are pleased to confirm we shall be opening our doors to 2,000 fans at Tottenham Hotspur Stadium for the first time since March for our Premier League clash with Arsenal on Sunday 6 December.
This follows the Government's confirmation that London has been placed in Tier 2 of the new localised COVID-19 restriction measures.
Although we wish we were able to welcome more than 2,000 fans to attend such a huge north London derby match, this nonetheless represents a huge step in the right direction and an historic moment for the Club.
We are delighted that we can start to welcome back our Season Ticket Holders who have shown great loyalty in paying a deposit for their Season Ticket, and our Executive Members who have paid in advance for multi-year packages. This loyalty and commitment has been immense and greatly appreciated.
We shall be applying a proportionate allocation of tickets between Season Ticket Holders (including those on our Access scheme), Premium and other stakeholders, such as partners and affiliates.
Eligible Season Ticket Holders and all Executive Members will receive an email with further details on how ballots for the Arsenal match will operate in due course.
All Season Ticket Holders have recently been asked to complete a process of ID validation before returning to the stadium.
Any Season Ticket Holders who have not yet completed this process can do so via eTicketing.
As a reminder, supporters who have successfully deferred their Season Ticket to 2021/22 due to COVID-19 related medical reasons will not be eligible to apply.
By virtue of tickets being allocated via a ballot, and as is the case with all ballots, credits cannot be used for the purchase of General Admission Arsenal match tickets. Pricing is in line with the average price of a seat in the South Stand, which is where all General Admission fans will be located:
• Adults - £65
• Young Adults - £49
• Over 65 / U18 - £32.50
A booking fee of £1.75 will apply to all general admission tickets
Please note, to ensure our ticket allocation process is as fair as possible, any supporter who is successful in obtaining a ticket for the Arsenal match will not be entered into ballots for subsequent reduced capacity home matches, until such time as all Season Ticket Holders who wish to attend a match have had the opportunity to do so. Details on further ballots will be communicated in due course.
Given the restrictions on numbers permitted to attend, we are unfortunately unable to accommodate applications from One Hotspur Members or Official Supporters' Clubs for this match. We shall review this as capacities increase.
The attendance of away supporters is not permitted within the initial return of fans and will continue to be reviewed with Clubs by the Premier League.
Health Questionnaire and Code of Conduct
From 72 hours before kick-off, all match attendees will be emailed a link to complete a Health Questionnaire. The questionnaire is based on a set of Premier League-approved criteria for stadium entry. The purpose of the questionnaire is to confirm that anyone attending the match is not currently displaying COVID-19 symptoms and to gain agreement from attendees that, if they or any other member of their party do develop COVID-19 symptoms in the interim, that they will not attend. It will also ask fans to confirm that they are not travelling from an area that would restrict their ability to attend. By completing the questionnaire as accurately as possible to your knowledge, you will be helping keep yourself and your fellow supporters safe.
Only once the questionnaire is complete will your digital ticket be activated for the match.
The Club has created a Supporter Code of Conduct which we shall ask supporters to agree to before applying to attend the match.
This Code includes a commitment not only to respect the social distancing needs of others, but also to avoid any actions that may risk the health of fellow supporters and Club staff.
Ticket Delivery and Digital Ticketing
We are utilising our stadium's technological capabilities to introduce a fully contactless digital ticketing operation.
In addition to making the matchday entry process as smooth as possible, the new system has been designed to help protect supporters' health, safety and security by allowing us to:
• Reduce physical contact during the stadium entry process
• Understand who is inside the stadium on matchdays
Full details will be sent to those who are successful in the ballot.
Health and Safety
In addition to the digital ticketing process, the Club has implemented a range of new measures at its stadium to ensure the safety of fans when they return to matches.
Measures include:
• Timed entry of fans to avoid congestion at the turnstiles and outside the stadium
• Clear signage and walking routes within the concourses to enable social distancing
• Enhanced cleaning measures – including infection control fogging, electrostatic spraying and disinfecting – taking place pre, during and post event
• Hand sanitiser stations installed throughout the concourses, as well as in all washrooms
• A click and collect matchday food and drink service via the Spurs Official app, reducing the need for queues at our concessions
• COVID-compliant distancing between all tables and seating within our Premium areas, with buffet and self-service food stations removed
Further information on the new matchday experience will be communicated in due course.
Tottenham Hotspur Women
A limited capacity of fans will also be permitted for Tottenham Hotspur Women home matches played at The Hive, Barnet, starting with the Women's Super League clash against Brighton & Hove Albion Women on Sunday 6 December.
Ticketing details will be communicated in due course, along with COVID-19 protocols for attending matches at The Hive.
Thank you
We should like to take this opportunity to thank our fans for their continued patience and co-operation throughout what has been an incredibly challenging time for us all.
Although we are delighted to be welcoming our first fans back to the stadium in more than nine months, we understand the disappointment of the many that will be missing out on this occasion.
The Club continues to work closely with the Premier League and Government to identify ways to increase our attendances as and when it is safe and possible to do so.
We should also like to thank all NHS staff and key workers throughout the country, as well as the scientists engaged in developing vaccines to tackle COVID-19. Fans returning to our stadiums would not be possible without you.
We look forward to welcoming local NHS staff and key workers at the appropriate time – including those that have worked at our stadium during the pandemic - to enjoy a match.
Indeed, we look forward to welcoming you all back home soon – football has not been the same without our fans.
Should you require any further information at this stage, please visit Ask Spurs.