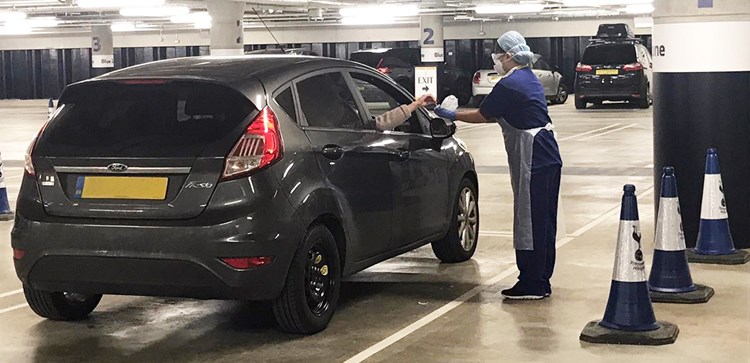 Stadium's drive-through COVID-19 testing service expanded
@SpursOfficial
Mon 04 May 2020, 17:00|
Tottenham Hotspur
North Middlesex University Hospital has expanded its drive-through COVID-19 testing and swabbing service at Tottenham Hotspur Stadium.
Our stadium became the first Premier League ground to be used for testing when the drive-through service was opened on 8 April, initially for North Middlesex staff and families.
Extra testing capacity is now being made available free of charge to key workers from other health and social care organisations, including care homes and the wider public sector, with COVID-19 symptoms.
Key workers in the health and care sector who require a test due to displaying symptoms should call the North Middlesex stadium testing hotline between 10am – 3.30pm, Monday to Friday, on 07561 699185.
Those who are clinically appropriate for swabbing according to latest national guidance will be allocated a testing slot, normally within 24 hours of their call, and will receive their results by phone or text.
Maria Kane, Chief Executive of North Middlesex University Hospital, said: "Whether locally or nationally, the NHS can only ever look after people in the way our local communities value so highly by working hand in hand with partners, and that's particularly true when it comes to colleagues in social care.
"So we're very pleased to be able to extend our staff testing facilities free of charge to partners in the care sector and other health providers, and continue to be grateful to Spurs for their ongoing support and their own commitment to our local community in these challenging times."