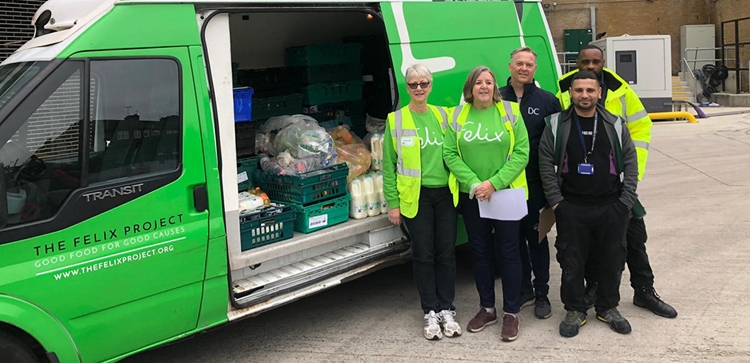 To Care Is To Do
Jose and staff head into community
@SpursOfficial
Tue 24 March 2020, 10:00|
Tottenham Hotspur
These are challenging times for us all and the Club is committed to supporting its staff, players, fans and its local community as we battle through the COVID-19 pandemic together.
Football is no longer the priority and our focus has switched to doing what we can as a Club to help those around us during this time.
Jose offers support to local elderly residents
Jose Mourinho and his coaching staff headed out into the local community in Enfield on Monday to assist elderly residents currently in isolation.
Our Head Coach has been working with the Enfield branch of Age UK and Love Your Doorstep, the force behind Enfield's 'Partnership Cornavirus'. Love Your Doorstep work with 40 local charities, including Enfield Age UK - they now have over 700 volunteers - to identify those in need within the area and deliver vital supplies such as food and medication.
Age UK is the nation's leading charity for older people, providing information and advice, health and care, and activities for millions across the country with no friends or family support to turn to.
The charity has recently launched its Coronavirus Appeal - you can donate via the link at the bottom of this page - with their services never more in demand following recent government guidelines introduced around social distancing for the over 70s.
Age UK is working hard to ensure vital information, advice and befriending services can continue to safely help the older people who are reaching out to them during these deeply worrying times.
Jose visited Age UK's base in Enfield to pack supplies going out to those who need them most in the local community and raise awareness of the work of Enfield Age UK and Love Your Doorstep.
He said: "I came to give some support to Age UK, Enfield and Love Your Doorstep, Enfield, to help people in our Club's local community. It is a difficult time for everyone right now, particularly among the elderly, so I want to offer my assistance in any way I can.
"Any help that anybody can offer can make a huge difference to people's lives right now – we should all be thinking about what we can do to help each other because there are many vulnerable people that could face struggles during the period we have ahead of us."
Emma Rigby, Founder and Director, Love Your Doorstep, added: "We're co-ordinating the approach in the Borough to combat the coronavirus, working with over 40 charities and we've now over 700 volunteers ready to help on the ground. We're mobilising food across the Borough and communicating regularly with all of our charities and the local community. Age UK are one of our partners and they refer elderly people to us and in turn, we're referring people back to them for the services they offer."
To find out how you can support Age UK's Coronavirus Appeal and locate your local branch, visit:  https://www.justgiving.com/campaign/ageukenfield
Find out more about Age UK and Love Your Doorstep:
Age UK on Twitter
Age UK, Enfield on Twitter
Age UK's official website
Love Your Doorstep's official website
Love Your Doostep on Twitter
Introducing #SpursAtHome
Across our social media channels, we want to see what Spurs supporters are getting up to. From garden goal recreations to home workouts and challenges, if you're getting creative at home, we want to see it.
Make sure to tag your photos and videos with #SpursAtHome and we'll be sharing our favourites across our channels - just like this 'trampoline tekkers' below!
Trampoline tekkers! 👏#SpursAtHome ⚪️ #COYS pic.twitter.com/MTSgw9W2o0

— Tottenham Hotspur (@SpursOfficial) March 23, 2020
Shape Up With Spurs
Your Monday motivation!
As part of our new #SpursAtHome campaign, we brought you the first in a series of video home workouts delivered by our coaches on the Tottenham Hotspur Foundation's 'Shape Up With Spurs' programme on Monday.
With gyms and leisure centres across the country now closed and social distancing measures introduced, we aim to ensure you can stay fit and active from home.
'Shape Up With Spurs' is a free programme delivered at community centres within the Tottenham area to promote health and wellbeing among local residents.
Food donations
Surplus food and drink at the stadium intended for upcoming events has been donated to the Felix Project - a London-based charity which aims to tackle food waste and hunger in the capital.
On Thursday, the produce was delivered to a number of local good causes within the Tottenham area, including:
- Bruce Grove Youth Space: For young people in Haringey who are aged between 11-19, offering a wide range of informal learning opportunities to enable young people to feel safe, to develop as individuals and to participate, and contribute, as valued members of the community.
- Project 2020: Set up on the Northumberland Park estate by Homes for Haringey in response to summer disturbances that took place in 2011 for young people aged 16-24 not in employment, education or training. Project 2020 aims to engage and support these people into career pathways by offering a bespoke training option, popular activities such as a pool table and a music recording studio alongside a weekly job club.
- Haringey Play Association: Based at Somerford Grove Community Project, supporting play providers, the voluntary sector, children, young people and their families at a local and regional level. The giant adventure playground is entirely free for local school children.
- Grace Organisation: An elderly care home based on Whitehall Street, opposite the stadium, offering services to older people to enrich their lives and help them live independently.
Keeping you fit and active while at home
Although all programmes involving direct social contact have been suspended until further notice, the Club's charitable arm is continuing its delivery with the use of technology to some of our most vulnerable participants.
On Thursday, the first ever virtual yoga session was held for those on our Move 4 You cancer rehabilitation programme.
One participant commented: "That was great! Thanks so very much for the yoga class – it was a whole new experience to do it that way and exciting to feel part of the 21st century. I feel so boosted for having seen everyone and participating in the class. It's surprising how quickly we are affected as humans by a lack of social interaction. The yoga was perhaps a little faster and more athletic than we're used to but very good for us! Marvellous. Thank you."
We are currently trialling the delivery of virtual seated exercise classes to be delivered within the elderly care homes we operate in and will bring you further updates.
Activities for school children
With schools across the UK closing from Friday afternoon, we're aware many parents and guardians will be scratching their heads at how they can keep their young ones entertained during this period.
Coming soon, we shall be releasing a Spurs-themed educational resource pack that will include the following:
- Activities inspired by our new stadium
- Spurs-themed word searches, puzzles and crosswords
- Healthy eating tips inspired by our players
- Family-friendly workout suggestions
- The chance to learn more about the history of our Club
Watch this space!
🌍 Wherever you are in the world, we're with you. 💙#SpursAtHome ⚪️ #COYS pic.twitter.com/W67I83dZ51

— Tottenham Hotspur (@SpursOfficial) March 23, 2020
Let's all come together as a Spurs Family at this time and ensure we all come out of this period stronger.
To Dare, To Do, Together.