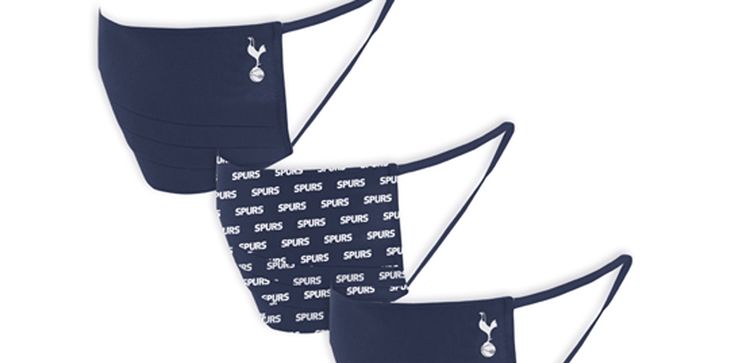 Spurs face coverings available for pre-order
Wear your colours and support our local communities
@SpursOfficial
Fri 05 June 2020, 17:00|
Tottenham Hotspur
The Club is giving fans the chance to wear your Club colours while supporting those who are most vulnerable within our local community.
Spurs-branded face coverings are now available to pre-order online in the UK only, with international fans able to pre-order from next week.
For every face covering sold, we shall donate a protective face mask to our local community via the Tottenham Hotspur Foundation.
With the UK's lockdown restrictions beginning to ease and many across the nation returning to work, the Government has announced that use of face coverings will be mandatory on public transport from Monday 15 June.
Our Spurs-branded face coverings are available in two designs, are both washable and reusable, and can be purchased either individually or in packs of four. The face coverings will be in stock from the end of June.
The Tottenham Hotspur Foundation will work with local organisations to ensure that the protective face masks donated for each face covering sold, including within multipacks, reach those most in need and at risk of exposure to COVID-19 within our community free of charge.
Sarah Ebanja, Chief Executive, Tottenham Hotspur Foundation, said: "Throughout our community there are vulnerable and elderly residents, as well as front line heroes, at risk of exposure to the virus.
"By providing protective face masks free of charge, we shall be able to bring a huge amount of comfort to those most in-need as lockdown restrictions begin to ease."
Please note, the face coverings on sale to fans are not medically approved for professional use.