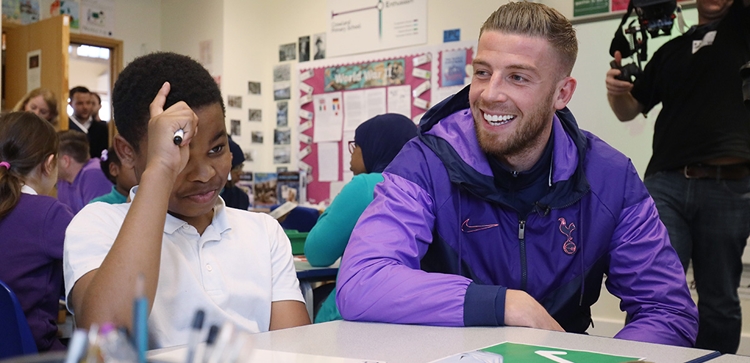 Poetry in motion for Toby
@SpursOfficial
Thu 27 February 2020, 18:34|
Tottenham Hotspur
Today (Thursday 27 February), Toby Alderweireld paid a surprise visit to Crowland Primary School in Tottenham to mark the third year of the Premier League Writing Stars poetry competition.
The defender joined students for a special lesson on ambition, the theme of this year's competition, and spoke to Year 6 about the importance of dreaming big for themselves and the world around them.
During the session, Toby took part in several ambition-themed activities and games, one of which saw him reading out lines of poetry about his life and career, while the children guessed whether these were true or false.
He then encouraged the group to put pen to paper and write their own poems based on their hopes and dreams for the future.
Premier League Writing Stars uses the appeal of football to engage and inspire schoolchildren. The campaign is supported by the National Literacy Trust and is part of the Premier League Primary Stars education programme, which has already engaged more than 17,000 primary schools in England and Wales.
Club staff spend one day a week in schools across our local community delivering the programme, as well as one-to-one support for selected students in English and Maths. The Tottenham Hotspur Foundation also provides PE support to teachers to help build their confidence in planning and executing high-quality PE lessons.
Speaking at the event, Toby said: "I really enjoyed being part of the lesson and talking to the kids about ambition, believing in yourself and working towards your goals.
"It was great to see them using their imagination and reflecting these ideas in their poetry - I'm impressed!"
Nafisa Jeewanjee-Gilkes, teacher at Crowland Primary School, added: "It was just amazing to see the kids' reactions to Toby - one of our girls was crying, she was so excited! We're right by the stadium and some of us see it every day, but to have a Spurs player come into your classroom is just unbelievable for our children.
"Toby's words on ambition inspired them to produce some really creative work and they're already asking when they can write more poetry!"
This year's national Writing Stars winners will see their poems published in a limited-edition book and will win a Premier League Trophy visit for their school, as well as a special poetry workshop for their class.
Primary school teachers can download the free Premier League Writing Stars resource pack on ambition at www.PLPrimaryStars.com. All original poem entries must be submitted through the website or by post by the closing date of Friday 20 March, 2020, to be considered. Winners will be announced in May, 2020.