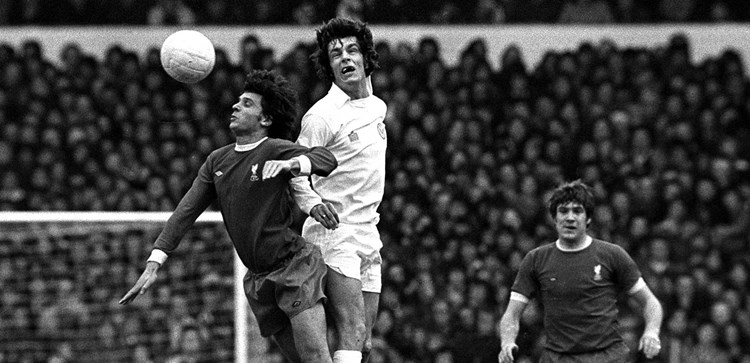 Pat Jennings, Joe Jordan and the Leeds clash that 'beat our cup wins'
@SpursOfficial
Fri 11 November 2022, 10:00|
Tottenham Hotspur
Pat Jennings is undoubtedly one of the greatest goalkeepers ever. He won the UEFA Cup, the FA Cup and the League Cup twice with us, not to mention the PFA Player and Football Writers' Association Footballer of the Year awards. He played over 1,000 games and in two World Cups for Northern Ireland.
Yet, when asked about his most important match, he doesn't refer to the great days at Wembley or those glory, glory European nights at White Hart Lane.
Instead, it's a First Division match against Leeds United on Monday 28 April, 1975 - the night we beat the reigning champions and European Cup finalists 4-2 to avoid relegation in front of 50,000 fans at the Lane.
As we prepare to host Leeds in N17 again this weekend, we turn the clock back to January, 2010, ahead of a FA Cup fourth round tie against the Yorkshire side, when we spoke to Pat and Joe Jordan, then Harry Redknapp's assistant coach, and a feared striker in his day with the likes of Manchester United, AC Milan, Scotland and, of course, Leeds - for whom he played at the Lane that day.
Here are their memories of that clash at the Lane...
Let's begin with your memories of the game. We know how important it was for us, Pat, but it must have been just another game for Leeds…
Pat: "I've described this result as being better than any of our cup wins. That was how important it was for me, because I didn't want to be part of a team that took the great Tottenham Hotspur down. We were struggling that season and quite simply if we lost, we were relegated."
Joe: "As Pat will tell you, Leeds United didn't play 'just another game' at that time. It was significant for us because we knew the consequences were so severe if Tottenham lost. We went into it the same way but on the night, we were just beaten by the better team. It was a traumatic season for us, the season Brian Clough was in charge (for 44 days) and we had a horrendous start. Jimmy Armfield came in and steadied the ship and we had some great victories in Europe, but not the same consistency in the league. There was a lot of upheaval at the club and it was the first season in many years that we'd finished outside the top four."
Could you believe this Tottenham team was fighting for survival?
Joe: "It happens. Look at Manchester United, they went down in 1974. If you take your eye off the ball, the next thing you know you are in trouble."
Pat: "It was a nightmare to find us down there in that position, but it had been coming over the previous seasons. In 1976 when I was Footballer of the Year we were ninth, before that 11th. The writing was on the wall. The team needed rebuilding. In a way we were lucky because Leeds were going into the European Cup Final the week after and like Joe said, they'd had their upheavals. But they were still reigning champions and still a great side. When we looked at the team that night it was still Bremner, Hunter, Lorimer, Gray, Joe… and we needed to beat them to stay up! That's why I got so much satisfaction out of the result."
Do you remember Alfie Conn sitting on the ball?
Pat: "He did it three quarters of the way through the match. We were coasting, 3-0 up, it had turned into a nice quiet game and then all of a sudden we had a war on our hands! Can you imagine taking the mickey out of the likes of Bremner and Hunter? It just wasn't done."
Joe: "Yes, I remember that. It was the wrong thing to do…"
Pat: "I think Bremner warned him to get on with it or else! You just didn't do things like that."
There was a story about a hypnotist…
Pat: "The night before, Terry Neill brought in a hypnotist. I don't know if it worked or not. There were only two of us who didn't want to see him and that was myself and Johnny Pratt. I was frightened to death what might happen – I wanted to be in control of my own decisions! Anyway, I remember being told that the hypnotist asked the players to talk about their greatest match – and when the first player went up, the rest of the boys shouted 'it was so long ago, he can't remember!' Anyway, he told Knowlesy (Cyril Knowles) that he was going to score and he ended up scoring twice!"
What was it like to play for that great Leeds team, Joe?
Joe: "It was an honour. I went there when I was a kid (1970, he was 19) and was there for eight years. When I arrived there, they were absolutely flying. I was a Celtic supporter at the time and the summer before I joined, they played Leeds in the semi-finals of the European Cup. I went to the game at Hampden Park, 130,000 fans in there and Leeds were beaten that night. They went for everything that season and ended up losing against Celtic, losing against Chelsea in the FA Cup Final and Everton won the championship, so they ended up with nothing. It was a great experience. I learned my trade there, played under a great manager in Don Revie and played with some fantastic players and great characters. I was fortunate to go from Scotland to a club like that."
And what were they like to play against, Pat?
Pat: "They were champions the season before that game and just about to play the European Cup Final, so that says it all. They were a brilliant team and should have won more than they did. If you look at that team – Bremner, Hunter, Giles, Madeley, Charlton, Cooper, Reaney – what a team. They were the team to beat and the team no-one liked to play. They were way ahead in terms of tactics as well, how to stop teams playing, they could look after themselves, they knew all the tricks in the book under Don Revie. They were all great players and should have won more, shouldn't they Joe?"
Joe: "Pat's right, we should have won more, but the players would admit that. Billy Bremner said that in his book 'You Get Nowt For Being Second'. That was a fact. They were a professional outfit and in the latter part of Don Revie's days as manager he took the reins off them a bit more and they played with a bit more freedom. I think the neutrals appreciated what they had to offer by the end of Revie's reign."
Pat: "No-one liked playing against them. As I said, they knew all the tricks in the book. I was only ever cautioned once in my career, 1,100 games and who was that against? Leeds! It was for retaliation. I used to go for all the crosses and in this game, picked myself up off the ground about six times. I never got near the ball with players running into me. In the second half, I punched the ball clear and Mick Jones and myself finished up on the ground. He ended up holding me down while the ball was still in the box, I was trying to get up, he must have thought I was going to go for him and he ended up punching me on the chin! By that time the old Irish mist had come down and I whacked him around the back of the legs. The linesman saw me kick him, the ref gave a penalty and we lost 1-0. You can imagine going back in to Bill Nicholson after that…"
You played against each other a few times – you must have met a lot in mid-air!
Pat: "Yes, loads of times. Joe had an unbelievable reputation for looking after himself and he was a tough lad to play against, good in the air as well as having great feet. We never had any problems though."
Joe: "Pat was so consistent. His record speaks for itself over the duration of his career, the number of caps he won, the teams he played for, a top goalkeeper."