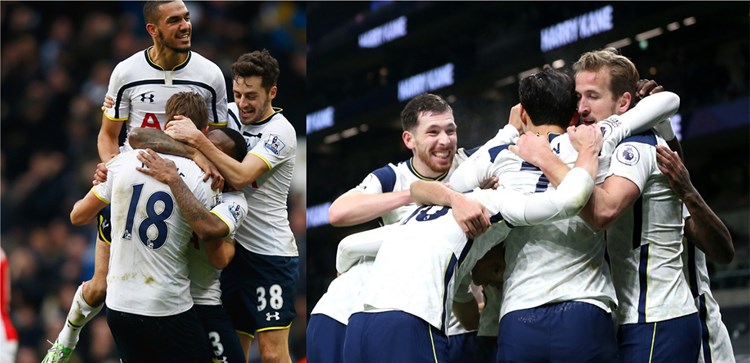 Harry Kane - all-time record goalscorer in the north London derby!
@SpursOfficial
Mon 07 December 2020, 10:45|
Tottenham Hotspur
Almost 100 years of the north London derby - and Harry Kane is now the all-time top goalscorer in this famous fixture.
The striker's clinical finish to put us 2-0 up against Arsenal in Sunday's Premier League victory represented his 11th goal in the derby, moving ahead of Bobby Smith and Emmanuel Adebayor to the top of the pile. Heung-Min Son also scored a beauty as it stayed 2-0 at Tottenham Hotspur Stadium to take us back to the top of the table.
Academy graduate Harry scored his first derby goals to secure a 2-1 win at White Hart Lane on 7 February, 2015. Now 27 and England captain, he has scored his 11 goals in 14 derby appearances, including the last derby goal at White Hart Lane in April, 2017.
Harry's derby goals
1 - Close-range finish from a corner - Spurs 2-1 Arsenal - Premier League - 7/2/15
2 - Header from Nabil Bentaleb's cross - Spurs 2-1 Arsenal - Premier League - 7/2/15
3 - One-on-one finish past Petr Cech - Arsenal 1-1 Spurs - Premier League - 8/11/15
4 - Fantastic curler from 20 yards - Spurs 2-2 Arsenal - Premier League - 5/3/16
5 - Penalty to equalise - Arsenal 1-1 Spurs - Premier League - 6/11/16
6 - Penalty, last derby goal at the Lane - Spurs 2-0 Arsenal - Premier League - 30/4/17
7 - Towering header from Ben Davies' cross at Wembley - Spurs 1-0 Arsenal - Premier League - 10/2/18
8 - Penalty on day to forget - Arsenal 4-2 Spurs - Premier League - 2/12/18
9 - Penalty at Wembley - Spurs 1-1 Arsenal - Premier League - 2/3/19
10 - Penalty in draw at Emirates - Arsenal 2-2 Spurs - Premier League - 1/19/19
11 - Clinical finish, his first derby goal at new stadium - Spurs 2-0 Arsenal - 6/12/20
All-time derby goalscorers
11 - Harry Kane
10 - Bobby Smith (both Spurs), Emmanuel Adebayor (8 for Arsenal, 2 for Spurs)
8 - Robert Pires, Alan Sunderland (both Arsenal)
7 - Alan Gilzean, Jimmy Greaves (both Spurs), David Herd, John Radford (both Arsenal)
All-time derby goalscorers - Spurs
11 - Harry Kane
10 - Bobby Smith
7 - Alan Gilzean, Jimmy Greaves
6 - Les Allen, Steve Archibald, Cliff Jones
5 - Gareth Bale, Martin Chivers, Robbie Keane, Billy Minter
Harry on Spurs TV on Sunday