Boxer, Spurs fan Ashley Theophane ready for 'homecoming' finale
@SpursOfficial
Wed 09 December 2020, 11:07|
Tottenham Hotspur
Seventeen years since his first professional bout, 50 wins down the line, and the career of boxer and Spurs fan Ashley Theophane is coming full circle.
'Treasure' is preparing for his 'homecoming', and his last fight in the UK.
Born and bred out of Paddington, west London, a lifelong Spur, Ashley will take on Sam Eggington in a light-middleweight contest live on Channel 5 on Friday evening. It's his first fight on home soil in eight years, and his last.
"This is it," Ashley, now 40, told us as he continued preparations this week. "I have nothing more to achieve. I've headlined in Las Vegas, fought at the MGM Grand three times, been British champion. I've fought and won in 12 countries. No active British boxer has more wins than me. I've had a great career. It's time to wrap it up and help out the next generation."
Ashley spent five years with Floyd Mayweather's promotional stable in the US, during which he took on Adrien Broner for the vacant WBA super-lightweight title in 2016. He lost to the only TKO of his career that night in the ninth round.
He's travelled the world since then, from Denmark to Dubai, racked up 50 wins and now he's ready for a final blast in the UK.
We went 10 rounds with Ashley below - well, 10 questions...
Ashley on... boxing
1 - We last spoke back in April, 2017, and it's fair to say you've been a busy man since then! Tell us what you've been up to...
Ashley: "I completed a two-year world tour last October. I fought and won 10 times in nine countries; USA. Germany, Hungary, Romania, Denmark, Mexico, UAE, Poland, Ghana, achieving my 50th professional victory in the process. I've recently released my book 'Raised by the Hood'. I talk about my childhood to diaries of my five years working with Floyd Mayweather. This year I started Treasure Boxing Club. My premises will be open in the new year. I want to help out kids in the community and have a gym for adults to keep in shape."
2 - You've fought all around the globe in the last few years, what has that journey been like? It seems like one extreme to the other, one with Mayweather, then off on your own!
Ashley: "I spent five great years with Floyd in Las Vegas. I wanted to end my career on a high and have fun whilst doing it. I thought of the world tour and went with it. To be shown love across the world and see people so happy to see me... it was a joy."
3 - Now you are back in the UK, and getting ready for your homecoming fight - and your last fight in the UK - this must be quite an emotional one for you...
Ashley: "I would have retired after reaching my 50th professional win last October in Denmark but I still wanted to fight back home, at least one last time. So this is it. I have nothing more to achieve. I've headlined in Las Vegas, fought at the MGM Grand three times, been British champion. I've fought and won in 12 countries. No active British boxer has more wins than me. I've had a great career. It's time to wrap it up and help out the next generation."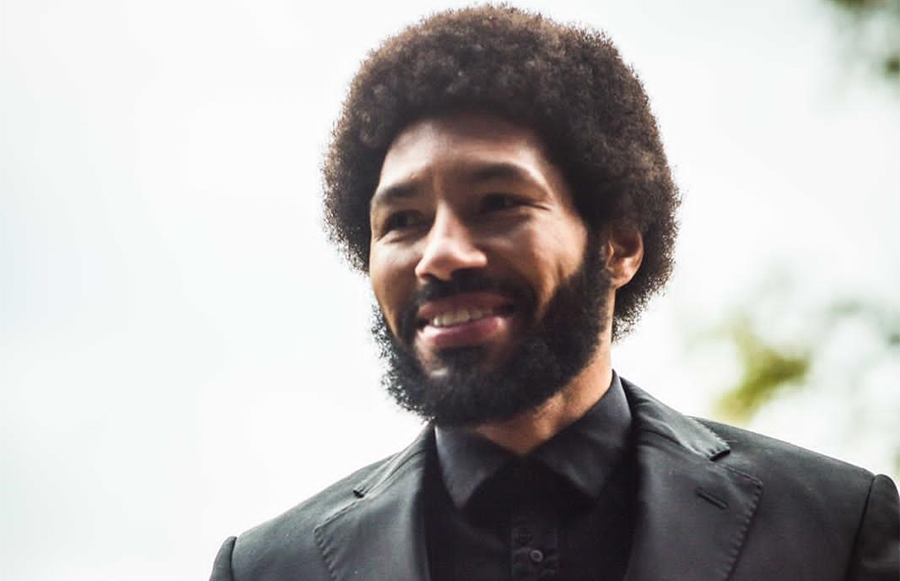 4 - How are preparations for Friday?
Ashley: "Preparation has been hard but I've done everything I have to, to be at my best. Track sessions, long runs, sparring, strength work, Pilates, Yoga and swimming. I'll be the best I can be at the age of 40."
5 - Tell us about Sam Eggington, your opponent, hugely experienced himself, this looks like a tough one for a final UK bout, Ashley!
Ashley: "He's a former British, commonwealth and European champion. He's 27 and accomplished a lot. Win, lose or draw, I just want to go out with a performance I'm proud of."
6 - Tell us about Treasure BC and what that means to you, putting something back into the community...
Ashley: "Giving back to the community means a lot to me. Boxing has helped so many people - Tyson Fury and Anthony Joshua two that come to mind. I want to have a gym where kids can feel safe, make friends and get fit. That's my aim."
7 - Any other plans post boxing?
Ashley: "As of now, building Treasure Boxing Club into a brand and opening more around London is the goal, then eventually open some up abroad. I also want to be an advisor to professional boxers, to help them choose the best career path for themselves and prepare for retirement from the start of their careers. Too many boxers don't plan ahead which can lead to drug and alcohol abuse when they retire. I want to help the next generation make the best choices for their lives."
Ashley on... Spurs
8 - Tell us your Spurs story...
Ashley: "Growing up in the 1980s, a lot of my cousins, uncles supported Liverpool, they were the big team in the 80s. But my dad was different. My dad (Zachary) was a Spurs fan and my god-brother (Steven Edwards) was a Spurs fan as well. For whatever reason, I didn't go down the Liverpool route, I went with Spurs. They were a London club and the club I felt closest to. My first big memory of being a Spurs fans was the FA Cup semi-final against Arsenal and Paul Gascoigne's free-kick (1991). I always remember that, watching it on TV and going wild when he scored. That's my big memory as a kid growing up supporting Spurs. I never got the chance to go to Spurs with my dad growing up. He used to go to local football instead. It was only really when I grew up and I had some friends who supported Spurs, we all used to go to the games all as teenagers. I loved it."
9 - How do you see us now? You're preparing for your last fight with Spurs top of the league!
Ashley: "We're in a great place. Bale is back. Son is on fire. Kane is always a threat. We've got a great team. I'm very happy where we are. Hopefully we can continue to get the results we need to win the league. I believe Jose Mourinho is the man to end our cup drought."
10 - One last question - what do Spurs mean to you, Ashley?
Ashley: "Spurs mean everything to me. I've enjoyed going to the games at the new stadium. It's a great experience. We've started the season so well. You never know. This could be our year..."