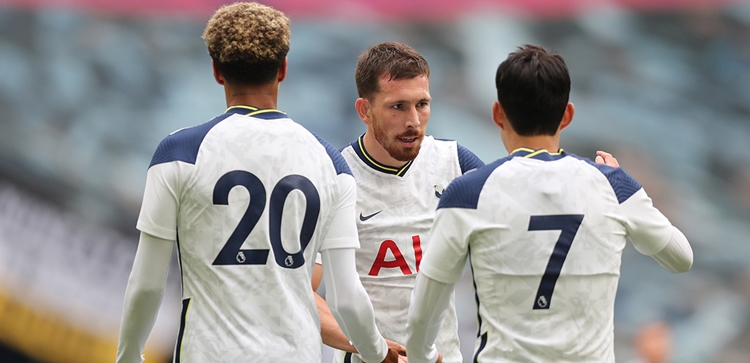 Home sweet home for Hojbjerg
@SpursOfficial
Sun 23 August 2020, 12:19|
Tottenham Hotspur
It didn't take long for Pierre-Emile Hojbjerg to feel right at home in a Spurs shirt.
"I came a couple of hours before the game with the whole squad, and it was just fantastic to be here," said the Danish midfielder after his first appearance as a Spurs player at Tottenham Hotspur Stadium. "Again, it's confirmation that I'm in the right place."
A recent arrival from Southampton, Pierre covered every blade of grass in a 64-minute stint in our pre-season opener against Ipswich Town on Saturday. Indeed, his pressing won the ball for our second goal in a 3-0 win, the chance converted by Heung-Min Son. Sonny soon added a second to make it 3-0 after Ryan Sessegnon opened the scoring on six minutes.
"The game was okay," reflected Pierre. "I think we made some good steps forward, but we still have a lot to do. What we tried to do in the week, what the coach wanted us to do, we tried to work on today and I think we had some moments where we did it well, and some moments where we need to do it better.
"Luckily, this is what pre-season games are for. This is us, this is who we want to be, this is who we are, and we still have steps to take. It was an okay start."