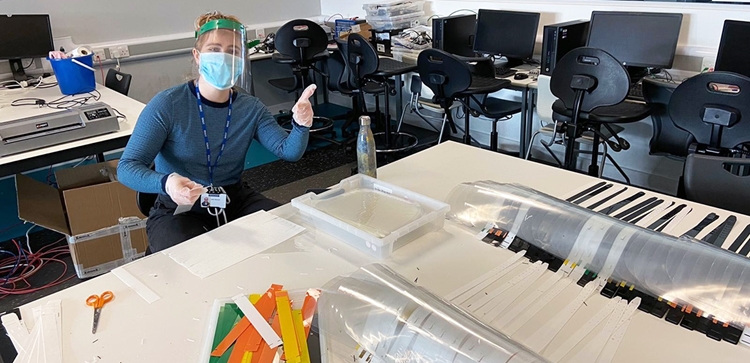 Vital equipment produced for NHS front-line at LAET
@SpursOfficial
Thu 16 April 2020, 20:30|
Tottenham Hotspur
State-of-the-art Design, Technology and Engineering equipment at the London Academy of Excellence Tottenham (LAET) is being put to good use as part of the fight against COVID-19.
The state-funded Sixth Form is sponsored by Tottenham Hotspur and Highgate School - based within Lilywhite House, adjacent to our new stadium.
As part of its aim of giving the area's brightest students the best chance of an education at a leading University, the Club had invested in equipment, including laser cutters and 3D printers, to assist with studies.
Now, this equipment is being used to produce protective face shields for NHS staff on the front-line of the pandemic at our local hospitals and GP surgeries.
The shields are being produced by expert DTE staff from Highgate School and teaching and support staff from LAET, with around 1000 pieces being produced every week, with all necessary health and safety guidelines strictly adhered to.
The Club is currently working closely with North Middlesex University Hospital, providing use of our stadium for drive-through COVID-19 testing and swabbing for staff and families, and the relocation of its Women's Outpatient Services.
Daniel Levy, Chairman, Tottenham Hotspur, said: "This is a fantastic example of a community working together to fight this pandemic and support our wonderful NHS.
"When we first opened the school, we invested in this equipment with the aim of this being the best educational offer in Tottenham.
"We've all seen on the news how vital protective equipment is on the front-line in our hospitals, so what better way to put the school's facilities to good use when the students are unable to benefit themselves. One of our senior managers had the idea when he saw the need and realised we had the equipment sitting there.
"This is part of a wider package of support being offered to our local NHS services during these challenging times when football is no longer the priority."
Jan Balon, Headteacher, LAET, said: "The school is proud to be offering what it can to help those on the front-line saving lives on a daily basis.
"We are extremely grateful to Tottenham Hotspur and Highgate for providing our students with the incredible facilities we have.
"We are pleased to know that, even without our students here currently, the equipment is being put to good use for such an important cause."
Adam Pettitt, Head, Highgate School, said: "I'm delighted that the ingenuity of teachers and support staff at Highgate and LAET is contributing to the national effort to combat the pandemic and hope that, in this and other ways, our schools can continue to support the brilliant work of the NHS to look after the ill and vulnerable while also protecting the health of our vital NHS staff."
Using a selective recruitment model, LAET prioritises local students most likely to benefit from an academically-rigorous curriculum and those from disadvantaged socio-economic backgrounds.
Having opened its doors in September, 2017, its first cohort received their A-Level results last summer, with more than half winning places at Russell Group Universities – this compares to just one per cent of all school students in Tottenham for the last academic year before LAET opened (2016-17).
Students in Year 13 hold 10 offers to Oxford or Cambridge University and a further 16 for medicine, dentistry or veterinary science courses.
The school has now launched its Coronavirus Appeal to assist students hit hardest by the pandemic – including those on free school meals and those that have suffered family bereavements.