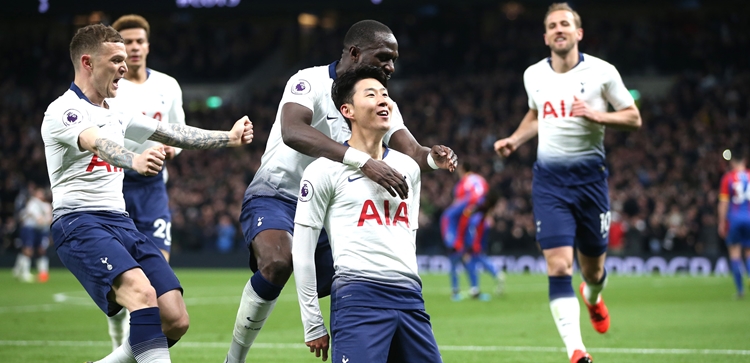 Sonny: "These memories are unbelievable"
New stadium opening night - one year on
@SpursOfficial
Fri 03 April 2020, 10:00|
Tottenham Hotspur
It's a moment none of us will ever forget. For the 62,000 fans lucky enough to be there, or the millions around the world looking in, 3 April, 2019 is, and will be, a day forever etched into the Club's illustrious history.
The anticipation! The sheer size of our new home! The opening ceremony, the fireworks and, finally, the action underway, and an opening night win in the Premier League against Palace. Just imagine what it would have been like to score that first goal. The pure elation – first game, first goal, first win. Imagine then following up with the first Champions League goal, against the champions!
Heung-Min Son did all that.
As the years go by, Sonny is sure to go down as one of our modern greats, but whatever he does in the future, he will always remember and be remembered for that special week in April, 2019.
"Sometimes I can't even begin to think about the fact I actually scored the first goal ever at the new stadium," he said. "You almost don't realise the significance of it because it is so special. And then to score the first Champions League goal as well... these memories are unbelievable. I'm so proud, so happy."
Coincidence - and football tends to throw these things up - Sonny also scored his first Premier League goal against Palace at the Lane back in September, 2015.
Speaking on the night a year ago, he couldn't choose between the two. "It feels amazing. I'm very proud to play in this shirt. I still remember when I scored my first Premier League goal at White Hart Lane, it was against Crystal Palace and now I score not such a beautiful goal, but I think the most important goal for me."
Would it overtake that special, first goal for us in the Premier League? "Probably not! Of course, it's a very special goal, but I think since I joined Tottenham this is even more special because... no, I actually can't say, both goals mean such a lot, I can't choose one! It's very difficult. To give me this opportunity to play... without it, I can't score these goals. I'm really grateful for everyone around me.
"I've played in a few stadiums, some beautiful, some not so beautiful, but this is my favourite stadium because it's just unbelievable. I've said it a few times already, unbelievable, but I can't find more words.
"On the pitch, when you hear the noise, when the fans start singing, the bounce back to the pitch is incredible. I got goosebumps after the first goal, I was so happy to score."