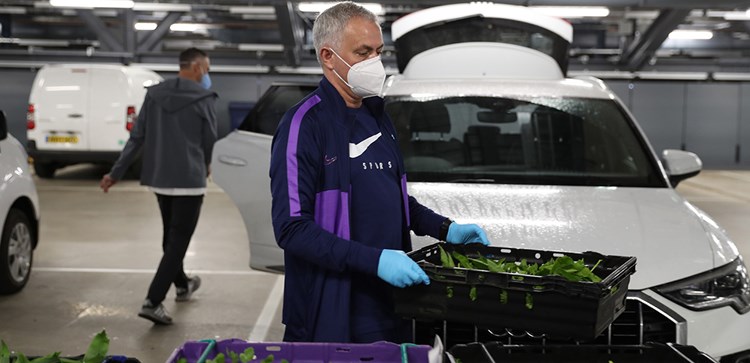 Jose's special delivery
@SpursOfficial
Wed 29 April 2020, 17:30|
Tottenham Hotspur
Today (Wednesday), Jose Mourinho made the first of his weekly deliveries of fresh produce from the Kitchen Garden at our Training Centre to the food distribution hub in operation at our stadium.
His delivery included organic fresh fruit, vegetables and herbs usually intended for the First Team restaurant, that will now be distributed to those identified as most in-need within our local community.
During his visit to the stadium, the Head Coach spoke to volunteers who have been operating the food hub since it opened at the end of last month.
Approximately 3,536 deliveries of food have been made from hubs like Tottenham Hotspur Stadium during this time, reaching over 1,500 individual households in the borough.
Jose said: "It is a pleasure for me to help out in this way and see that food from our Training Centre is going to reach those most in-need within our community at this time.
"I would like to commend the fantastic volunteers working at the food hub every day, along with all the distributors, whose efforts are making a huge difference to people's lives."
The Spurs food hub is being used as a storage, packing and distribution base by Haringey Council and Edible London, who are working through the Connected Communities project to deliver balanced and nutritious food parcels to the most vulnerable people in the community during the coronavirus outbreak.
The food redistributed includes supply purchased by Haringey Council, and surplus food from the London Food Alliance and Edible London's local business partners. Cooked meals are provided by Food For All and Compassion London. Volunteers from Edible London and Haringey Council are working together to run these operations, preparing and delivering the vital food parcels on a daily basis.