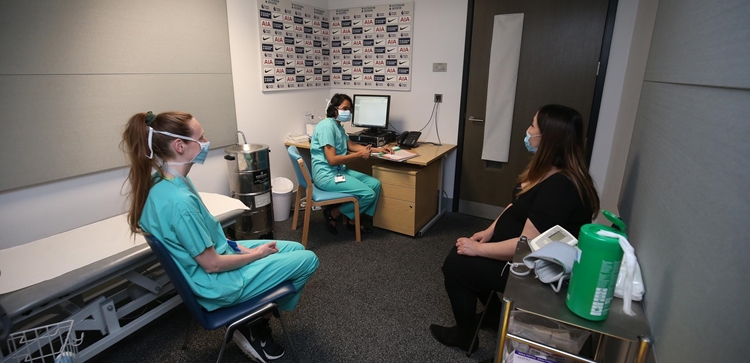 Club continues to fight COVID-19 alongside our NHS
@SpursOfficial
Thu 30 April 2020, 12:30|
Tottenham Hotspur
We can now provide fans with the latest exclusive look behind the scenes as the NHS utilises Tottenham Hotspur Stadium in the fight against COVID-19.
North Middlesex University Hospital is now in its third week of occupancy at the stadium, where our facilities have been transformed for clinical use.
The hospital's Women's Outpatient Services is operating within familiar areas:
• Our Media Entrance and Café is used as a main reception and welfare area for visitors and NHS staff.
• The NFL Away changing room area is used as a Maternal Day Unit.
• Our Flash interview rooms off of the players' tunnel – where post-match TV interviews are normally conducted – as well as the referees' area, are used as consultation and scanning rooms.
• The football Away dressing room area is used as a Midwives Clinical Room and staff Admin Office.
This is designed to free up much-needed capacity at the hospital itself, based in Edmonton, to treat patients facing COVID symptoms whilst supporting the redirection of pregnant women away from the hospital during the pandemic.
Meanwhile, the stadium's huge basement car park is being used to conduct drive-through COVID-19 testing and swabbing for North Middlesex staff and their families.
Tottenham Hotspur Stadium was the first Premier League ground to be used for testing, following on from other sporting venues around the world.
Elsewhere on the stadium campus, state-of-the-art Design, Technology and Engineering equipment at the London Academy of Excellence Tottenham (LAET) is being put to good use.
Staff and students from LAET's education partner, Highgate School, are producing around 2,000 protective face shields a week for NHS staff on the front-line of the pandemic at our local hospitals and GP surgeries.
We shall continue to keep fans updated across our platforms as we continue to work alongside our NHS in the fight against COVID-19.