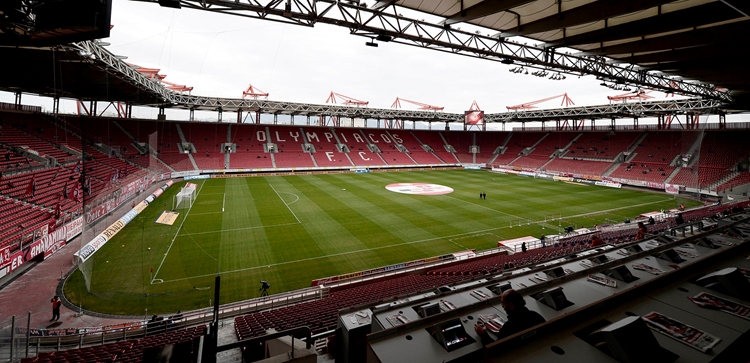 Olympiacos away – travel advice - updated
@SpursOfficial
Wed 18 September 2019, 08:30|
Tottenham Hotspur
Supporters travelling to Greece for our Champions League group stage match against Olympiacos FC on Wednesday 18 September are advised to take note of the following important information.
Kick-off is 7.55pm local time (5.55pm UK time).
Update - Wednesday 18 September
1. Photocopies of passports and photos of your passport on your phone WILL now be accepted at the stadium.
2. Police will detain fans found to be publicly intoxicated. Please respect local laws and officials.
Athens
No areas of Athens have been identified as ones which should be avoided by supporters. However, we recommend fans familiarise themselves with the Foreign Office's travel advice.
Should you experience any problems whilst in Athens, please call the Travel Line – 07917 880445. This number will be available throughout the day/evening of the match.
The local currency in Greece is the Euro.
Tickets
All supporters' names and passport numbers must be displayed on match tickets, as required by local law. Supporters who are eligible for a ticket have been contacted and asked to provide their passport details by 1pm today. Any supporter who has not submitted their passport information by the deadline will have their application cancelled and refunded and will not be awarded ticketing points for this fixture.
Tickets will be posted as soon as passport details have been provided.
As detailed above, supporters must bring their original passport, a photocopy or a photo of their passport on their phone to the stadium so that it can be checked against the details on their match ticket.
Getting to the stadium
On police advice, all Tottenham Hotspur supporters should make their way to the Panathenaic Stadium (Leof. Vasileos Konstantinou, Athina 116 35, Greece) where a convoy of coaches will provide transport to the Karaiskakis Stadium from 5pm. The final convoy of coaches will depart for the stadium at 6.30pm.
This location will also be used as a ticket collection point for any supporters needing to collect their ticket in Athens.
The Club strongly urges supporters to use the coaches provided. Supporters using alternative transport may not be allowed into the stadium.
Subject to demand, the Club will charter specific transport for accessible supporters from the Panathenaic Stadium. Please note that whilst this area has good drop curb access at crossings, drop curbs throughout Athens are less consistent.
At the Karaiskakis Stadium
The stadium will open at 5.55pm and supporters will be directed to the away section in Blocks 26 & 27, entering Turnstiles 26 & 27 upon arrival at the coach park. Supporters will be searched by the Olympiacos stewarding team who will be assisted by local police. Tottenham Hotspur stewards will be present at the entrance and inside the stadium, designated as Visiting Fan Support.
Supporters not requiring easy or step-free access can leave the coach park to enter via Turnstiles 27 or 28 and use stairs to access Level 1. There are four flights of stairs with handrails throughout.
Supporters with Category 1 tickets will enter the stadium via Turnstile 30 and, once inside the stadium, will be located in Block 30.
Please note, food and drink will not be available to purchase outside the stadium.
Accessibility
On leaving the coach park there is a steep slope toward the turnstiles where supporters using wheelchairs will be guided left of Gate 27 to use a drop curb and side gate to access Gate A2, 5m away. Once inside the stadium, a steadily sloped tunnel will take you past two accessible toilets to the wheelchair accessible viewing area. The same route will be followed in reverse when leaving the stadium.
The viewing area is in the front row of a raised platform. Netting between the stand and pitch will be in place for the duration of the match. The viewing area is shared with Olympiacos supporters also requiring wheelchair access. Olympiacos supporters will be allocated spaces 1 – 15 and Tottenham Hotspur supporters will occupy spaces 16 – 20. Two members of the Tottenham Hotspur Access Team will be present in the area. Personal Assistants will be provided a seat – note that this will not be a fixed seat.
All food and drink kiosks are located on Level 1, meaning supporters with access requirements will not have direct access to the kiosks. There are no drop counters or hearing loop systems fitted at the kiosks. Personal assistants will be able to access the kiosks and the Access Team will support where possible.
Ambulant supporters requiring easy or step-free access to Level 1 are advised to liaise with Tottenham Hotspur staff upon leaving the coach park. You will be escorted left to Gate 30 where, in co-operation with Olympiacos staff, you will be given access to Level 1 by lift.
Upon arriving on Level 1, you and your Personal Assistant will be guided by Tottenham Hotspur and Olympiacos staff via a home area into the nearby away section where your seats are located.
There is no dedicated ambulant seating at the stadium. Supporters will be allocated seats that will be accessible by the fewest stairs possible and step-free once in the stadium bowl. The sightlines in this area allow supporters to sit without restricted views
There are no easy-access or ambulant toilet facilities in General Admission areas.
Alcohol
In accordance with local law, alcohol will not be served in any General Admission areas of the stadium at any point on the matchday.
Bag Policy
Olympiacos highly recommends not bringing bags and/or luggage to the stadium. Only small "day packs" (maximum size of 25 x 25 x 25cm) will be allowed into the stadium after searches by stewards at the entrance. Larger luggage or any with prohibited items will not be allowed into the stadium. There is no external bag drop facility, so please follow this guidance.
Medical exemptions on bag policy
Any supporter requiring medical exemption to the bag policy or any prohibited items are advised to contact Access@tottenhamhotspur.com no later than 48 hours before the match.
The Club will then submit this information to Olympiacos so you can be accommodated on matchday.
Flags
Flags are permitted in the stadium and can be displayed on segregation barriers and at the back of the away sections. Please note, as at other stadia in the UK and Europe, flags with religious / sectarian / political messages will not be permitted and may be confiscated. Flag poles must be plastic and no longer than 1m in length and 1cm in diameter. Banners must be no larger than 2m in length and 1.5m in height.
Payments
Food and beverage kiosks will accept cash and major debit and credit cards.
Smoking
Smoking is permitted in the stadium.
Prohibited items
The following will not be allowed into the stadium:
- Animals
- Bags over 25x25x25cm in size
- Battery packs / power banks
- Camera equipment
- Drums or other instruments
- Drugs or alcohol
- Fireworks
- Food or drink
- Megaphones
- Motorcycle helmets
- Promotional or political literature
- Spray paint
- Toilet paper
- Umbrellas
- Weapons
Leaving the stadium
Away supporters will likely be held in the stadium for approximately 25 minutes after the final whistle. Coaches will then return supporters to the Panathenaic Stadium.
Spurs respects
We are justly proud of our superb and loyal support at home and away. We all have a responsibility to act as ambassadors of Tottenham Hotspur Football Club and act as considerate visitors to those who live and work in the cities and countries we visit. Please respect local customs and traditions by not placing flags or banners on local statues or monuments.
We recognise that most supporters want to watch a football match and not to listen to abusive or indecent language from the stands. Discriminatory behaviour which includes shouting, chanting or actions such as racist, sectarian, homophobic, sexist or anti-disability behaviour is unacceptable. If you witness incidents like these, please get in contact with a steward as soon as you can.