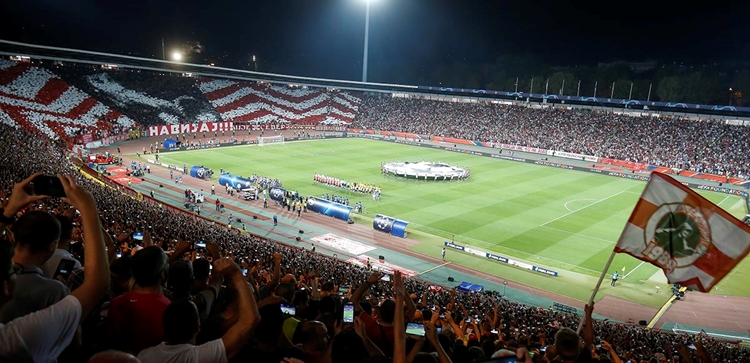 Crvena zvezda v Spurs – travel advice - updated
@SpursOfficial
Wed 06 November 2019, 12:00|
Tottenham Hotspur
Supporters travelling to Serbia for our Champions League group stage match against Crvena zvezda (Red Star Belgrade) on Wednesday are advised to take note of the following important information. Kick-off is 9pm local time (8pm UK time).
Important - update
Please note, the 'Getting the the stadium' section of this travel information has been updated today (Wednesday).
Belgrade
Supporters are recommended to stay in Belgrade city centre during their stay with a range of welcoming bars and restaurants around Obilicev Vemnac and Knez Mihailova.
We strongly recommend all fans familiarise themselves with the Foreign Office's travel advice ahead of their trip to Serbia and have a copy (including a photo on a mobile phone) of their passport with them at all times.
We also recommend that members of the LGBT community review this particular advice from the Foreign Office.
The official currency of Serbia is the Dinar. British banks do not generally exchange Dinars so any unwanted Dinars should be exchanged before leaving Serbia.
Should you experience any problems while in Belgrade, please call the Travel Line on 07917 880445. This number will be available throughout the day and evening of the match.
Getting to the stadium - update
Due to a late alteration by local Belgrade police, and despite extensive lobbying by the Club, supported by the Metropolitan Police, the British Embassy Belgrade and UEFA, the pick-up point for free organised coach transport has been confirmed as the Sports Centre Banjica (4 Crnotravska st., Banjica Belgrade.) Sports Centre Banjica is 9km from Belgrade city centre and can be reached by taking the 41 trolleybus from Student Square in central Belgrade.
Please note, coaches will return supporters to the city centre after the match.
Coaches will depart for the stadium from 6pm until 8pm, arriving at the Stadion Rajko Mitic within around 20 minutes.
Any supporters needing to collect their tickets will be able to do so on arrival from Tottenham Hotspur staff at the coach drop-off point in the South West corner of the stadium.
Supporters choosing to use alternative transport are advised not to wear anything that distinguishes them as Tottenham Hotspur supporters when travelling and in the vicinity of the stadium.
At the Stadion Rajko Mitic
The stadium will open at 6pm and supporters will be directed to the away section in Section 6, entering via Turnstiles 24 and 25 with the latter for supporters with accessible needs.
Red Star Belgrade stewards will conduct ticket checks and searches of supporters on arrival. Tottenham Hotspur stewards will be present at the entrance and inside the stadium, designated as Visiting Fan Support.
Accessibility
For supporters requiring wheelchair or easy access, we will be arranging minibus transport to the stadium and back post-match. Stewards from the Club's Access Team will also be at the stadium.
Comprehensive and tailored travel advice has been sent directly to supporters with accessible needs.
Alcohol
In accordance with local law, there is a 1km alcohol exclusion zone around the stadium three hours before and after the match.
Bag policy
Small backpacks and medical bags will be allowed into the stadium. Larger luggage or any with prohibited items will not be allowed into the stadium. There is no external bag drop facility, so please follow this guidance.
Flags
Flags and banners without poles are permitted and can be displayed in the stadium. Please note, as at other stadia in the UK and Europe, flags with religious / sectarian / political messages will not be permitted and may be confiscated.
Under no circumstances should supporters take any items displaying provocative messaging in relation to Balkan politics to Serbia.
Payments
A food and beverage kiosk will accept cash in the form of notes, but not coins, which are prohibited. Payment by debit or credit card is not available.
Smoking
Smoking is permitted in the stadium, but matches must be used as lighters are prohibited.
Prohibited items
The following will not be allowed into the stadium:
- Camera equipment
- Cigarette lighters
- Coins
- Drugs or alcohol
- Fireworks
- Flagpoles
- Food or drink
- Medium or large sized bags
- Plastic bottles or cans
- Weapons
Leaving the stadium
Away supporters will likely be held in the stadium for approximately 45 minutes after the final whistle. Coaches will then return supporters to the city centre.
Spurs respects
We are justly proud of our superb and loyal support at home and away. We all have a responsibility to act as ambassadors of Tottenham Hotspur Football Club and act as considerate visitors to those who live and work in the cities and countries we visit. Please respect local customs and traditions by not placing flags or banners on local statues or monuments.
We recognise that most supporters want to watch a football match and not to listen to abusive or indecent language from the stands. Discriminatory behaviour which includes shouting, chanting or actions such as racist, sectarian, homophobic, sexist or anti-disability behaviour is unacceptable.
If you witness incidents like these, please notify a steward immediately.