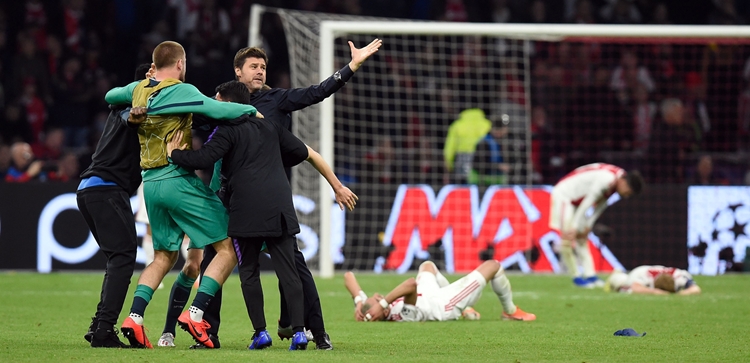 Ajax 2-3 Spurs (agg 3-3) - Mauricio's verdict from Amsterdam
@SpursOfficial
Thu 09 May 2019, 00:31|
Tottenham Hotspur
Mauricio Pochettino changed his mind in the cauldron of emotion that was post-match at the Johan Cruyff ArenA. The players are no longer heroes. They are now superheroes!
These superheroes have made history. They have taken the Club to the final of the Champions League/European Cup for the first time. Born in 1882, this is a night that will live forever in our history.
Trailing 2-0 on Wednesday night at half-time against Ajax, 3-0 on aggregate, we needed a football miracle. Incredibly, we found it as a hat-trick from Lucas Moura – strikes after 55, 59 and in the sixth minute of added time – saw us over the line on away goals and into the final against Liverpool in Madrid on 1 June.
The scenes at the final whistle were pure elation. Mauricio was in tears. That's what it meant.
"It's amazing trying to describe with words," said the manager. "It's an amazing feeling. I am so grateful to this group of players. For me, they are not heroes, they are superheroes. They never gave up and the faith, the belief was amazing. I want to congratulate them all. The players owned the football. I am so proud to be their manager.
"All together we are making history. That is most important. It's the most important thing when you share the feelings, the emotions, when everyone believes they are an important part of this success. All the people matter, the fans, everyone involved deserves big credit and maybe we can achieve the dream of winning. It's about belief and having faith."
Wind the clock back to half-time on Wednesday night and we were in serious trouble. Trailing 2-0 on the night and 3-0 on aggregate, Ajax were in control. So what did Mauricio say in his team-talk?
"We didn't talk too much at half-time," he said. "It was more about changing things, to find a different alternative to play and to believe. Those were the words I used the most – never give up. We believed we could score. I thought it was a little unfair going in at 2-0 down. The second half was amazing and we fully deserve to be in the final.
"It was unbelievable, the way we played the second half. It's an amazing feeling. I'm so happy for our fans, for our families, for all the people that always believe in us. It's a massive, massive reward for everyone. We are having an amazing season. We have the new stadium, we are almost in the top four for the fourth consecutive time, an amazing achievement in the last five years. I'm so happy!"