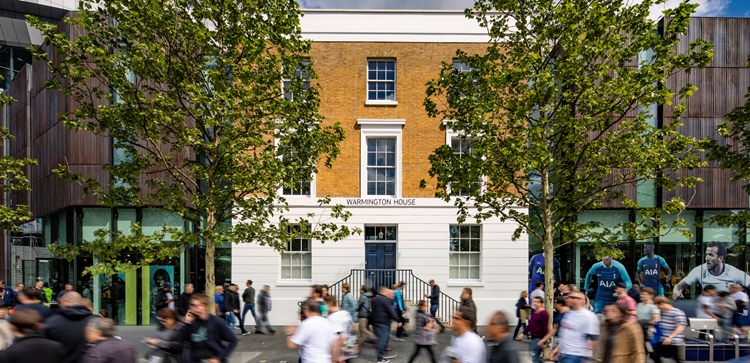 Warmington House restoration reaches major milestone
@SpursOfficial
Tue 30 July 2019, 10:51|
Tottenham Hotspur
We are pleased to announce that Warmington House, the Grade II listed building on Tottenham High Road that the Club has helped restore to its former glory, is to be removed from Historic England's Heritage at Risk register.
Warmington House is recorded as having been built in 1828 - its name derived from James Warmington, a farmer and coal merchant who occupied the property from 1851-76.
A later occupant of some note was John Alfred Prestwich, manufacturer of cine cameras who lived there from 1888-98 and went on to invent the JAP motorcycle petrol engine.
The house was a restaurant from 1911-23 and was placed on Historic England's register of 'at risk' listed buildings as it sat derelict in front of the old White Hart Lane for a number of decades.
Since the Club began work on its stadium development scheme, we have set about fully renovating and restoring Warmington House as part of the Tottenham Experience.
Today, any visitors to our Spurs Shop and Stadium Tours will see Warmington House take prominence on the High Road and incorporated as a unique feature within Europe's largest football retail space itself.
Works continue within the house before we soon re-open its doors to the public, when it will become home to our Club Museum and Archive.
Historic England has therefore deemed that the necessary conservation works have been carried out for the property to be removed from the Heritage at Risk register.
Warmington House follows on from Percy House, now the home of Tottenham Hotspur Foundation, amongst the heritage sites on the High Road that the Club has renovated and restored.
Meanwhile, the frontage of the old Tottenham and Edmonton Dispensary, that once sat alongside Warmington House on the High Road, is now also incorporated within the Spurs Shop at the Tottenham Experience as the location where fans can get their shirts printed.