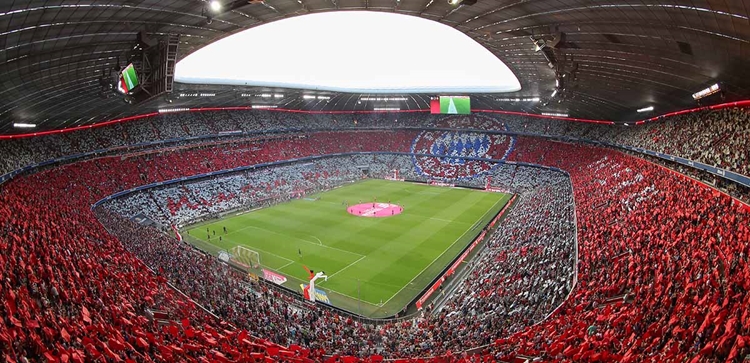 Bayern Munich v Spurs - travel advice
@SpursOfficial
Mon 09 December 2019, 14:38|
Tottenham Hotspur
Supporters travelling to Germany for our Champions League group stage match against Bayern Munich on Wednesday 11 December are advised to take note of the following important information.
Kick-off is 9pm local time (8pm UK).
Munich
No areas of Munich have been identified as ones which should be avoided by supporters. We recommend fans familiarise themselves with the government's travel advice for Germany and details for the British Consulate-General Munich.
The Club's Travel Line - 07917 880445 - will be available throughout the day and evening of the match for any supporters experiencing any problems.
Fans are recommended to base themselves in the central area of Marienplatz, which has an abundance of bars, cafes and restaurants and has a direct connection to the Allianz Arena via the local Metro system. Fans are asked not to congregate in large numbers at any of the busy Christmas markets in central Munich as this may lead to overcrowding.
While ID will not be required to enter the stadium, supporters should be in possession of their passports at all times in case it is required for inspection by local police.
The official currency of Germany is the Euro.
Getting to the stadium
Supporters are recommended to take the Metro (U-Bahn) U6 from Marienplatz toward Fröttmaning or Garching Forschungszentrum and alight at the step-free Fröttmaning station. The approximate journey time is 16 minutes and the station is a 10-15 minute walk from the stadium. Transport is not included in the price of the match ticket. More information on transport can be found at www.mvv-muenchen.de/en/homepage/index.html
Taxis to the stadium would normally take around 25 minutes from the airport and 30 minutes from Marienplatz, but extra time should be allowed because of matchday traffic.
There are no bars or restaurants near the Allianz Arena and supporters are asked to be in the stadium no later than 8.30pm.
At the Allianz Arena
The stadium will open at 7pm. Supporters arriving at Fröttmaning station will be directed left out of the station to the North West corner and away turnstiles, signposted 'Eingang Gäste/Away Fans', where all fans must enter.
Supporters will be located in Blocks 339-347 in the North Stand (Nordtribune) and will need to use stairs marked P to reach their seats.
Supporters with Category 1 tickets will be located in Block 233 in the East Stand, which can be reached by turning right out of Fröttmaning station and entering the South Entrance via Gate 12, before making their way to the East Stand.
Bayern Munich stewards will conduct searches of supporters on arrival. Tottenham Hotspur stewards will be present at the entrance and inside the stadium, designated as Visiting Fan Support.
Accessibility
Wheelchair spaces are located close to Block 233 in the East Stand. All wheelchair users travelling by the Metro are advised to turn right out of Fröttmaning station and enter the South Entrance via Gate 12, before making their way to the East Stand. Bayern Munich ticketing staff and stewards will be on hand to assist and direct alongside Tottenham Hotspur stewards.
Ambulant supporters requiring lift access can use Lift T7 located in the North Stand, next to block 130 to Level 6 where seats are located.
Comprehensive and tailored travel advice will be sent directly to supporters with accessible needs.
Alcohol
No alcohol will be available to visiting supporters at the stadium.
Bag policy
Backpacks and bags no larger than 29cm x 20cm will be allowed into the stadium. A big drop facility next to the away entrance is available for anyone in possession of a larger bag.
Flags
Flags and banners without poles bearing the name of the Club or supporters' clubs are permitted but will be checked by Bayern Munich and Tottenham Hotspur stewards on arrival.
Payments
The Allianz Arena is a cashless stadium accepting all major debit and credit cards and Apple Pay.
Prohibited Items
The following will not be allowed into the stadium:
- Animals
- Bags larger than 29cm x 20cm
- Bicycles
- Camera equipment
- Drugs or alcohol
- Fireworks
- Flagpoles
- Flyers / promotional material
- Food or drink
- Megaphones / air horns
- Plastic bottles or cans
- Pushchairs / walking frames
- Scissors / nail files
- Spray paint
- Tools
- Umbrellas with pointed tips
- Weapons
Leaving the stadium
Away supporters are unlikely to be held in the stadium after the match, but if they are, all facilities will remain open and available.
Supporters will be directed back to Fröttmaning station to return to central Munich.
Spurs respects
We are justly proud of our superb and loyal support at home and away. We all have a responsibility to act as ambassadors of Tottenham Hotspur Football Club and act as considerate visitors to those who live and work in the cities and countries we visit. Please respect local customs and traditions by not placing flags or banners on local statues or monuments.
We recognise that most supporters want to watch a football match and not to listen to abusive or indecent language from the stands. Discriminatory behaviour which includes shouting, chanting or actions such as racist, sectarian, homophobic, sexist or anti-disability behaviour is unacceptable.
If you witness incidents like these, please notify a steward immediately.