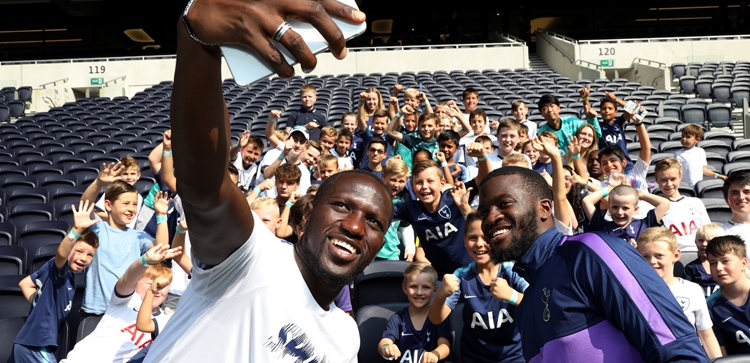 Sissoko and Ndombele give Junior fans a day to remember
@SpursOfficial
Wed 28 August 2019, 10:17|
Tottenham Hotspur
One Hotspur Junior members were given the opportunity of a lifetime at the annual Junior Fans' Forum on Tuesday, which this year was held at the Club's new stadium.
Moussa Sissoko and new signing Tanguy Ndombele joined 60 lucky youngsters, who had all won a competition to secure their places at the event. Each child had to submit a question to ask the players and, after an overwhelming number of entries, the most creative and interesting questions were selected.
The afternoon started with matchday host Paul Coyte hosting a football quiz for the excited young fans, before Moussa and Tanguy took centre stage to answer the children's questions, covering everything from 'what is your favourite animal?' and 'if you had a time machine, what would you tell yourself to do differently?' to 'who is the worst dressed player in the squad?'
Before the end of the afternoon, the Junior fans were taken into the stadium bowl with the players and our much-loved mascots, Chirpy and Lily, where they took in the spectacular views of the pitch.
Moussa said: "It's always fantastic to meet our young fans and see the excitement on their faces – especially as this was the first time that many of them had visited our new stadium. Some of their questions were really difficult to answer – they definitely tested us today!"
One Hotspur Junior membership is available from £20 and provides access to exclusive benefits, prizes and experiences.