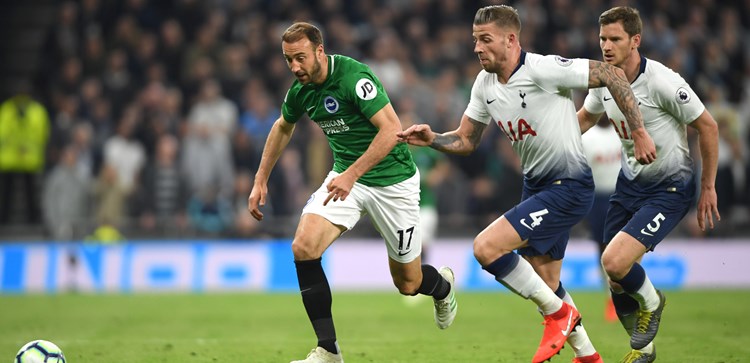 Toby: 'Fans helped us get over the line against Brighton'
@SpursOfficial
Thu 25 April 2019, 11:23|
Tottenham Hotspur
Toby Alderweireld praised our supporters for the role they played in Tuesday's home win over Brighton.
With the clock ticking down and the visitors defending in numbers, a breakthrough at our new stadium was proving hard to come by until Christian Eriksen stepped in with a long-range strike that crept beyond goalkeeper Mat Ryan to give us a precious 1-0 victory in the battle to secure a top four spot.
Despite the nature of the game, our home faithful contributed to another memorable night inside our world-class new facilities, with centre-back Toby thankful for their continued backing.
"You could see the time ticking away but we have the players to make the difference," he said. "At this stadium, the crowd gets behind us, it always helps and I hope the fans know that when they cheer and make a lot of noise, it helps us to get over the line to get the three points."
Toby was almost playing in an advanced midfield role at times as we pushed Brighton all the way back in an attempt to force an opener. The defender went closest to breaking the deadlock when his low shot-on-the-turn beat keeper Ryan but hit the post and bounced agonisingly across the face of goal without finding its way in – until Christian saved the day with an 88th-minute winner.
"They dropped back and of course you try to help but it's very difficult because every wrong pass… there's so much space," he explained. "It's very difficult but we created a lot and then you have to have a little bit of luck when the ball falls.
"I hit the post – maybe if you hit the post, the second ball goes in front of one of our players and you touch it in, so sometimes you need a little bit of luck but today we had a little bit of magic from Christian. That sums it up really!"