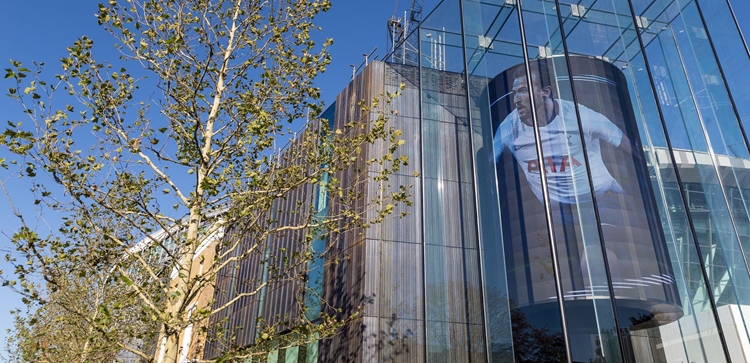 New Spurs Shop at the Tottenham Experience to open
@SpursOfficial
Mon 22 October 2018, 18:33|
Tottenham Hotspur
• Largest Club Retail Store in Europe, measuring 23,000 sq ft, will be officially open from 10am tomorrow (Tuesday).
• The new Spurs Shop is the first part of the Tottenham Experience to be opened, with further visitor attractions to follow.
• Shop is cashless and only payments via bank cards or mobile are accepted.
• All bags will be searched on entry to the Shop, with biodegradable carrier bags available for a 10p charge.
The new Spurs Shop at the Tottenham Experience - the largest retail space of any football club in Europe - will be officially open from 10am tomorrow (Tuesday).
Measuring some 23,000 sq ft, the Spurs Shop is the first part of the Tottenham Experience to be opened by the Club, stocking Spurs, Nike and NFL merchandise.
There are a number of special features within the Shop, including a 100-seat auditorium area, complete with a 36-screen video wall, that will host pre-match and post-match events, special appearances and promotions.
Shirt printing is carried out behind the façade of the old Tottenham & Edmonton Dispensary, which once graced the High Road and has been painstakingly restored by the Club. Video screens in this area will show fans 3D visuals of their name and number on the shirt.
Youngsters can keep themselves entertained with a game of FIFA 19 on one of the PS4 consoles available in-store. Meanwhile, we will have giveaways on the Shop floor and our popular mascots, Chirpy and Lily, will be in-store every day between 11am – 3pm this week for further family photo opportunities.
Fans will also notice a unique curved LED display, provided by Daktronics, at the southern exit from the Shop that will display key information.
Located on Tottenham High Road at the southern end of the stadium, the stunning Tottenham Experience building blends old architecture with new, incorporating and bringing back into use the Grade II listed Warmington House. As well as the Spurs Shop, it will soon become home to a range of visitor attractions available throughout the year, including our Stadium Tours, our unique Sky Walk, the Club Museum and Archive.
Key information – please note
Opening hours
Provisional opening hours for the Shop this week are:
10am-5pm: Tuesday-Saturday
10.30am-4.30pm: Sunday
Opening hours are subject to change and we encourage fans to check Ask Spurs before travelling.
Cashless Payments
As with all areas of the technologically advanced stadium campus, only cashless payments are accepted in the new Shop – designed to speed up service and provide the best possible visitor experience. Purchases can be made via any major bank card or via mobile payment methods such as Apple or Google Pay.
Single-Use Plastic Reduction - Bags
Please note that bags of any kind will be searched upon entry to the Shop as we prepare fans for new security measures that will be in place at the stadium.
As part of our commitment to phasing out single-use plastics across all Club operations, we encourage fans to bring their own reusable bags to the Shop, including the Club-branded Bag for Life which was provided as part of the new season Membership packs.
If you choose not to bring a bag, biodegradable carrier bags will be available on non-matchdays from tomorrow at a charge of 10p.
On matchdays, we shall be introducing a new clear, sealable carrier bag for a charge of 20p, that meets the requirements of our stadium Bag Policy and will enable speedier access to the stadium.
We shall communicate more information on our new stadium Bag Policy in due course.