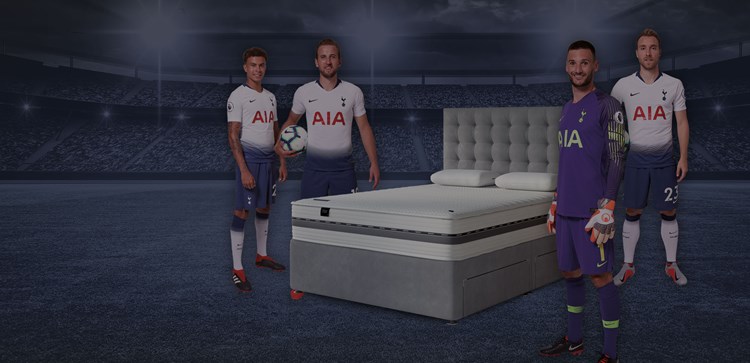 The sleep technologies keeping players fit and fresh at the Lodge
@SpursOfficial
Mon 19 November 2018, 10:00|
Tottenham Hotspur
Optimising recovery between matches and training is a crucial part of helping players remain fit and healthy over the course of a long season. At Tottenham Hotspur, this has led to a clear focus on providing players with the very best sleep environment possible – both at home and at the state-of-the-art player accommodation Lodge adjacent to the Training Centre.
At the centre of every one of the 46 bedrooms is a king-size Mammoth mattress and accompanying pillows. Recognised as the leaders in sleep and comfort technologies, Mammoth's unique naturally cooling Medical Grade™ Foam mattresses and Supersoft pillows provide players with unrivalled pressure relief and postural support.
Mammoth mattresses are designed to help people fall asleep faster and enjoy better quality sleep at night – perfect for players returning late from away matches who need to be refreshed and ready to train the next day.
Mammoth's services were originally sought for players looking to improve their sleep strategies and it was soon decided that to optimise recovery and rehabilitation, Mammoth mattresses should be incorporated within the Lodge. Players are also provided with a Mammoth mattress at home to ensure that their sleep surface is consistent.
Head Physiotherapist at Tottenham Hotspur, Geoff Scott, says: "The feedback we have had from the players since introducing Mammoth in their homes and also here at our state-of-the-art Lodge facility has really been incredible. When you lie on the Mammoth mattress the comfort level and quality of support is instantly noticeable. But it's not until you spend a night on a Mammoth that you really see the difference compared to a standard mattress and pillow."
Truly restorative sleep doesn't just benefit professional athletes. With Mammoth, everyone can improve health and wellbeing through improved rest and recovery. Find out more about the Mammoth range by visiting www.onehotspurmammoth.co.uk. Apply your exclusive One Hotspur member discount at checkout.
Why is sleep so important?
Sleep is now recognised as the foundation for good health and wellbeing. From physical performance to memory to mental health, sleep impacts on all aspects of daily life. Getting more than seven hours of quality sleep a night is understood to help performance, productivity and even happiness. That is why it is always important to invest in sleep rather than relying on old, uncomfortable mattresses that do not offer the appropriate support.
The secret to Mammoth's success lies in the naturally cooling Medical Grade™ Foam material and the supportive PostureCells™ cut into the surface of the mattress. These technologies serve to relieve pressure, support good postural alignment and aid temperature regulation – the three keys to comfort. These factors also ensure good blood circulation around the body, helping to accelerate recovery after exercise.
The result – a good night's sleep that promises a great day ahead.