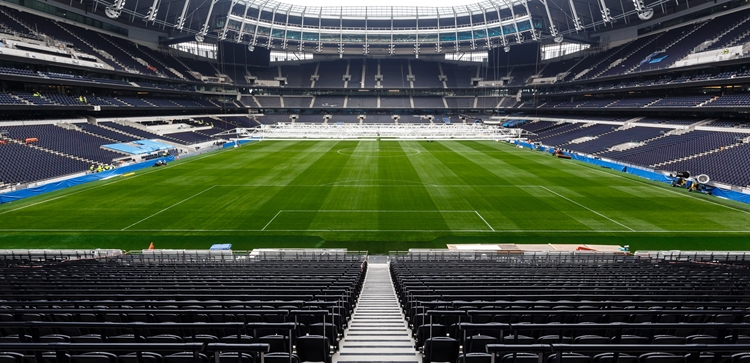 Applications now open for fan familiarisation event
@SpursOfficial
Mon 03 December 2018, 10:01|
Tottenham Hotspur
• Club to hold familiarisation event for 6,000 fans on Sunday 16 December, 11am-3pm.
• Season Ticket Holders invited to enter a ballot for a ticket to this special event.
• Tickets priced at a nominal £1 to facilitate testing of new ticketing systems.
• Fans will get the chance to explore both podium areas – Park Lane Square and Paxton Terrace – with full access to the South Stand, including The Market Place – along with the new Spurs Shop at the Tottenham Experience and the new Paxton House Ticket Office.
We are delighted to be able to give 6,000 fans the chance to visit and explore the South Stand and podium areas at our new stadium during a specially-arranged familiarisation event on Sunday 16 December, 11am-3pm - and applications are now open, as of 10am today (Monday 3 December).
The event is open for all Season Ticket Holders to apply for one ticket each. Season Ticket Holders can apply for their tickets in groups, which will be considered as a single application – meaning the whole group will either be successful or unsuccessful in their application.
You are able to apply to attend during one of two timeslots: 11am – 1pm or 1pm – 3pm. We shall only be able to accommodate 3,000 fans within each timeslot. Please note: In an amendment to the previously published news story, Season Ticket Holders are invited to apply and will be considered for both time slots from a single application. You will only be able to submit one application per Season Ticket Holder.
Tickets will be priced at £1 each so that we can use this opportunity to test our ticketing systems. Season Ticket Holders who have been successful in their application will have the event loaded onto their new 2018/2019 Stadium Access Cards which should be used to gain entry to the stadium.
During the event, fans will be able to familiarise themselves with the journey they will take on a home matchday, with access to both entry level podiums – Park Lane Square to the south and Paxton Terrace at the north.
Here, fans will be helping us test the matchday security procedure and entry through our South Stand turnstiles, with the iconic single-tier stand open for you to explore. All fans attending on the day will enter the stadium via the South Stand turnstiles, regardless of which stand your Season Ticket seat is in.
The South Stand is the home of The Market Place, our street food-style emporium offering a wide range of delicious food and drink options.
In this area you will be able to find the Goal Line Bar – running the entire length of the goal line and at 65m is Europe's longest bar. You will also be able to gain access to the atmospheric Beavertown Tottenham Taproom, home to our very own Microbrewery – a first for any stadium.
Food options in The Market Place include:
- N17 Grill
- Linesman
- Chicken House
- Naan & Noodle
- Smashed Olive
Food and drink on the day will be sold at matchday prices, details of which will follow. To speed up service and provide the best possible visitor experience, only cashless payments are accepted at our new stadium. Purchases can be made via any major bank card or via mobile payment methods such as Apple or Google Pay.
You can also enjoy some of the entertainment options that The Market Place will host after matches – including Legend appearances and live DJ sets.
You will have access into the South Stand stadium bowl itself so that you can get a feel for the incredible fan experience and unique atmosphere that the proximity of seats to the pitch will generate on a matchday.
The day will allow fans to visit our new Spurs Shop at the Tottenham Experience – the recently-opened largest football club retail space in Europe – for a great opportunity to do some last-minute Christmas shopping. Season Ticket Holders can show their Stadium Access Card on the day to claim a 10 per cent discount in store.
Our brand new Paxton House Ticket Office, located to the north of the stadium, will also be open for fans to see.
Applications are now open on our e-ticketing site and will close at 5pm on Wednesday 5 December. All applicants will be notified whether or not they have been successful via email no later than 5pm on Friday 7 December.
Season Ticket Holders with access requirements should apply as detailed above. Successful applicants will be contacted directly with specific information around access for this event.
Further events will be held in due course. We look forward to welcoming you for this exciting preview of our new home.