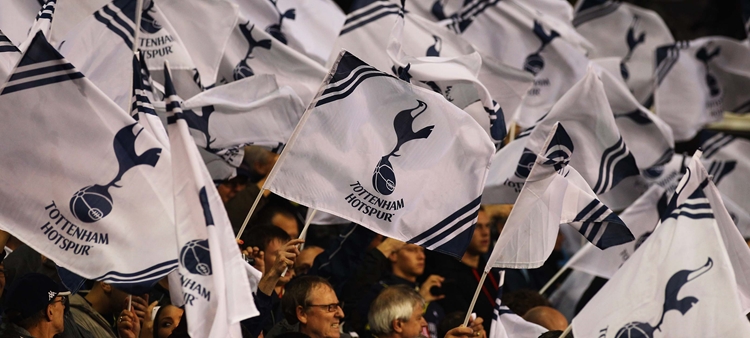 New dad Trippier: Family values, wedding changes and choosing City over United
@SpursOfficial
Sat 10 December 2016, 16:00|
Tottenham Hotspur
It's a big couple of weeks in the Trippier household.
Coming from a family of Manchester United fans, although he chose to join Manchester City as a youngster, Kieran is sure to be at the centre of attention among his nearest and dearest when we travel to Old Trafford on Sunday (December 11).
Add in a first fixture against former club Burnley seven days later and it's certainly a schedule to whet the appetite for our speedy right-back.
Yet the excitement doesn't end there for the Bury-born defender. Indeed, the Trippier clan is now one stronger after his wife Charlotte gave birth to the couple's first child last week – a son named Jacob.
The youngest of four brothers himself, Kieran is especially thankful to his own parents for the sacrifices they made to help him get to the position he's in now.
"It was difficult for my parents when we were younger because it was seven days a week non-stop with me and my brothers," said the 26-year-old as he recalled growing up at the family home in Ramsbottom along with siblings Chris, Curtis and Kelvin – the latter, commonly known by his mother's surname of Lomax, having gone on to enjoy a good career in the Football League with the likes of Oldham and Rochdale.
"I used to look up to Kelvin and I tried to follow in his footsteps as a footballer but a lot of credit goes to my mum and dad for helping me along because I was training on Monday, my brother Tuesday, me Wednesday, my brother Thursday, I played Saturday, my brother Sunday, so my parents dedicated a lot to us and sacrificed a lot. My dad was working away all the time in Scotland, trying to earn as much money as he could for us because it's not cheap at the end of the day with football boots, petrol and the like. He worked as a tree surgeon for a while, doing everything really. It wasn't just one job, he had a few jobs. He was non-stop and all credit goes to him and my mum, whose time for years was spent seven days a week chasing around after me and my brothers. It was brutal for her really but I'm thankful to my mum and dad for the position that I'm in now. If it wasn't for them, I wouldn't be here with the sacrifices they made for me."
It was Kieran's father Chris who set him off on his footballing journey through his local Saturday league team and while Kieran went on to hone his craft in the blue half of Manchester, there was a time when he could have ended up at United.
"At a young age I played for my dad's local team, Seedfield. Dean Kiely's son Chris used to play, it was a good team to be fair. There was a few of us who used to play in that team who all went to different academies – about six of the players got picked up so obviously we'd done alright," explained Kieran. "Some gradually made it into the Manchester United ranks, then I got scouted for United when I was about eight years old. I used to train at The Cliff when I was younger, I went on trial, they wanted to sign me but Man City came in, I had a look around there, I knew a few lads there and it was local for me as well so I set my heart on there really.
"My dad wanted me to go to United because he's a massive Red – all my family are but as I was so young and my dad saw that I was enjoying myself more at Man City he didn't pressurise me or anything. My family weren't too happy I went to City in a jovial way, they would have loved to have seen me at United, but I was happy so City was the route for me. I was about eight years old when I went there and I left when I was 20. It was a great set-up at Platt Lane near Moss Side and it all just took off from there really. They were good times."
Kieran was able to further pursue his obvious passion for football when he attended Woodhey High School in Ramsbottom, thanks in part to the co-operation of staff there. "I was really close to the headmaster, Mr Braidley," he recalled. "City used to pull me out two days a week to go and train. I used to get Tuesdays and Thursdays off school, but thankfully I think the headmaster saw something in me and allowed me to do it, so I was lucky in that respect. I did actually really enjoy school. I was close with the teachers and my three brothers went there too.
"I used to love doing athletics for my school as well. There was a big cross-country event at Heaton Park where all the schools came together – I used to love doing that as I quite fancied myself at long-distance running. All the big athletics schools in the area were involved, it was a big competition – I used to do quite well in it, although there were a few kids who used to run for England at the schools near me. I wasn't at their level but they were the pacemakers so I'd always try to keep up. It just showed how fit they actually were. I know a lot of people don't enjoy running but I just liked it – although football came first."
In his formative years at Manchester City, Kieran started out as a central midfielder and found his way out to the right wing, before eventually settling at right-back. He got his first taste of senior action on loan at Barnsley in 2010 before linking up with Burnley, then in the Championship, on loan in 2011 – a move that would soon be made permanent.
"There's one person at City I'd like to mention – Jimmy Cassell, who was my coach in the youth teams," Kieran said. "He used to live near me in Edenfield and it's just the way he brought the youngsters through. I used to love playing on the right wing but Jim thought my best position in the end would be full-back. I didn't argue, I listened to him because of how experienced he was and here I am now playing right-back so it was the best decision for me in the end.
"Jim did a remarkable job of developing players like Shaun Wright-Phillips and Nedum Onuoah. I was in the year below Daniel Sturridge and we won the Youth Cup against Chelsea in 2008 – we were the first City team in years to win it and I don't think they've won it since. They're the best years really, the Youth Cup years. You play at the stadiums, you get a taste of it, you've got 5,000 or 6,000 people watching and it's on television as well so it's brilliant. I would have been about 17 at that point, then a year later we had the Under-19 Euros where me and Kyle Walker went to play for England.
"They were exciting times but after a while it finally hit me that I needed to get out, to go and play every week. I said to myself that hopefully one day I'd be back in the Premier League at the top and now I'm playing in the Premier League and Champions League thanks to Tottenham. I've taken the long route but it's worked out in the end and hopefully I can keep going onwards and upwards with this club."
Kieran completed his move to White Hart Lane in June, 2015, and made his debut in a 3-1 Europa League victory over Qarabag three months later, recovering from conceding a penalty in the opening 10 minutes to enjoy a solid outing. He subsequently appeared 19 times in all competitions over the course of the 2015-16 campaign, memorably scoring the winning goal against Watford in a Premier League clash in February.
Currently sporting a protective face mask after breaking his nose in training last month, Kieran has five starts and two substitute appearances to his name so far this term. Conversely, his rival for the right-back spot, Kyle, has started every Premier League game in 2016-17 to date, but Kieran insists he's never one to complain about a lack of opportunities.
"I just try to do my best every time I play. That's all you can ask for really," he said. "Obviously I don't play as regularly as I'd like to but I don't moan about it, I just get on in training and try to give my best whenever I'm called upon. You have to make sure you're prepared at all times.
"Admittedly it's difficult compared to when I was playing every game for four years at Burnley but I knew it wasn't going to be easy. You've got to give Walks a lot of credit, he's done brilliantly. He had his injuries before I got here but he played unbelievably last season, then he had the Euros and he's just taken off. In my situation, I've always got to be ready for when I'm called upon, like I was for the Champions League game I played in Russia against CSKA Moscow. I wasn't even expecting to play until the gaffer named the team but that's how crazy it can be. You never know what's going to happen so you've got to make sure you're always ready and prepared. That's what every player here does."
His opportunity in the Russian capital, at that time only his second appearance of the season, might have come as a welcome surprise, but the flying full-back seized the moment and helped us get off the mark at Europe's top table with a 1-0 victory. In his own mind, he also felt as if making his Champions League debut was a way of repaying his mother, Eleanor, and father for all their support over the years.
"I sent my parents a text before the game, just saying 'mum, I'm starting tonight' and she replied saying how proud she was," he recalled. "They were over the moon because I'd worked hard since I was a young boy and to get to a point where I was going to play in the Champions League was a magical moment. Obviously I left a top club in Manchester City and when you do that you never know what's around the corner but I always believed that I could play back in the Premier League, I achieved that with Burnley and then I got signed by Tottenham so I couldn't be any happier with how it's gone. After sending that text, I put my headphones on like I do every game, listened to my music, got changed and went out to play."
Keen on R&B and rap music and a fan of comedy films – "I love Will Ferrell, I think he's hilarious," he smiled – Kieran is now a happily married man after he and Charlotte tied the knot in Cyprus over the summer, in spite of a last-minute change of plans.
"We were supposed to get married in Saint Lucia but because of the Zika virus and the fact that Charlotte was pregnant we couldn't go, so we had about five or six weeks to change all the wedding plans," he said. "It was a bit of a nightmare but we've got a friend of a friend who specialises in that type of thing, she sorted it all out for us and we managed to get Cyprus booked. It was a lovely wedding in the end, just family there, then we had a little UK wedding back home with a few speeches and a video so everyone could see what happened in Cyprus."
Now, fittingly for a down-to-earth footballer who speaks so glowingly about his parents, Kieran is thrilled at the arrival of his own son – and would understandably love him to become the latest member of the family to step onto the football pitch when he grows up.
"I've been speaking to the other boys here who have got kids themselves now and it's changed their lives so Charlotte and I are really excited to be parents," he said. "My family are really pleased as well because I'm the youngest son to my mum and dad, so it's quite special to them really. Obviously it's a lot of responsibility for my wife and I but I'm such a proud dad! Obviously, when Jacob gets older, I'll put a ball at his feet and hopefully he'll want to be a footballer but I'm not a pushy person – if he doesn't want to be a footballer then he doesn't have to be. But I hope he is."