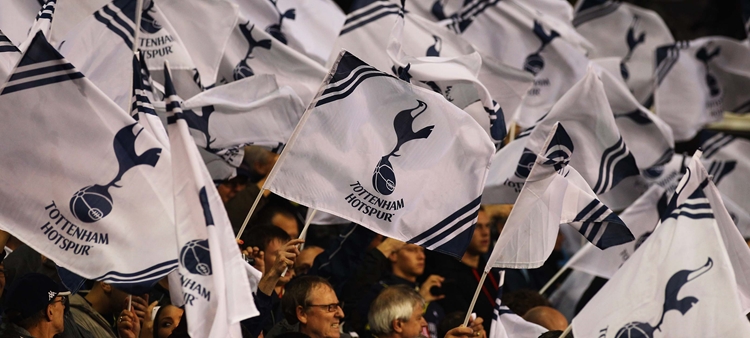 Carter-Vickers: 'I once broke my nan's wrist... we laugh about it now'
@SpursOfficial
Wed 26 October 2016, 16:20|
Tottenham Hotspur
Young centre-half Cameron Carter-Vickers has emerged onto the senior stage with a regular spot in our matchday squad this season and started last night at Anfield, but who is this powerful academy product?
One thing is for sure, he's always been a strong lad.
The 18-year-old son of American former basketball player Howard Carter and English schoolteacher Geraldine Vickers recalls playing football at his grandmother Josie's house in Southend – where he and Geraldine lived – during his childhood and causing accidents with his physical power.
"When I was 10 or 11, I was playing with my nan in the back garden, she was in goal, I shot, she stuck her hand out to save it and she ended up breaking her wrist," he said. "We laugh about it now, though.
"I played a lot in the garden with my mum and nan when I was younger, but not just football – sometimes we'd be throwing a ball around and playing catch, sometimes a bit of basketball as well. We had a basketball hoop as well as a football net and we tried all kinds of sports, but we were just messing around really."

Above: Cameron playing in the garden as a child.
Cameron has since added professional skill and application to his obvious passion for sport following years of graft in our academy set-up. He was born in Southend and, now in digs, he still goes back there if he has a day off at weekends.
His father Howard earned the nickname 'Hi-C' from his college basketball days with Louisiana State University (LSU) Tigers and later featured briefly in the NBA for the Denver Nuggets and Dallas Mavericks before spending a decade in France, taking French citizenship and later representing their national team.
Over the years, father and son have met up every summer during the school holidays for anything between 10 days and three weeks, with either Howard coming to Southend or vice versa with Cameron travelling to Baton Rouge, Louisiana, where Howard was born and still resides.
"It's really nice out there, the weather is nice and it's about an hour's drive from New Orleans which is always an exciting place to visit. There's good food out there as well, a lot of seafood dishes," said the youngster. "I'd fly from Stansted to Houston and then get a connecting flight to Baton Rouge. It's the capital of Louisiana so there's a fair bit to do – I've got loads of family out there on my dad's side with cousins and aunties, so whenever I went I'd be visiting them. I still see them when I go out there now – last summer I went and played a bit of basketball with my cousins."
So, with his dad's background in the sport, has Cameron always taken a fond approach to basketball? "To be honest, not really. When I went to secondary school I started to play a little bit, but that was more just because my friends were playing rather than me having a real deep interest in the sport."
Indeed, after attending Our Lady of Lourdes Catholic Primary School in Leigh-on-Sea, Cameron went to the nearby Eastwood Academy where, in year nine, he was part of their side that won the Essex County Cup for basketball. That same year, he represented Essex in the national shotput championship finals in Gateshead, finishing a respectable sixth overall.

Above: In action at the national shotput championship finals in Gateshead.
On the football scene, Cameron first played for Catholic United, a local Sunday team he joined through his primary school, before arriving at Spurs at Under-10 level. Since he's been in our academy, he's been fast-tracked through the age groups. Training three or four nights per week with a game at weekends, he played a handful of times for our Under-16s when he was only an Under-14 and then, when he got to the usual qualifying age for Under-16 level, he skipped out that year altogether and went straight in to play a full season at centre-half for the Under-18s along with fellow 15-year-old Christian Maghoma, who nowadays plays for our development squad.
"At that age I was one of the biggest, strongest and quickest so I always had that over other players when I was younger," Cameron said. "When I was really young I played as a striker but I think everyone does at that age! Centre-back is my only real position and it has been since I was with the Under-13s. It was when I got to 15 or 16 years old that I really thought it could get more serious with my football career and I thought I'd have a chance to kick on."

Above: In action for Catholic United - his first football team.
Right-footed, Cameron can play as either the right- or left-sided centre-half. With our Under-18s he was more commonly utilised on the right but then operated to the left with our Under-21s. Either way, more often than not, he did so wearing the captain's armband.
His talents came to the attention of US soccer chiefs when our academy side competed at the IMG Cup in Florida in December, 2013. Eligible to represent the States through his father, he was called into America's Under-18s squad for the Vaclav Jezek International Youth Tournament in Kromeriz, Czech Republic, in August, 2014, and featured in every game as the States won the whole competition. He went on to represent the US at Under-17 and Under-23 levels while still a 16-year-old before playing every minute of every game for America's Under-20s at the 2015 FIFA Under-20 World Cup in New Zealand.
"I'd say that was one of the best months of my life," he said as he reflected on his nation's run to the quarter-finals. "It was really fun, we did quite well, everyone in the team got on and it was a really good experience."

Above: In action for USA against New Zealand at the FIFA Under-20 World Cup.
A bright lad off the pitch, Cameron has always made a concerted effort to balance his sporting progress with his education – no matter where he is in the world. Hours before leaving a pre-World Cup training camp in Australia to head to New Zealand last summer, he went to the British Embassy in Sydney to sit an A-Level maths exam. He came through that and, back here at the Club, passed his Level 3 BTEC in Sport with a double distinction. He also has 11 GCSEs – three A-stars, four As and four Bs.
"In a way I was quite lucky because I always found that school work came quite easily to me," he said. "I remember with my GCSEs, I just kind of took them in my stride along with the football so I consider myself quite lucky in that respect. I remember, before the World Cup in New Zealand, we had a training camp in Australia. The day we were flying from Australia to New Zealand for the start of the tournament, the rest of the lads left the hotel very early in the morning and got on a flight – I left around midday, went to the British Embassy, sat the exam and then flew out later and met everyone at the hotel in Auckland. To be fair, I'd been flying to camps beforehand with America, I'd gone to Brazil with them before so I didn't really mind making those journeys on my own. I flew a lot with my mum when I was younger, going to America and stuff, so it didn't really bother me. I've always been able to find my way around and ask people if I wasn't sure about where to go."
Named on the bench four times for us in the Europa League last term, Cameron started every game in pre-season this summer with Toby Alderweireld and Jan Vertonghen late returnees from Belgium international duty at Euro 2016. Incredibly, those summer outings represented the first time he'd played men's football. His progress led to Mauricio Pochettino naming him as a substitute for our opening Premier League games of the season, not to mention our first UEFA Champions League matches in six years against Monaco, CSKA Moscow and Bayer Leverkusen. He was handed his senior competitive debut in our 5-0 thrashing of Gillingham in the third round of the EFL Cup last month and played 90 minutes again as we lost narrowly at Liverpool in that competition last night.
"Pre-season was a great experience, out in Melbourne and Oslo," Cameron recalled. "The chance to play against Fernando Torres, someone who I watched for Liverpool when he was tearing up the Premier League, when we played Atletico Madrid was brilliant."

Above: Up against Fernando Torres of Atletico Madrid in pre-season.
Cameron also used to watch Manchester United's Nemanja Vidic closely when he was growing up: "I thought he was quite a tough, resilient defender who would throw his body on the line, which I try to do," he added.
The youngster remains close to his family and friends back in his home town. Geraldine teaches year four at a primary school in Southend while one of his closest childhood pals is Louis Ramsay, who plays as a midfielder for Norwich City's development squad.
"In school I had quite a lot of friends and right now I'd say there are maybe five lads that I see regularly when I go back to Southend," he said. "Louis lives in Norwich so sometimes when I go back, he might not be there, but he's someone who I talk to about football quite a lot. In the off-season, we go and work together to stay fit – we go over to the park to do bits of running and fitness work."
Cameron recently earned a new contract with the Club, but what does he make of his progress of late? "It's all going really well," he said. "All the players are very nice, they help you as a young player and the manager is very good. He obviously shows faith in young players, which is always good to know. Now I've got to keep working hard in training and keep pushing on."