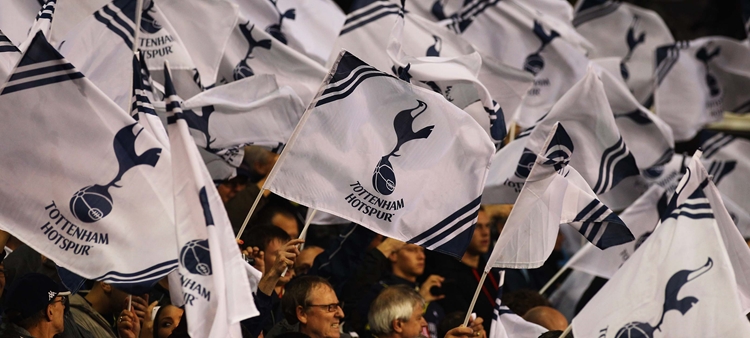 The amazing story of former Spur Derek Castle, 89
@SpursOfficial
Sun 08 July 2018, 16:30|
Tottenham Hotspur
The story of Derek Castle, 89, a professional at Spurs between 1951-53 and a modern day medical miracle.
Occasionally, the narrative of a story changes.
This story was always going to be a fascinating insight into a golden period at the Club in those wonderful days of the early 1950s - Arthur Rowe, push and run, Sir Alf, Bill Nick, Ronnie Burgess and back-to-back titles.
Yet the incredible thing about Derek Castle is that he's here to tell the tale at all.
Derek is now 89 and most Spurs fans, even the most hardened, won't have heard of him.
On the Club's books as a junior in 1945, he was playing for Letchworth in 1951 when Arthur Rowe, manager of the champions of England, came calling.
Below: Derek, front row, far left, lines up with the first team for the public trial match in August, 1951
Yet Derek didn't feature in a competitive first team match for us. He played and trained with all the greats, but the closest he came to the first team was taking his place in the annual public trial match between the first team and reserves (known as 'Whites v Colours') at White Hart Lane on 11 August 1951, when he was a late replacement for Sonny Walters.
A regular who showed real promise in the reserves and a Football Combination champion in 1952-53, Derek's career was cut down by a serious illness - Ulcerative Colitis - halfway through his second season.
He has kept a heart-breaking letter from Arthur Rowe, dated 9 December, 1954, that told him 'it would be most unwise for you to consider taking up professional football as a career once again'. Derek was 25.
In terms of Spurs, that's the end of Derek's story.
But really, that's where his incredible story begins, and it's the story of the sheer will of a man to get the most out of life.
To say Derek has overcome the odds to hit 89 not out would be doing him a disservice.
His medical history makes staggering reading - bowel complications saw his weight tumble down from 11st 7lb to 6st in 1982, two replacement knees, two replacement hips, back surgery in 1983, 1990 and 2004, heart attack and stroke in 2013, broken leg in 2014.
Derek was back in hospital again just 18 months ago after a fall left him with serious injuries, explained below by his son, David.
"It transpired he had broken two vertebrae in his neck and had major surgery involving C1 to T3.  Screws and bilateral rods were inserted C1-T3. C7 was badly damaged and a hematoma was removed from the spinal canal.  He spent 24hrs in NCC unit with poor renal and lung function, the surgeon only operated due to the 'spirit and determination of Derek to live'. Ordinarily patients of his age and condition are not operated on."
And here we are, 18 months later, sitting in Derek's front room chatting away about his time at Spurs - just a couple of weeks after he'd attended Wembley with David to watch our Champions League second leg against Juventus.
Below: Derek at home last month
Known as 'Cannonball Castle' for his powerful shot in his playing days, Derek is no less a Bionic Man for the senior generation!
Here are a few of his memories…
Joining Spurs in 1951…
"Arthur Rowe came down to Letchworth and stopped me signing for Luton. That's the first time I realised Spurs wanted me as a professional. I'd been playing amateur until then but hadn't made that step up.  I played in the match between the first team and reserves ('Whites v Colours', August 1951), the trial they used to have before the season started and I remember (famous journalist) Desmond Hackett wrote that he would 'eat his hat' if I didn't one day play for England. It's funny how these things come back to you now. Unfortunately I didn't make it because of the illness."
Daily life at the Club in the early 1950s…
"I believe there were 48 full-time professionals at that time. For training, we'd go into divisions - first team, reserves - and play in the car park under the stand. Remember, there was no Cheshunt (training ground) then. Everyone had to do their laps (around the pitch) and you had lunch and then went home. That was football in those days. I had served an apprenticeship in instrument making and spent the afternoons working. I couldn't stand being idle! On Fridays we used to do sprints, nothing else - sprints, lunch and home."
Arthur Rowe...
"He used to give lots of little tips. 'Push and run'. 'Make it simple, make it accurate, make it quick'. They were all in the players' handbook. He was a real gentleman. He was very good to me and he had a big influence on Bill Nicholson. Arthur had been out to Hungary, seen players like Puskas and brought that knowledge back with him. Hungary really shook England when they won at Wembley**. They had players juggling the ball! Hidegkuti scored from way out, a blinding shot. They were incredible."
Bill Nicholson...
"Bill was a lovely bloke, a wonderful Yorkshireman, very warm-hearted and a brilliant player, hard as nails. He would have an injury yet no-one would know. I played a lot with him and you got the ball from Bill when you wanted it. I believe he coached an amateur side called Pegasus* when he was at Tottenham and they won several things down to his prowess. Later, I introduced my family to Bill in the old Legends' lounge at White Hart Lane. I knew Bill very well, he was a wonderful man."
Below: Derek at Spurs in 1951
On his illness...
"Early in 1953, I knew I could be doing better. I was in hospital for two years, had 13 operations from one of the top surgeons in London, Arthur Dixon-Wright. When I was in Prince of Wales Hospital I had my own private room through the Club and I had a television, lent by the local shop. As it went on, the time came when they were going to take it away so the players bought it for me! Ted Ditchburn organised that. He was a lovely man. Mr Dixon-Wright got me back to a reasonable level of health again but I knew in my heart I wasn't going to be as fit as I was. I did play again. I went back and played for two or three clubs in the Eastern Counties League including Biggleswade and Eynesbury. These days, I'd be worth a lot to a metal merchant, certainly more than anything medical!"
To sum up…
"In those days, it was only the 11 players, no substitutes. We used to see the teamsheet and there would be a 12th man - he pushed the wicker basket with the clothes in! It was so tough to play in the top flight. I had an enormous amount of fun out of it and worked hard at my game, but it wasn't to be. The harder I worked the worse it got for me. I made some super friends. I loved my football. I was a Spurs supporter before I joined but when I was able to sign for the Club, I couldn't have been more proud. I still am. Now I hope I get the chance to get to the new stadium. That's one of my targets."
* Pegasus was a team made up of students from Cambridge and Oxford Universities. Bill Nicholson coached the Cambridge University team, his team-mate Vic Buckingham coached at Oxford. Pegasus won the FA Amateur Cup at Wembley in 1951 and 1953.
** Hungary beat England 6-3 at Wembley in 1953, known as the 'Match of the Century'. Many believe that was a turning point in English football as Hungary were so much better tactically and technically. Hungary followed up with a 7-1 win in Budapest in 1954, to this day England's biggest defeat.