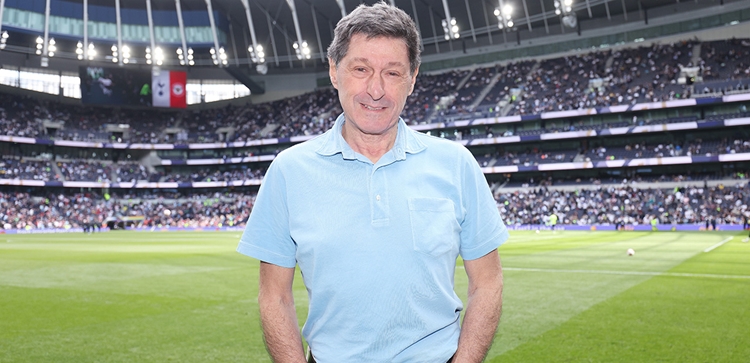 Spurs stories | Jon Sopel
@SpursOfficial
Sun 04 June 2023, 09:45|
Tottenham Hotspur
Jon Sopel, 64, joined the BBC in 1983 and worked for the national broadcaster until 2022. He was North America editor from 2014-2021, during which time he was the face of the BBC's reports from Washington on TV, radio and online in the Donald Trump presidency. Last year, he joined LBC, and now hosts the popular podcast The News Agents with Emily Maitlis. Born in Stepney, Jon's family later moved to north London when he was 11, and he's been a Spurs fan for over 50 years.
Jon Sopel
"I loved being in America. I was there for nearly eight years, I was there all through the Donald Trump presidency and I was covering the White House, so what was not to love about all of that? It was chaos, exhausting, exhilarating. Can you imagine what it was like as a journalist? Suddenly, you'd have a message, 'he's said this...' It would then be, 'okay, I'll get to the White House...'.  It was fantastic, but I'm a Londoner and, yes, it's great that you can watch all the games on TV in the US - in fact, you can watch more, you get the three o'clock kick-offs - but I wanted to come home. The first thing I did? I sorted myself out a Season Ticket!
"My Spurs story? Well, my dad was West Ham! He was a nightmare in terms of which grounds he would go to. He'd go to West Ham, obviously, Chelsea and Arsenal, but he wouldn't go to Spurs, because he said it was a nightmare to drive, so he wouldn't take me. Nevertheless, me and my sister would get taken to football, and there would be assaults on Everest where people took less food! We'd have rolls, nuts, everything under the sun. By the age of 10, 11, I'd decided I'd be a Spurs fan. At the school we went to in north London, you were either Arsenal or Tottenham, I chose the right side!
"Ever since I was a kid, I've always felt that excitement when you walk up the stairs and then you see that fantastic green football pitch in front of you. The sights, the smells around the stadium, everything about it. I still get that thrill now, every time I come to a game. I'm like a kid in a candy store, as they say in the US of A. That's what I really missed in America - family, friends, football, the three Fs. The big three. It was wonderful, though, Washington. It's on the East Coast, and you get so much sun and bright light. Then, when you come back to the UK, you think, 'it's so grey', and then it's a damp November coming to Spurs, getting dark at half past four in the afternoon... we all whinge about it - that's what we do - but we wouldn't have it any other way!
"When Lucas Moura scored that sensational hat-trick against Ajax, I did something I shouldn't have done. I was BBC staff, and I tried to get onto the BBC Five Live phone in after the game! I just wanted to gloat from 3,000 miles away. We managed to get tickets for the final. Donald Trump was planning a visit to London, so I told the BBC that I'd managed to get flights back to America from the Trump visit via Madrid, and asked, 'was that okay?' The flights worked out slightly better! Back of the net!"
Follow Jon on Twitter - @jonsopel
Watch - Jon Sopel on N17 Live