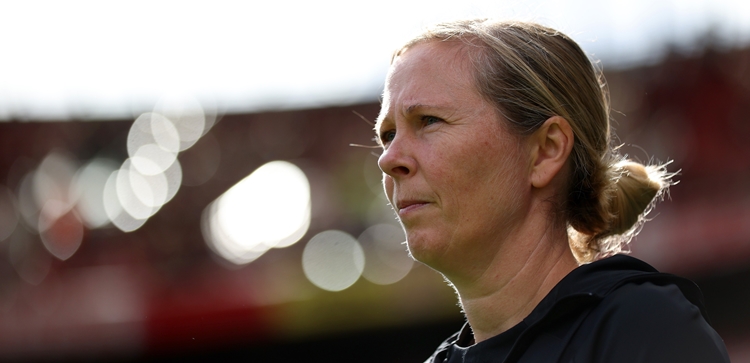 Rehanne: 'We've got to have a response'
@SpursOfficial
Sat 24 September 2022, 18:50|
Tottenham Hotspur
Rehanne Skinner told us how disappointed she was with the length of time it took her team to get into the game during Saturday's defeat to Arsenal.
"We started too passively in the game and it meant that we gave Arsenal too much time and space," she said/ "In terms of the way we set up to press, we probably didn't achieve that as well as we could have. It caused us a few issues early on in the game and created problems.
"As the game went on, towards the end of it we probably played a little bit more like ourselves in the last 15 or 20 minutes, but it's taken us too long to get into it and that's what's cost us at the end of the day today."
Conceding on the brink of half-time didn't make matters any more straightforward, Rehanne said.
"It's difficult because we made an error before half-time that put us in a position where we're 2-0 down versus 1-0. If you go in at 1-0 it's a different conversation at half-time, but regardless the message was that we were showing too much respect and we've got to make sure that we put pressure on the ball a lot more effectively.
"When we regain the ball, we've got to make sure we secure with the next few actions, rather than playing with a little bit of fear at times. We're good footballers and we've just got to look after the ball better and be confident in that. We undersold ourselves with that today."
Celin Bizet got her first start for Tottenham and Nikola Karczewska made her first appearance off the bench for the club.
"It's important," Rehanne said. "They've got to figure out the league and get more exposure to that so they bed into the team more effectively. Longer term we'll see the benefits of that. Important for them to get those minutes. It's disappointing with the result but at least we've had an opportunity for them to get in a Spurs shirt and fight for the cause."
Despite the performance and the result, Rehanne was delighted to see the game break the Women's Super League attendance record.
"We're now starting to get back to the point of what the game was before it got banned many years ago. That's really important. It's an opportunity to make a bit of history today in terms of the fans in this ground, but we need to make sure we're doing it across every club so that everything around fan engagement and people wanting to come to games continues and everybody's got a responsibility to do that.
"Fair play to Arsenal today, they've got everybody in the ground and that's something that everybody has got to keep doing."
Reading are up next in the Conti Cup next weekend and a response to Saturday's defeat is key.
"We've got to make sure that we look at the way we pressed today," Rehanne said. "We were a little bit tentative at times last week as well to be honest and that's the end of that. We've got to make sure that changes going into this week. That was the discussion with the players on the end of it - be more on the front foot and more aggressive about the way we play and forcing errors to make people worry about us versus sitting off.
"We'll learn from that. Every time I've had ups and downs with the team, you just need a response and we've got to have a response next week."