'He always takes responsibility' – Daws and Ledley on Eric Dier's England recall
@SpursOfficial
Fri 23 September 2022, 11:01|
Tottenham Hotspur
With England returning to action against Italy and Germany in the UEFA Nations League over the coming days, we caught up with legendary former defenders, captains, England internationals and current Club Ambassadors Ledley King and Michael Dawson to discuss Eric Dier's recent good form and return to the international picture with the Three Lions...
Back in the fold
What are your thoughts on Eric Dier being recalled to the England squad?
Ledley King: "I'm delighted he's back in. I've looked out for the squads over the last couple of years and been hoping to see Eric back in there, especially with his form last season. We've had conversations, and he's never shied away from the fact that he wanted to get back into the England squad as soon as possible. I always said that the season under Jose Mourinho, his first full season as a centre-back, which would have been tough anyway, but the team was changing a lot, so it must have been difficult for him. He was fantastic last season. It goes back to something I said a few years back, that I felt he would end up as a centre-back, and his experience playing in midfield would help him to become a better central defender. I'm really glad to see him in there, it's well deserved."
Michael Dawson: "First of all, it's well deserved, let's not kid ourselves. He could have been in the squad last summer (for the Euros), I thought he should have been – but one thing with Eric is that it never fazes him, he just keeps doing what he's done since he walked through the door at Spurs in 2014. I've always said playing centre of the three suits him, he's the anchor, he starts it all from there. Having played in the number four position (base of central midfield), which we saw under Mauricio Pochettino, he's just slotted in there and he's been magnificent. I'm glad he's back in the England squad with the World Cup on the way, knowing how good he was in the last World Cup in 2018."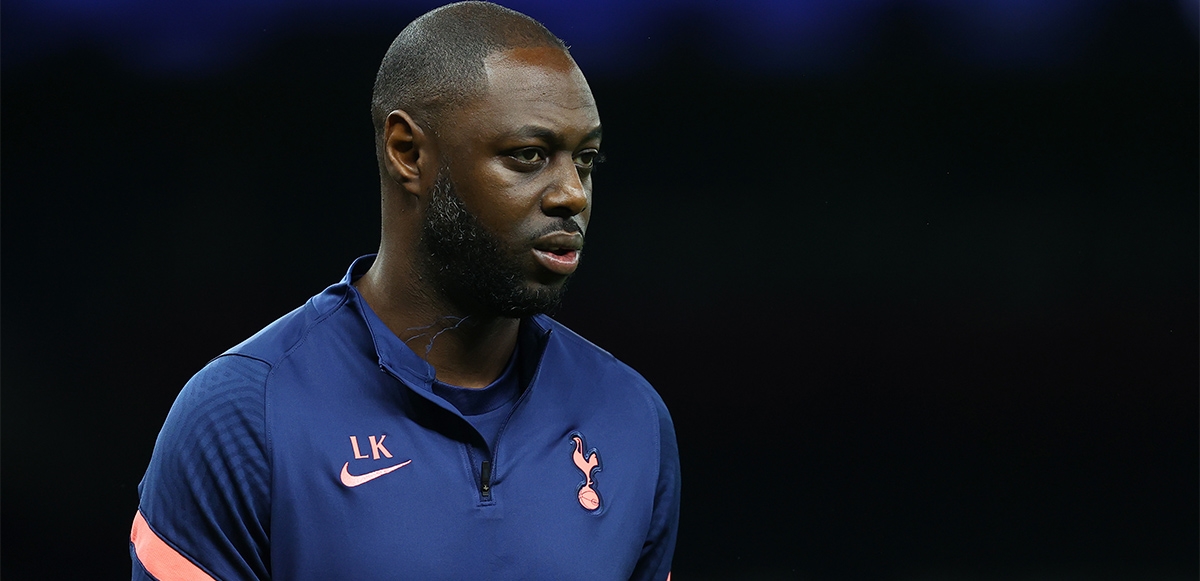 Centre points
What have you made of his performances in the centre of a back three under Antonio Conte?
Daws: "He's got Romero or Sanchez, Davies or Lenglet either side of him at the moment, and that means you don't get dragged out of position. I played that position when I was at Hull City, and you have central defenders who can defend in the wider areas. Romero and Ben both can. That suits Eric, who stays central, he's very vocal, confident on the ball and you just lend the ball into the midfield, lend it either side of you to your centre-halves. He's also good in the air. It suits him. I know Gareth Southgate sometimes likes to play with a right-back on the right of the three (he did with Kyle Walker at the 2018 World Cup) and the good thing is that Gareth knows him and knows what he can do. Credit to Eric. He would have been disappointed to miss out on the Euros, but he's got his head down, kept performing and it's always nice when you get that recognition. When you miss out having previously been in squads, that's a disappointment, but at the same time, when you get the call, that will give him a boost."
Ledley: "It suits him. We know he's very good on the ball, having played in midfield, he has that calmness and composure on the ball. For me, it was more about him playing regularly and getting to understand that position more and more. With that, he's able to read the game, he's an intelligent guy, he can make better decisions, better positionally as well and it helps when you are playing with a consistent back three. There is no doubt that he's always been a vocal leader from the back and having spent that time to understand the position, we're seeing the best of him."
Threes and fours
Antonio was asked in a recent press conference if Eric could perform as well in a back four – what do you think?
Daws: "I think he can. I think playing in a three suits him better. We know now that full-backs… it's not like back in the day when they stayed alongside the centre-halves, that's why now a lot of teams play a back three, because the wing-backs are basically wingers, and the front three then move inside. Look at Liverpool, Trent Alexander-Arnold, they basically play in a back four with him pushing on. You have to look at the space it leaves behind when you play in a four and the full-backs push forward. With a three, you're more covered. He could play in a four, but I prefer him in a three, personally."
Ledley: "It shouldn't be an issue. I started off in a back three and when I went into a back four, I actually found it easier. Everyone is different, but there is no reason why he shouldn't be able to play in a back four. He's not done that very much over the last year or so. It's always different with England anyway because it's not the players who you are with week in, week out. That brings different challenges, but in terms of playing in a back four, he'd be fine."
Leader from the back
Eric has already captained Spurs on a few occasions, and proudly wore the armband for England against Belgium at the 2018 World Cup. What are his leadership qualities?
Ledley: "One big quality is that he always takes responsibility. If he doesn't feel he's been good enough, he'll always put his hand up first. Other than that, he's a vocal leader in terms of the back line, his is the voice we'll hear most, even when he was new to the position, he was still barking out orders! He's always had that quality. He's an intelligent guy, studies the game and makes sure he helps his team-mates, these are all the signs of a leader."
Daws: "He's captain material, 100 per cent, and you don't always have to wear the armband for that. Even as a young lad, I always liked to think I was a leader, talking to players, giving advice – you don't need an armband to do that, to be a leader, to be vocal. You have leaders throughout that squad – Hugo is club captain, Harry is England captain, Pierre, Sonny is captain of South Korea – and Eric is one of those players. He's always giving information to the midfielders in front of him, always talking to the defenders either side of him, the full-backs, and you grow with age, that maturity, experience, he has all that. He's played in big, big games, taken a decisive penalty in a shoot-out in the World Cup, he's a big character and I'm sure he is vocal in that dressing room."
The pinnacle
Ledley and Michael were part of England's squad for the 2010 World Cup in South Africa – what does that mean for a footballer?
Daws: "It's the pinnacle, it's an honour to pull your country's shirt on. I went when Rio (Ferdinand) got injured, I wasn't a big figure in that squad, but as an experience in my career, it was nothing short of sensational, a real honour, and I still speak about it now. To actually play in the tournament and be a big part of it like Eric was in 2018, it doesn't get better than that."
Ledley: "For me, one of my first vivid memories of football was the 1990 World Cup. That left a lasting impression on me, and it's something you obviously aspire to when you are younger. It's obviously the pinnacle of your career. The funny thing is though, when you're actually there and part of it, you're in a bit of a bubble, just focussing on the job. It's very different from the inside. Looking back, it's fantastic to be able to say you represented your country at the World Cup."