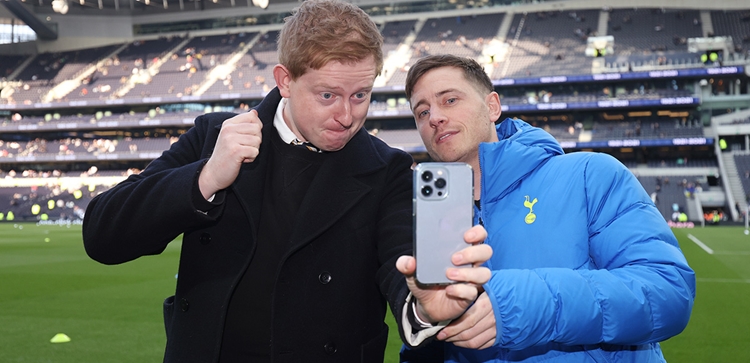 Ben & Rob's preview - Burnley
@SpursOfficial
Sat 14 May 2022, 12:30|
Tottenham Hotspur
It's our final home match of the season as we welcome Burnley to Tottenham Hotspur Stadium for an early kick-off on Sunday (12noon). N17 Live presenter Ben Haines and Club commentator Rob Daly give their views on another huge occasion...
Two to go...
Thursday night's big derby win moved us to within a point of Arsenal, who go to Newcastle on Monday night...
Ben: "Well then, that was possibly the best north London derby I've ever seen. The atmosphere, the drama, the goals and the way in which we controlled the game, all perfectly scripted with every single element of the game going the way we all hoped. Goals for Harry Kane and Heung-Min, rests for Dejan Kulusevski and Sonny, the ability to take the sting out of the game and play almost at walking pace for so much of the second half, a real joy that one. And now, even though it's not totally in our hands, you do get the feeling that if we can just get through these two games there's enough in Newcastle and Everton to cause a slip up for Arsenal! It won't be easy but the momentum is well and truly with us at the minute."
Rob: "Looking at the Arsenal game in a purely clinical way, it couldn't have gone better. Kane and Son were on fire. It was a demoralising defeat for Arsenal - and a morale boosting one for Spurs. Even the ability to drop the tempo for the final 30 minutes, and bring off Kulusevski and Son too, to help conserve energy for the quick turnaround for Burnley was ideal. I think the situation was brilliantly dealt with by Antonio Conte. Yes, the team could have scored more, but with a commanding goal difference advantage anyway, the priority became managing he team for Sunday. It was an extraordinary evening from start to finish. Ultimately, yes, it's still in Arsenal's hands, but Spurs have kept themselves in the top four fight."
Burnley
The Clarets are fighting for their lives after a good recent run under new boss Mike Jackson, but defeat at Villa means they are still level on points with Leeds in 18th...
Ben: "Rob and I had a really good discussion about the Burnley game the other night. It's such an interesting match, because I don't think Burnley can go for the win - that would play into our hands - but equally a point isn't really enough for them. The key really for Spurs as ever is to score first, score early and then force Burnley to come onto us so that we can be ruthless on the counter-attack. One other thing just to bear in mind - the 12 o clock kick off, it's a bit of a pain because it doesn't allow for much preparation, but if we can start fastest and get through this game, suddenly Arsenal at Newcastle on Monday night will feel hugely under the microscope, what a test that will be for them."
Rob: "Yes Ben, I don't think Burnley will be relishing the trip to Spurs, but maybe they'll have extra confidence after the Turf Moor win in February. We all remember the dejection - and I honestly felt any hopes of Champions League football had gone, despite having beaten City days before. But it's eight wins in 12 league games since. Burnley, meanwhile, couldn't use that result as a springboard. The sacking of Sean Dyche was a shock, but I'd seen the team a fair bit and they'd lost that edge we'd seen down the years. Mike Jackson has re-established it - three wins in a row before the Villa loss has given them a greater chance of survival. They'll scrap - but Spurs will too. Both teams are fighting so they can play the level of football they feel they deserve next season."
Home sweet home
This is our last home fixture of 2021/22 - what is your favourite memory of a final home game in a season?
Ben: "For me personally a few favourites - the last home game of the season against Leicester a couple of years back was incredibly special, a 3-0 win, Harry's trademark finish into the far corner, but also it marked the end of our first season of N17 Live, which was special. On top of that, the 5-4 at Wembley also against Leicester in 2018 with Erik Lamela on fire was epic, and then finally probably the most special, the last-ever game at the Lane in 2017. What an occasion. I was sat almost front row of the South Stand as we went 2-0 up through Victor Wanyama and Harry and then I remember vividly at 2-1 Marcus Rashford missing a sitter and thinking, 'this is our day today'.
Rob: "I'll go recent too - 2019. Everton at home - not a scintillating performance, but a 2-2 draw earned Champions League qualification, edging out Arsenal. Not only that, but the place was buzzing ahead of the Champions League Final. The Goal Line Bar was packed well before kick-off, and long after full-time - songs about Madrid ringing through the very new stadium at that time, before spilling out to the pubs along the High Road on a sunny day."