'I'll be pinching myself' - Spurs fan and Saracens star Alex Lozowski all set for 'Showdown 2'
@SpursOfficial
Tue 22 March 2022, 18:00|
Tottenham Hotspur
Destiny awaits Alex Lozowski at Tottenham Hotspur Stadium on Saturday.
Alex, 28, admits it will be 'so special, a bit surreal' when he steps into the stadium bowl again, this time not as a Spurs fan, but as a Saracens player ready to take on Bristol Bears in the 'Showdown 2', a key clash in the Gallagher Premiership, the first time as a Club we've hosted rugby union.
At the stadium as recently as 7 March for our 4-0 win against Everton, Alex hails from a family of Spurs fans going back generations, including his father, Rob, a former Wasps captain and England international who took Alex to his first game.
You can just imagine how he'll feel walking out of the tunnel into the arena where his family have spent so many years watching Spurs.
"It's going to be so special, a bit surreal, I can't wait," said Alex, capped five times by England and a try scorer against Samoa in November, 2017. "It's such a fantastic stadium, I'm sure everyone will enjoy the day. I'll be pinching myself, and I'm sure it will bring the best out of me and the team as well. We will all want to do justice to the occasion."
A talented footballer as a youngster - Alex was on Chelsea's books until the age of 16 - Alex followed in the family footsteps when dad Rob took him to Wembley for the Worthington (League) Cup Final aged five in March, 1999, a bit of a drab showpiece against Leicester City that we won via Allan Nielsen's diving header in the final minute.
"My dad grew up in north west London, he was always a Spurs fan from a young age," explained Alex. "He used to come to White Hart Lane years and years ago. On my mum's side, my great-grandfather was also a Spurs fan. Her brothers, all my uncles, basically the whole family are Spurs fans and try to get here as often as they can.
"We've a big WhatsApp group where we talk about everything Spurs. It's great to have that family connection. I remember my first game was the Worthington Cup Final at Wembley in 1999. I was five. My dad got me a shirt and a scarf. It's a good job we stuck around because apparently at half-time I said I was bored and wanted to go!"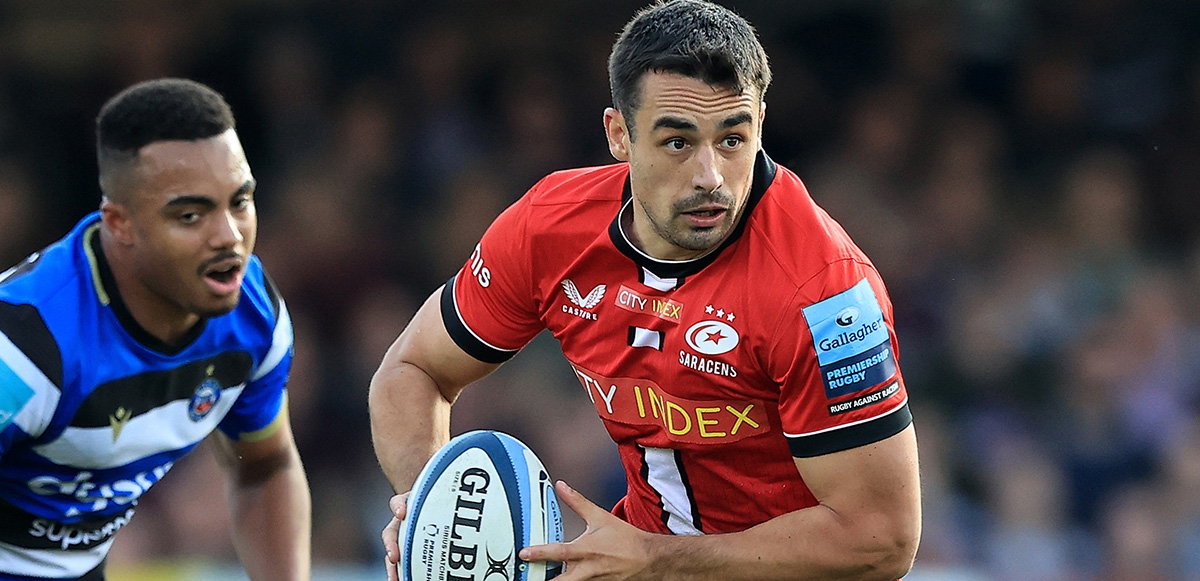 Rugby took over Alex's sporting life after being released by Chelsea and going to Leeds University. He signed for Leeds Tykes (then Leeds Carnegie) in 2012 and impressed so much in 2013/14 that he secured a move to Wasps.
After two years at Wasps, the big move to all-conquering Saracens - and he's won the lot with the north London club - two Premiership titles (2018, 2019) and twice European champion (2017, 2019). On loan at Montpellier in France last season, Alex added the European Challenge Cup to his CV.
"It's been a good career," he said, humbly. "I feel fortunate and grateful that I had the chance to sign for Saracens, a brilliant team and not just that, a brilliant culture. I enjoy going to work every day. It's a family-orientated club, all built around friendships and creating memories. Results take care of themselves after that.
"We've had some unbelievable finals and now we're looking forward to playing at Tottenham Hotspur Stadium. We were at the stadium for a promo shoot a few weeks back, we started kicking a few rugby balls about, but we soon got the footballs out, kicking a few into the back of the net, just like Harry and Sonny do every week. That was awesome! Just to be at the stadium, the world's best, with Saracens, what a day for me and my family. I can't wait."