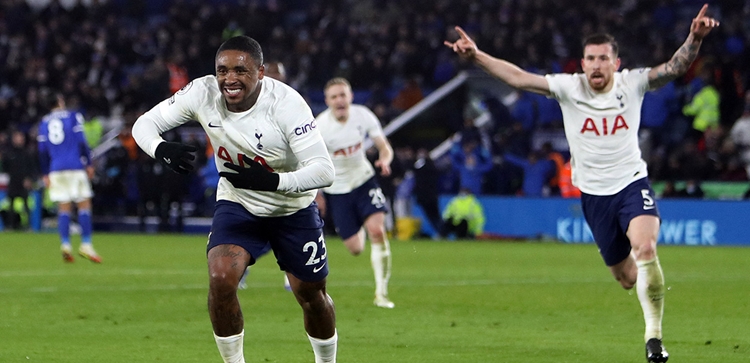 Stevie Bergwijn: "What was I thinking? Nothing... just score!"
@SpursOfficial
Thu 20 January 2022, 12:45|
Tottenham Hotspur
The smile said all you needed to know, really. Steven Bergwijn had just delivered a night to remember at the KP Stadium, with two late, late goals securing a 3-2 win against Leicester City.
A record night, at that. Stevie's goals arrived on 94.52 and 96.11, the latest a team has been losing but managed to turn it around and win a Premier League game, beating City's title-winning thriller against QPR back in 2012, when they were losing with 91.14 on the clock.
It was nothing less than we deserved, but as we ticked into the final of the five minutes of scheduled added time, we were staring at defeat. At that point, we'd had 25 efforts at goal, hit the woodwork, and had two shots cleared off the line. Even a draw would have been tough to take.
But the flying Dutchman changed all that. First up, he was on the spot to finish after Pierre-Emile Hojbjerg picked out Matt Doherty's run, Caglar Soyuncu challenged and the ball fell to Stevie, who blasted home from close range.
Then that incredible finale. Hojbjerg intercepted Youri Tielemans' pass and found Harry Kane, Harry threaded the perfect pass through to Bergwijn and he made no mistake, skipping around Kasper Schmeichel before finishing off the far post, as Soyuncu sprinted to cover the near. Cue absolute scenes in the away end. What a comeback!
Watch it again and again - highlights
"This is a boy's dream, to turn around a game like this. I'm so happy," beamed Stevie pitchside at the KP. "It was a fantastic game. We played really well and deserved it. We created a lot of chances."
It was pointed out to Stevie that the key to the win was the reaction to the equaliser. Only seconds were left, but Stevie and then Harry grabbed the ball from the net and sprinted back for the restart, hoping for that one final chance. Thanks to Pierre's interception and Harry's pass, it arrived at Stevie's feet, and he did the rest.
"When we scored for 2-2, we didn't celebrate, we grabbed the ball and wanted to go for the 3-2," added Steven. "And... it happened!"
What was he thinking went he went through on Schmeichel? "Nothing - just score. It was all natural. I saw the space, went around him and then, you have to hit the target. I saw him (Soyuncu) running to the first post, so I tried to hit the second post. Fantastic scenes afterwards, fantastic."
It felt like more than a win, not just the nature of the victory, but what it does for the Premier League standings - we're a point behind West Ham in fourth, with three games in hand. We're also eight behind Chelsea in third, with four games in hand on the Blues. And where do we go on Sunday? Stamford Bridge...
"Yes, it's a massive win," added Stevie. "We have games in hand and from now, we need to work hard and take it game by game." Could he do it again at the Bridge this weekend? "I'll do my best!" he smiled.
Stevie on Spurs TV