Dele: "It's a process, and we believe in it"
@SpursOfficial
Fri 01 October 2021, 15:00|
Tottenham Hotspur
Dele delivered on the pitch against NS Mura - and off it, with an honest, heartfelt interview with Spurs TV after the 5-1 victory at Tottenham Hotspur Stadium on Thursday evening.
A fast start was key as we looked to move on quickly from Sunday's derby defeat, and Dele was brought down by NS Mura goalkeeper Matko Obradovic for a penalty after just three minutes. Dele picked himself up and dispatched from the spot - making it two out of two this season - to get the ball rolling.
Giovani Lo Celso's fine finish soon made it 2-0 but the Slovenian champions responded in style with Ziga Kous' volley from 20 yards at the start of the second half. At 2-1, Nuno Espirito Santo introduced Harry Kane, Lucas Moura and Heung-Min Son and Harry racked up a 20-minute hat-trick to see us home 5-1.
Captain on a night where he became only the ninth player to reach 50-plus appearances in Europe for the Club, you could sense that Dele was still hurting from the events at the Emirates. Here's what he had to say, word for word...
Moving on
How important was it to bounce back from the derby loss?
Dele: "It was very important. Last weekend... I'm sure the fans felt it a lot but, believe me, the players felt it a lot more. We were devastated. We know we're going through a period where it's important we all stick together, the fans and the players. The coaching staff and players, we're building, we're working. The transition from last season, if anyone thought it was going to be magic and all slot into place, that's not the way it works. We've seen things we're happy with, we've seen things we're not happy with. We'll try to improve. Sometimes things take time, not too much time, we know that, and we want the fans to stay behind us. We're going to keep working, keep fighting and yes, we're building something, it was a good win tonight and we need to move on to the league now."
Fast start
You felt we needed a fast start, and Dele delivered after three minutes...
Dele: "In these games, you see the quality of their goal, you can have an off day, be 0-0 and they show a bit of quality like they did, and that could have been 1-0 to them, even at 2-1 it made us a little uncomfortable, but we made some good changes, and we finished the game off. In the end, it was a big performance from us, one that we needed, but as I said, we know we need to move it into the league."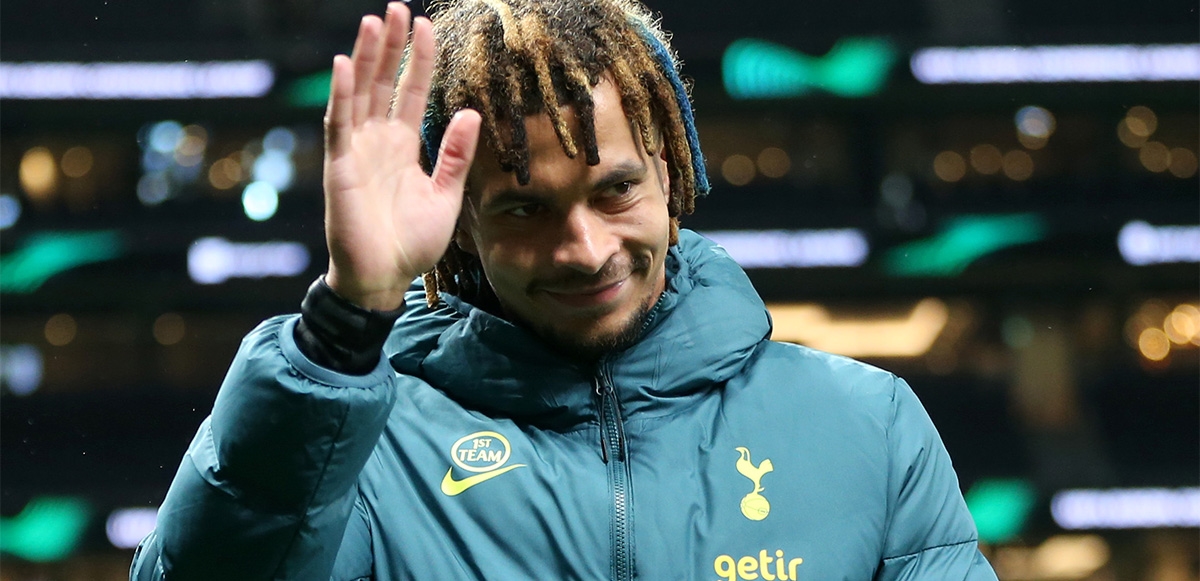 Those derby blues...
What was it like back at Hotspur Way in the early part of the week?
Dele: "I'm sure you can imagine. It's hard for us to take. Like I said, we know how much it hurt the fans but, believe me, it hurt the players just as much, if not more. For me, personally, being subbed at half-time as well, I've had a couple of sleepless nights, but we know what we have to do - we have to keep working and believe in the process. Everyone at the Club, players, fans, we have to believe in what we're doing. We'll keep working, keep fighting every day, keep trying to improve. After games like this, there are plenty of positives, but at the same time we know there are a lot of things that we need to work on, It's not going to be a click of the fingers and we'll be back to where we want to be. It's a process and as players, coaching staff, as a Club we believe in it, so we'll keep working, keep fighting and we move on."
Villa next
How important is it to now take this form into the Premier League against Villa on Sunday?
Dele: "There is no easy game in the Premier League, we know that. It's a game where we'll take the positives from this, look at what we need to improve on, even in the league, and give everything, 100 per cent, and try to get the win."
On the spot
Dele has taken - and scored - two penalties this season - should Harry Kane be worried?
Dele: "Myself and H, we speak about it, he will always be the first penalty taker - but if he has a little blip, I'm ready to slot in behind him!"
50 up in Europe for Dele
Meanwhile, Dele became only the ninth player to reach 50 appearances in Europe for the Club when he led the team out against NS Mura. Harry Kane tops both our European appearances (66) and goals (43) charts.
66 - Harry Kane
64 - Steve Perryman
63 - Hugo Lloris
58 - Aaron Lennon
56 - Jan Vertonghen
55 - Ben Davies
51 - Christian Eriksen, Heung-Min Son
50 - Dele
49 - Erik Lamela
46 - Eric Dier
45 - Mousa Dembele
42 - Toby Alderweireld
41 - Gareth Bale
45 - Michael Dawson
42 - Harry Winks
Dele on Spurs TV