Jubril's joy at promotion experience
@SpursOfficial
Mon 31 May 2021, 12:22|
Tottenham Hotspur
Young defender Jubril Okedina feels he's matured as a player and a person after a storied season that began with a place in our first team squad, saw him named captain of our Under-23s and ended with him winning promotion at loan club Cambridge United.
On our senior bench for the first time ever in last September's pre-season friendly at Watford, the 20-year-old enjoyed a solid first half of the campaign with the Development Squad – becoming skipper and scoring some important goals for Wayne Burnett's side – before enjoying his first taste of league football with a fruitful loan spell at the Abbey Stadium from January onwards, culminating with the U's securing their spot in League One with a 3-0 home win over Grimsby Town on the final day.
Having played 15 games for Mark Bonner's side, 14 in League Two, Jubril feels he's benefitted hugely from his experiences this term.
"We finished second and secured promotion on the last day against Grimsby – it was almost like I couldn't believe that I was part of a situation like that, something that I used to watch on TV, getting promotion… it's not something people of my age usually achieve, so I was super excited and I just wanted to take everything in," said the Academy product, who primarily featured at centre-back for Cambridge after playing right-back on his debut against Oxford United in the EFL Trophy.
"As we got towards the end of the season, you could tell that everyone was excited, nerves started to kick in – it wasn't just the players, you could feel it everywhere. Some of us were thinking that we just wanted to get it done now and get over the line, but the coach settled us down and he broke up the games for us so we could think less about the finishing line and just think about each game as it came.
"Funnily enough, sitting on the bench for the first few games in January helped me because I could at least see what the players were like in the changing room, watch their style of play and I just reflected on all the good things that they did. Once I got into the team, I felt confident because I'm used to playing centre-back, so I just did what I would usually do when I play for the Under-23s and tried to amp it up. I was really pumped up for my league debut against Crawley, so I just took everything in my stride really.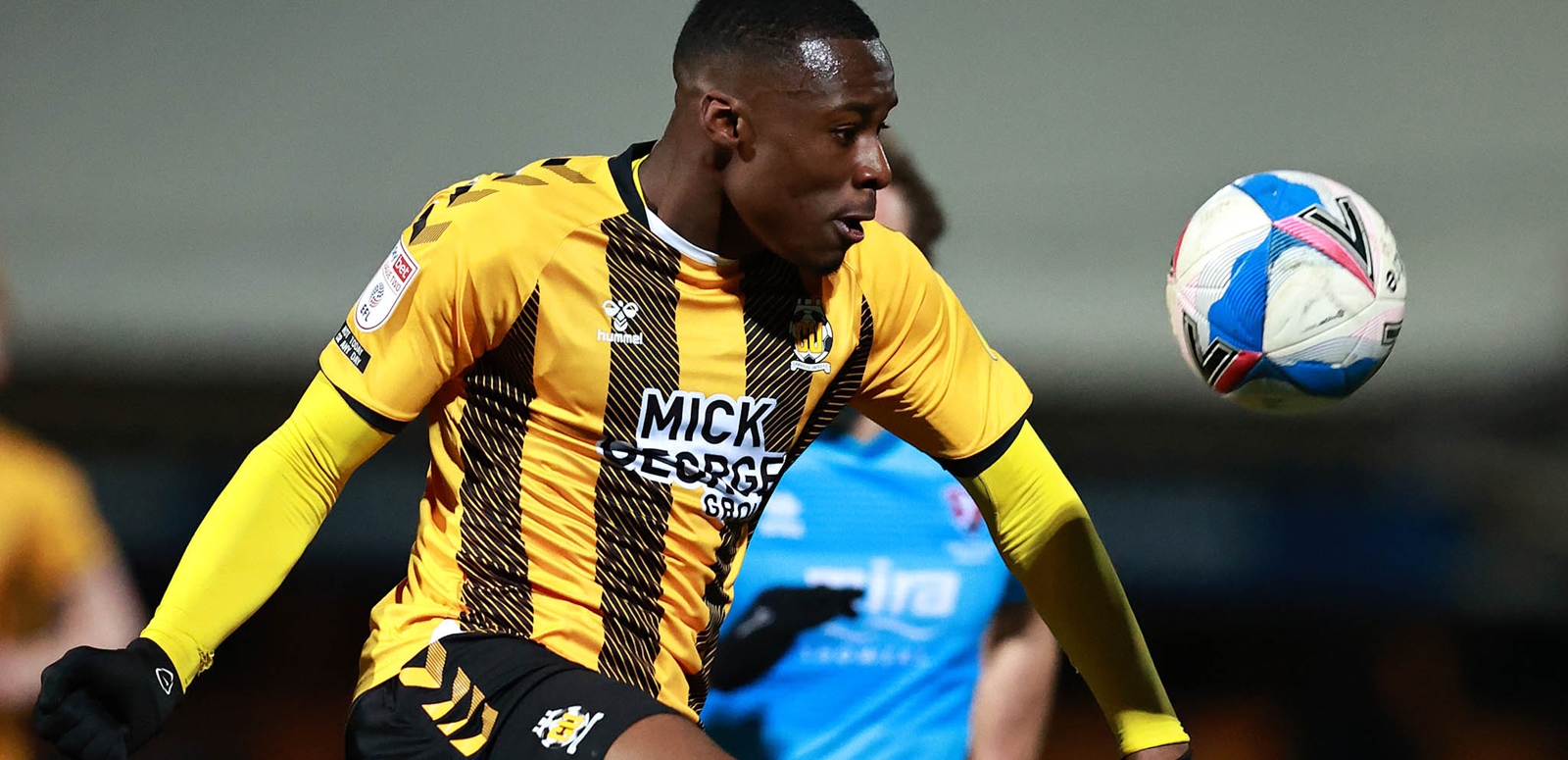 "I'd say the main difference I noticed playing men's football compared to Under-23s was that the teams are more solid. Some of the pitches aren't as great so you can't take as many risks as you would in a Premier League 2 game and you know that everyone is really determined to get the three points as well, so the risks that you would normally take in an Under-23 game, you can't really take. You've got to play less for yourself and more for the team."
After his initial exposure to a first team matchday environment in our friendly at Watford last summer, Jubril continued to make progress in our Development Squad during the first half of the campaign, playing 11 games and scoring three goals at that level, including two in a memorable 4-3 victory at Liverpool in December, where Jack Clarke scored a last-gasp winner.
"As I kept going in those early parts of the season, I was wondering what else I could look to improve on and I thought that maybe I could chip in with a few headed goals – the practice paid off because I ended up scoring a few!" reflected Jubril. "Luckily Wayne made me captain as well and that just gave me a lot of confidence to keep going. I'd wanted to become more vocal within the group, I wasn't the most vocal but I think I improved during the season and luckily Wayne saw that, he saw characteristics in me to lead the team. It did come as a surprise at first but I wasn't completely shocked as I felt I could do it.
"Then January came along, I was looking for a loan and I'm grateful that Cambridge picked me. Initially I was nervous when I went there but I knew what I could do and I just wanted to show everything that I'd learned over the course of my time at Spurs, to show what I can do as a professional footballer.
"To win promotion at the end of it, I was just happy. It's something to celebrate but it makes me want to have more moments like that in the future. Really, I just want to thank everyone at Cambridge, from the owner to the fans, the gaffer and the players for welcoming me and giving me my first steps in professional football, and giving me the opportunity that a couple of years ago I never would have thought I would have got by now. I'm just grateful to them for believing in me, welcoming me and helping me."