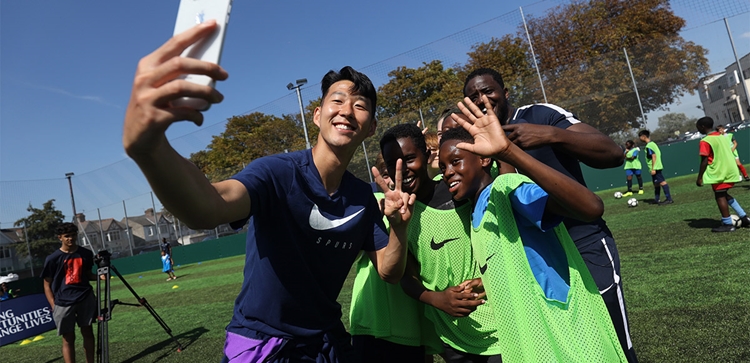 #SpursPreSeason - Club announces plans for fans this summer
@SpursOfficial
Wed 07 July 2021, 15:30|
Tottenham Hotspur
• Club to deliver a programme of engagement and activities for our fans across the UK during pre-season
• Free live stream of first three pre-season friendlies via Spurs TV
• Open training session for fans at Tottenham Hotspur Stadium on Saturday 31 July*
• UK Official Supporters' Club members 5-a-side football tournament and a Legends' evening with Ledley King and Gary Mabbutt
• Player Development Coaches virtual training session for One Hotspur Junior Members
• Exclusive video content featuring players and additional events, across our digital platforms - hashtag #SpursPreSeason
The Club will be staying at home this pre-season and taking the opportunity to deliver an exciting programme of engagement and activities for our UK fans.
Subject to COVID-19 protocols, we plan to replicate a pre-season tour right here for our passionate fans at home.
Plans include:
• Our first three Men's pre-season friendlies live streamed for free on Spurs TV
• An open training session for fans to attend at Tottenham Hotspur Stadium on Saturday 31 July*
• A 5-a-side tournament and Legends' evening with Ledley King and Gary Mabbutt for UK Official Supporters' Club members
• A virtual training session for One Hotspur Junior Members, led by our expert Player Development Coaches
• Exclusive behind-the-scenes footage and fun features, featuring Men's and Women's players, across our digital platforms
• Men's and Women's players visiting local communities and supporting good causes
Pre-season friendlies
We are delighted to announce that we shall be live streaming our first three Men's pre-season friendlies on Spurs TV for free. Further details on how to stream the matches will follow.
This is the perfect chance for our fans to see how the team is shaping up in the first games of Nuno Espirito Santo's reign.
Our first three pre-season matches have now been confirmed as follows:
• Leyton Orient (a), Saturday 17 July, KO 15:00
• Colchester United (a), Wednesday 21 July, KO 19:45
• MK Dons (a), Wednesday 28 July, KO 19:45
We shall also be taking on Chelsea away (Wednesday 4 August) and Arsenal at home (Sunday 8 August) as part of The Mind Series - raising vital funds and awareness for the UK's leading mental health charity, as well as our own Foundation. Broadcast and ticketing details on both of these matches will follow.
Open Training
We are excited to bring fans the first open training session to be held at our new stadium - giving fans the chance to watch our players being put through their paces by the new coaching team ahead of the season.
The Open training session will provide an opportunity for many fans to re-familiarise themselves with the stadium ahead of returning for matches.
Details on tickets for the event will follow in due course.
Official Supporters' Club Day
If you are a member of one of our UK-based Official Supporters' Clubs, Friday 6 August* is a date you need in your diary.
For years, we have loved delivering special activations for the Official Supporters' Clubs based in the cities we have visited on tour overseas - now it's time for our UK clubs to take advantage.
We shall be holding a 5-a-side tournament during the day to find out which club can match their fantastic support with performances on the pitch!
Then, in the evening, Supporters' Club members will be invited to the stadium for an evening in the company of legendary former captains, Ledley King and Gary Mabbutt.
The pair will be taking part in a live Q&A followed by an autograph signing session - start getting your questions ready!
UK Supporters' Club chairpersons will be contacted via email with details on how they can sign their clubs up for the events.
Find out how you can join your nearest Supporters' Club.
Train like a pro
We shall be offering our One Hotspur Junior Members an exclusive chance to join an hour-long virtual training session being delivered by our Player Development Programme coaches.
Our team of highly-qualified coaches will deliver the session based on the methods used within the Club's Academy.
You will get a unique insight into what life is like for a young player at Spurs, while developing your football skills and technique in a fun and engaging way.
The parents of our Junior Members will shortly be receiving an email with details on when the session will be taking place and how they can sign their child up.
Become a One Hotspur Junior Member today.

Throughout pre-season, our Player Development Programme will be going on the road, with sample sessions being delivered with youth football clubs in East London, Colchester and Milton Keynes – in line with our pre-season fixtures - as part of our wider talent ID pathway.
There will also be football skills zones set up at the stadium for our open training event and Arsenal home friendly for younger fans attending to get involved in.
Exclusive content
We'll be keeping fans engaged throughout pre-season with regular video content from behind-the- scenes at Hotspur Way and across all our off-field activations.
This will include exclusive interviews, fun features, training footage and coverage of Men's and Women's players out and about in the communities we are visiting, supporting good causes and meeting fans.
Use the hashtag #SpursPreSeason across Twitter, Facebook, Instagram and YouTube to make sure you don't miss a moment of our pre-season campaign in 2021.
*Dates subject to change