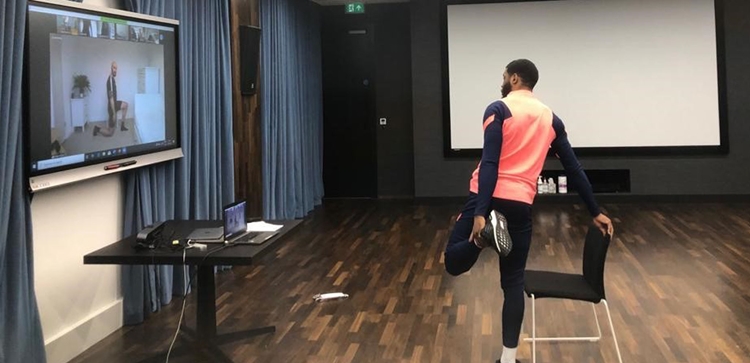 Shape up with Japhet!
Defender joins local residents for virtual exercise class
@SpursOfficial
Mon 18 January 2021, 16:06|
Tottenham Hotspur
Japhet Tanganga appeared as a special guest at a virtual exercise class with the Tottenham Hotspur Foundation.
Due to the current circumstances, sessions are unable to take place in person. Instead, Japhet took part in a video call for a stretch recovery session with participants from two of the Foundation's projects:
- Shape Up With Spurs: A free programme delivered at community centres within the Tottenham area to promote health and wellbeing amongst local residents.
- Move4You: A physical activity programme for patients who have been diagnosed with cancer.
During the session, the group had the chance to hear Japhet's thoughts on the importance of community during lockdown, as well as getting to ask him some questions of their own.
Katrina Heal, Foundation project manager, said: "Tottenham Hotspur Foundation is supporting our community to stay active through Shape Up With Spurs and Move4You. The sessions delivered aim to support everyone to be physically active, keep moving and maintain positive wellbeing. Being physically active as we know has many positive health and wellbeing benefits – during this time it is particularly important that we look after ourselves. The sessions not only provide physical benefits but also an opportunity to bring people together, supporting our mental health and wellbeing."
During the session, one participant commented: "I came to the Foundation after illness and it's been fantastic. Particularly during lockdown, it sets a programme for the week – there are so many classes that you can join, and it's helped me personally to create structure."
Another participant added: "A friend of mine recommended to join Shape Up With Spurs during the lockdown and it has been wonderful. I've enjoyed the community and it's great to be fit and able to keep up with the exercises."
Speaking after the session, Japhet said: "It was great to join the Tottenham Hotspur Foundation to deliver a virtual exercise class for local people. The Foundation are doing excellent work by continuing to offer classes virtually throughout lockdown, helping to keep communities supported. Staying active is really important and hopefully through these classes, we can encourage people to join in and feel connected."
To find out more about projects currently available at Tottenham Hotspur Foundation during the pandemic, and to register, please visit our Passionate About Tottenham web page.