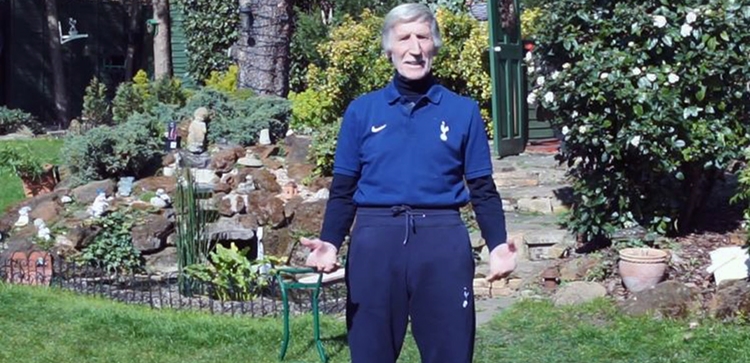 Fitness special with legend Cliff, 85
@SpursOfficial
Thu 09 April 2020, 13:22|
Tottenham Hotspur
Fitness has always been a huge part of Cliff Jones' life, and now he's shared some of the daily exercises that continue to keep him in tip top shape – at the age of 85.
One of the Club's all-time greats – double winner, 378 appearances, fifth on our all-time goalscoring list (159) – Cliff joined us from Swansea back in 1958 and played a huge part in the glory, glory years under Bill Nicholson in the early 1960s.
Cliff, who turned 85 last month, has always emphasised the importance of fitness, and how Bill was ahead of his time in terms of techniques that kept his great squad in peak form over the best part of four years.
A key moment in all this – our tour of Russia in the summer of 1959.
"We went to the Bolshoi Ballet, an amazing experience," Cliff recalled. "Bill told us we were going out, we all asked where we were going, and he said, 'the Bolshoi Ballet'! We said 'you've got to be joking' - we thought the British Embassy Club would have been far better!
"But we were all taken by the extreme fitness and brilliance of these ballet dancers. Bill was so impressed, he wanted to find out more, and how they became so fit. He made enquiries and a lot of it was down to weight training, so when we got back to London, Bill sought out a weight trainer called Bill Watson, who had been an Olympic weightlifter and had gone into weight training.
"We worked a great deal on our stomach muscles with Bill, and it gave us that extra bit of power to react. Bill was very forward thinking when it came to the game of football. That was very much a contributing factor in our success, to the extent that other teams could see our levels of fitness had gone up."
The rest is history as having finished a close third in 1959/60, we delivered the championship and FA Cup double in 1960/61, reached the semi-finals of the European Cup and retained the FA Cup in 1962 and made history by becoming the first British team to land a European trophy with our Cup Winners' Cup triumph in 1963.
Cliff played for us for 10 years in total, then moved to Fulham, before winding down his career in non-league circles and eventually becoming a sports instructor at Highbury Grove School in Islington.
Fitness and exercise have never been far away. "I've been very fortunate in that I've never put on weight," Cliff told us from home this week. "I'm more or less the same as when I was playing football.
"Also, having retired from football, I was then a sports instructor, so I had to keep a bit fit as I was surrounded by Arsenal supporters in Islington!
"I've just continued to keep myself in a bit of shape. I never lose sight of the fact I was very fortunate to have done what I've done, and I've worked on it as well, I do exercise every day, religiously. That keeps me ticking over. I'm into my 80s now, I'm still able to get around the garden, play 18 holes of golf… I'm blessed, really."
Cliff's fitness video...