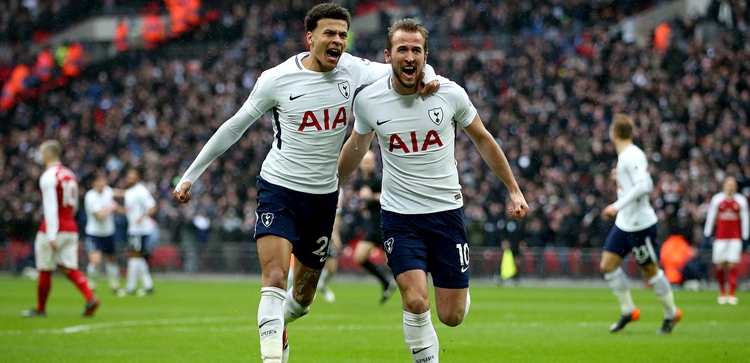 Harry Kane and our derby goalscorers
@SpursOfficial
Mon 02 September 2019, 18:49|
Tottenham Hotspur
Harry Kane reached another milestone after his 10th goal in the north London derby on Sunday.
The striker is now level with Bobby Smith and Emmanuel Adebayor in terms of goals scored in the fixture. Harry and Bobby are top of the Spurs list while all three top the all-time list from both teams - Emmanuel scored eight goals for Arsenal and two for us.
Suffice to say, one more goal and Harry will be the all-time top goalscorer in the north London derby!
Academy graduate Harry, now England captain, scored his first derby goals to secure a 2-1 win at White Hart Lane on 7 February, 2015. He's scored his 10 goals in 12 derby appearances.
Twice Golden Boot winner in the Premier League and again at last summer's World Cup, Harry (167) is fourth in our all-time goalscoring list behind Martin Chivers (174), Bobby Smith (208) and Jimmy Greaves (266).
He's our record goalscorer in the Premier League (128) and in Europe (24) and the first and only Spur to score 20 goals in five-successive seasons.
Harry slotted home from the penalty spot to hand us a 2-0 lead in the Premier League clash at the Emirates on Sunday. Arsenal hit back for a 2-2 draw. He also hit the post in the second half when we led 2-1.
He told us afterwards: "It's a fixture I look forward to, one the Club looks forward to, the fans, for bragging rights, we know how much it means and it's always nice to get on the scoresheet. It would have felt a lot sweeter if we'd have won but it's an improvement on last week so we take it and now we look forward to Palace."
All-time derby goalscorers
10 - Harry Kane, Bobby Smith (both Spurs), Emmanuel Adebayor (8 for Arsenal, 2 for Spurs)
8 - Robert Pires, Alan Sunderland (both Arsenal)
7 - Alan Gilzean, Jimmy Greaves (both Spurs), David Herd, John Radford (both Arsenal)
Spurs - all-time derby goalscorers
10 - Harry Kane, Bobby Smith
7 - Alan Gilzean, Jimmy Greaves
6 - Les Allen, Steve Archibald, Cliff Jones
5 - Gareth Bale, Martin Chivers, Robbie Keane, Billy Minter