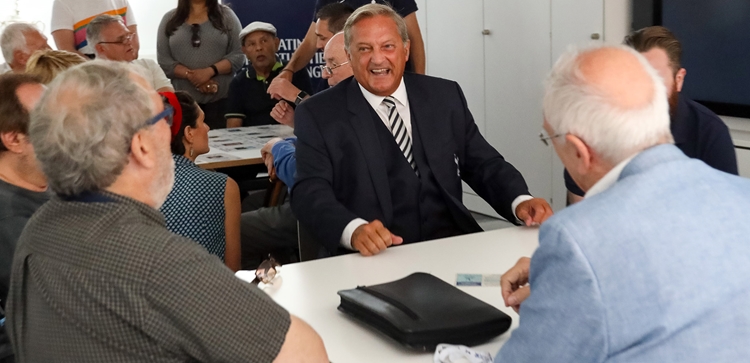 Foundation delivers Sporting Memories session for local residents
@SpursOfficial
Tue 03 September 2019, 13:05|
Tottenham Hotspur
Club Ambassador, Gary Mabbutt, visited Percy House, the home of Tottenham Hotspur Foundation, to join a Sporting Memories workshop for elderly people from Haringey who have dementia.
The programme, which is run in partnership with The Sporting Memories Foundation - a national charity that helps tackle dementia, depression and loneliness - uses sport themed activities and games to help people living with dementia recall memories and connect with their past.
Mabbutt joined participants as they looked through old memorabilia from the Club's archive including the FA Cup, which we won in 1991 under Mabbutt's captaincy, matchday programmes from the 1980s and 1990s, old gate books, newspaper articles and original football cartoons.
Staff from Tottenham Hotspur Foundation also facilitated a series of football themed games which were designed to help the elderly people try to recall past memories of watching or playing football.
In addition to Sporting Memories workshops, Tottenham Hotspur Foundation supports older people in the Club's local community by delivering seated exercise sessions in care homes and walking football for people aged 50 and over.
Gary said: "My parents were both diagnosed with dementia. The Club does so much work with youngsters, but people are getting older and it's our responsibility to help them too. I know from my personal experience how important it is to keep the brains alert of those living with dementia. Sport is so important to so many people and can trigger all sorts of memories. It can bring the generations together too."
To learn more about what Tottenham Hotspur is delivering on its doorstep, download the Spurs Official App or visit tottenhamhotspur.com/passionate-about-tottenham