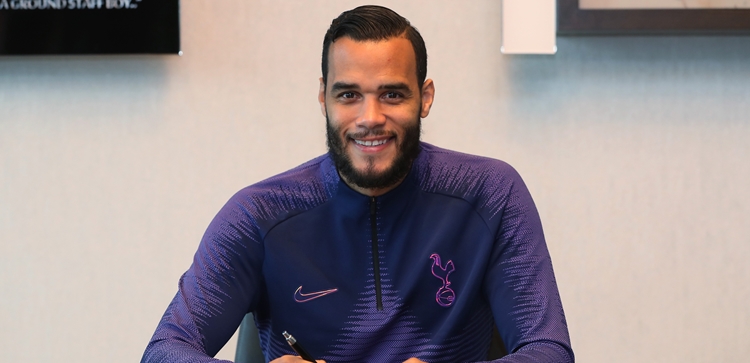 Returning Vorm: 'Now is the time to stand up and do this as a group'
@SpursOfficial
Mon 14 October 2019, 18:38|
Tottenham Hotspur
Back in London with nothing but a car and a pair of goalie gloves, Michel Vorm feels like he's "home", having returned for a second spell in our colours to bolster our ranks in the goalkeeping department.
With us for five years between summer 2014 and the end of last season, the 35-year-old moved back to his homeland of the Netherlands following his departure from the Club.
But little did he know as he settled down in his living room to watch our visit to Brighton & Hove Albion on television the weekend before last that he'd soon be getting on a plane to resume his old life in north London...
Michel – welcome back!
"Thank you, it's good to be back. I'm very pleased, happy to be back. It's easy in a way – nothing really changes. I know most of the players, the staff obviously and everyone who is working here. I've been here for five seasons already so for me, it's just coming home. Obviously I'm not up to game fitness yet so in that part we need to improve a bit, but I feel good."
Where were you when Hugo Lloris got injured at Brighton?
"I was watching the game, at home in Holland. Obviously I saw straight away that he had a bad injury and at the time I thought about how bad it was. After the game I spoke with Jan (Vertonghen), he told me what was going on and I spoke also with Toni (Jimenez, our goalkeeping coach) and, yes, during the week I got the phone call to ask if I was open to come back and help out. I've kept in contact with a lot of the players and also with Toni. We were speaking quite regularly and on Thursday he called me, we had the conversation and from there on, it went very quickly."
You've always been someone who champions squad morale. How important is team spirit and togetherness at the moment as we try to move on from some disappointing results?
"Very important. At the end, we need to do it all together – we need everyone. It's easy to get into a negative situation but we need to stay positive and do this all together. With the quality we have and with the new signings we made over the summer, I think the squad is stronger than ever. If you can keep the positive vibe, the right energy and make sure that we do this together, it won't be a problem. The season is long as well, so don't forget that there are a lot of points to win. It's quite tight but a lot of things can happen and we've seen, last season in particular, what we're capable of in different situations. Now is the right time to stand up and do this as a group."
You've worked with Paulo Gazzaniga since 2017. What can you say about him?
"I saw his quality from the beginning. He's a good lad and he's also a guy who has a good, strong mentality. He will bring good energy with him and I'm 100 per cent sure that he will do a great job. I spoke with him yesterday, he's happy that I'm back and I'm happy to see him in a bit – we're just going to catch up like nothing has happened really, so it's all good."
How has life been treating you since we last saw you in Madrid four-and-a-half months ago?
"Different! Obviously I've been without a club for a few months and I've never been in this situation before but I've learned a lot, also spending time with the family and being around different things, not only football. When you're a bit older like me, you appreciate these kinds of moments much more. I also maintained my fitness but I enjoyed my life – my other life – and that's something that I haven't had for 20-plus years. It was different but it was positive, a good experience, but at the end of the day you're still a football player and for me now, being back here, it feels like 'let's go again.'"