'Special feeling' - Kane on record and our latest Euro stats
@SpursOfficial
Wed 06 March 2019, 16:40|
Tottenham Hotspur
Harry Kane imagined Jermain Defoe 'with a smile on his face' after overtaking our legendary former hitman to become the Club's all-time record goalscorer in European football.
The striker scored his 24th goal in European competition and a decisive one to beat Borussia Dortmund 1-0 in our Champions League Round of 16, second leg at Signal Iduna Park on Tuesday night. It means we progress in style into the quarter-finals for the third time in our history with a 4-0 aggregate victory over the Bundesliga leaders.
Already fourth on our all-time goalscoring list with 163 goals in 248 appearances in all competitions at the age of 25, Academy graduate Harry's first competitive goal for Spurs was in Europe against Shamrock Rovers in the group stage of the Europa League back in December, 2011.
He moved ahead of all-time great Martin Chivers (22) and level with Jermain (23) with both goals in a crucial 2-1 win against PSV in the group stage in November. That win, followed by another late victory against Inter and then a late draw at Barcelona took us from having one point after three games into the last 16.
"It's great," said Harry on breaking the record. "I remember when Jermain Defoe broke the record a few years ago now (he did it in 2013/14). I'm sure he'll have a little smile on his face. To do it for this Club is a special feeling."
As for the second leg, we soaked up BVB's relentless pressure in the first half thanks to a huge defensive display led by Hugo Lloris, who made three vital saves including a world-class fingertip away to deny Mario Gotze.
Harry then showed how it should be done with a clinical finish from his only chance. That made it 4-0 on aggregate, job done and we professionally saw the game out in the final 40 minutes.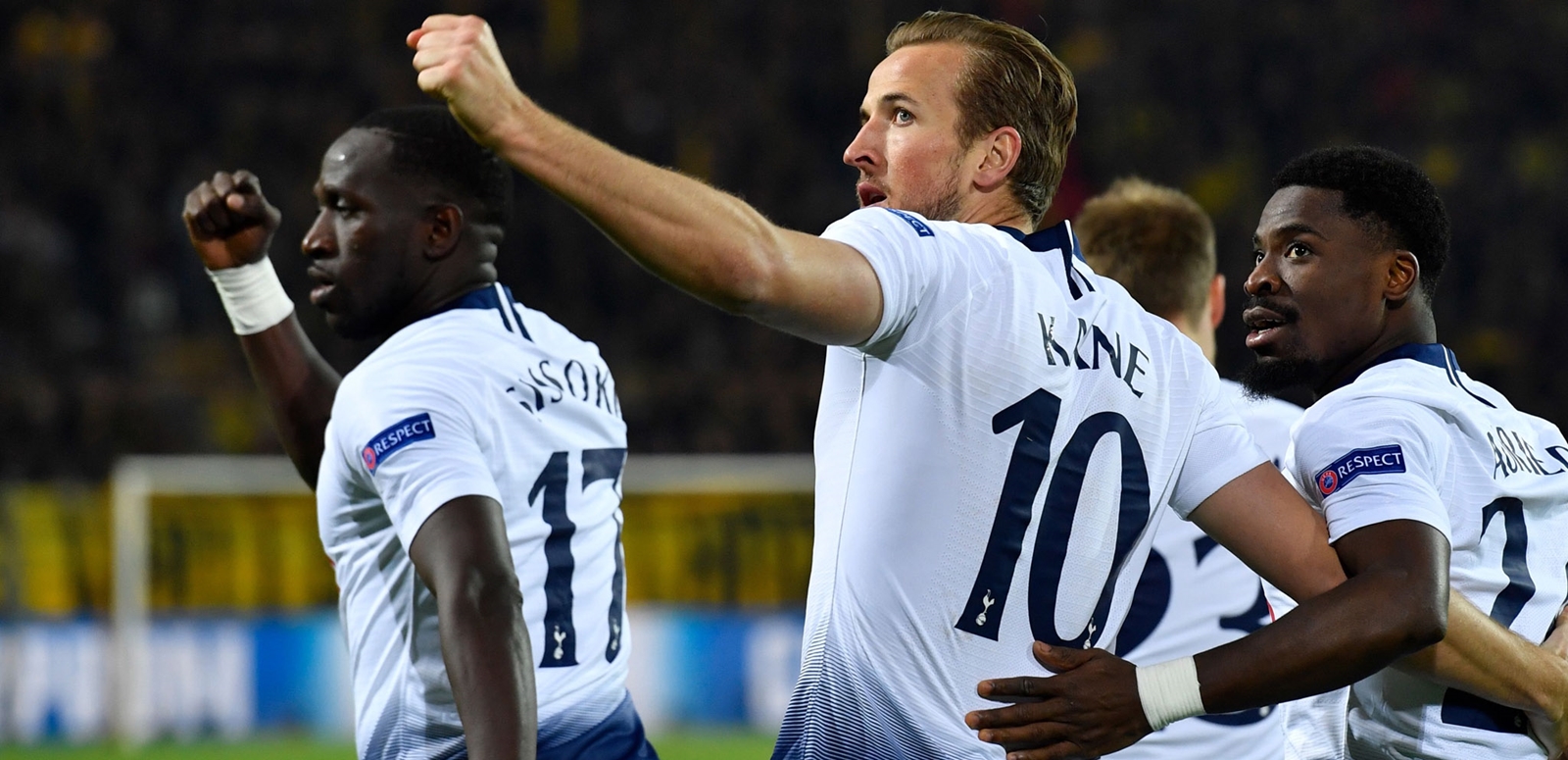 "It's massive, a big team effort," said Harry. "It was a tough game, they put a lot of pressure on in the first half and we needed to stay strong. Hugo made some big saves, there were big blocks from the defence as well. At half-time we said to pick up the energy a bit more and if we get a chance, take it. Thankfully we did that.
"It was a mature performance. Playing away from home in the Champions League is never easy. We did what we had to do and got the job done. We should be very proud and we want to keep pushing - we'll see who we get in the quarter-finals."
The draw for both the quarter-finals and semi-finals of the Champions League is on Friday week, 15 March.
Harry Kane's European goals
1 - Shamrock Rovers A (Europa League) - 15/12/11
First goal for the Club
2 - AEL A (EL) - 21/8/14
3 - AEL H (EL) - 28/8/14
4 - Besiktas H (EL) - 2/10/14
5, 6, 7 - Asteras Tripolis H (EL) - 23/10/14
First hat-trick for Spurs
8 - Asteras Tripolis A (EL) - 6/11/14
9 - Anderlecht H (EL) - 5/11/15
10 - Qarabag A (EL) - 26/11/15
11 - Monaco A (Champions League) - 22/11/16
First goal in Champions League
12 - CSKA H (CL) - 7/12/16
13, 14 - Borussia Dortmund H (CL) - 13/9/17
15, 16, 17 - APOEL A (CL) - 26/9/17
First hat-trick in Champions League
18 - Borussia Dortmund A (CL) - 21/11/17
19 - Juventus A (CL) - 13/2/18
20 - Barcelona H (CL) - 3/10/18
21 - PSV A (CL) - 24/10/18
22, 23 - PSV H (CL) - 6/11/18
Level with Jermain Defoe
24 - Borussia Dortmund A (CL) - 5/3/19
Record European goalscorer
All-time European goalscorers
10-plus goals
24 - Harry Kane
23 - Jermain Defoe
22 - Martin Chivers
13 - Mark Falco, Alan Gilzean, Martin Peters
12 - Dimitar Berbatov
10 - Bobby Smith, Erik Lamela
All-time European appearances
25-plus appearances
64 - Steve Perryman
58 - Aaron Lennon
49 - Hugo Lloris
48 - Harry Kane, Jan Vertonghen
44 - Mousa Dembele
41 - Christian Eriksen
36 - Pat Jennings
35 - Michael Dawson, Jermain Defoe, Mike England, Erik Lamela
34 - Tom Huddlestone
33 - Ben Davies
32 - Martin Chivers, Eric Dier, Martin Peters
31 - Gareth Bale
30 - Phil Beal, Chris Hughton, Cyril Knowles, Heung-Min Son
28 - Benoit Assou-Ekotto, Alan Gilzean
27 - Ray Clemence
26 - Toby Alderweireld, Ralph Coates, Graham Roberts, Didier Zokora
25 - Dele Alli, Ray Evans, Mark Falco, Tony Galvin, Jermaine Jenas, Gary Mabbutt, John Pratt, Andros Townsend