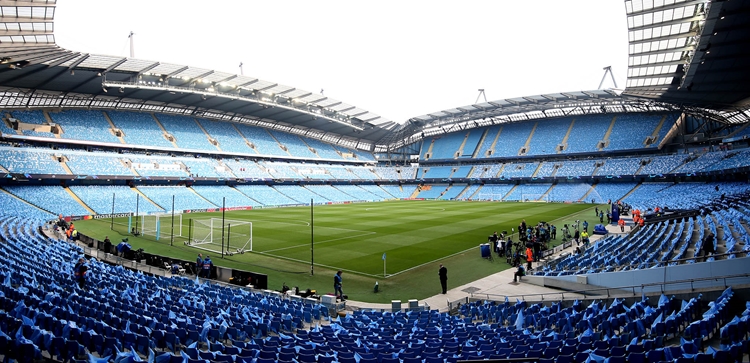 Information for fans travelling to City
@SpursOfficial
Thu 15 August 2019, 15:22|
Tottenham Hotspur
Manchester City have provided a guide and key points for our supporters making the trip to the Etihad Stadium for Saturday's Premier League match.
A reminder that we kick-off at 5.30pm.
Spurs fans are advised to arrived at the stadium no later than 4.30pm on Saturday.
City's guide for visiting fans is HERE and they have highlighted key points for our fans below...
Security
Bags are not allowed in the visiting section of the stadium. There is no storage facility available. Should a supporter need to bring medicines or specific food for dietary requirements, contact our Access Team who will arrange - access@tottenhamhotspur.com.
With safety and security measures of paramount importance, City ask supporters to:
• Be vigilant at all times and if you see anything suspicious, tell a steward right away
• If you see anything that could pose an immediate threat to safety, call 999
• In an emergency, listen to the Public Address instructions and follow them
• If told to evacuate, do so immediately
• Do not place yourself in danger by filming events on mobile devices
• Move right away from the stadium as quickly as possible for your safety and to allow clear access for any emergency vehicles
• Once you are safe, follow the local police force on Twitter for news updates on the situation
Travelling to the stadium
The stadium postcode for satellite navigation is M11 3FF.
Major roadworks are currently taking place on the Manchester Salford Inner Relief Road - the highway will be reduced from two lanes in each direction to one. There will also be an overnight closure on the M60 between junctions 10 and 12 clockwise. Please allow extra time and plan your journey in advance.
Further information on the Etihad Campus Metrolink and buses that alight immediately outside the Etihad Stadium along with car park details, are HERE. Coach and minibus parking at the stadium is free of charge. For directions and stadium maps please click HERE.
Pubs in the local vicinity of the stadium are generally used by home supporters. City ask for your co-operation both in and around the local community and that you are respectful of the surrounding residential areas. Drinking is not allowed in public areas across Greater Manchester. Greater Manchester Police will be in the city centre and around the stadium throughout the day to assist with any questions or to provide directions around the city centre. Any visiting supporter without a valid match ticket is advised not to travel, or if you do, please remain in Manchester city centre to watch the match.
A note to supporters travelling by rail - the last train out of Manchester Picadilly to London Euston on Saturday evening is 8.35pm.
Train times/planner via National Rail...
Supporter meeting point
There is no official visitors' supporter meeting point in Manchester city centre, however the National Football Museum welcomes all football supporters to experience the world's greatest football collection - over 140,000 items - including the FIFA Collection. There is a cafe and it is adjacent to many other restaurants and bars for your enjoyment.
Children under 14 must be accompanied by an adult (over 18) when attending a match at the Etihad Stadium. You are advised to carry photo ID to prevent any issues entering the stadium.
It is important that you have purchased, and are in possession of, the correct ticket and that it is activated to allow you access into the stadium. Failure to be in possession of the correct ticket may result in the payment of an upgrade fee or in some circumstances; you may not be able to enter the stadium. Manchester City accepts no liability for tickets purchased through unofficial channels.
City's Event Supporter Services Team will be located outside the visitors' end. They will endeavour to resolve any issues at this point but there may be occasions where you will be directed to the South Stand Ticket Office.
Visiting supporter stadium access
To ensure that you enter the stadium via the correct entrances, there will be ticket and security checks upon arrival. Depending on seat location, use the following entrances:
• Entrance L1 is for visiting supporters located on Level 1
• Entrance L2 is for visiting supporters located on Level 2
• Entrance L3 is for visiting supporters located on Level 3
Access information for disabled supporters is available HERE...
Flags on Level 2
An LED display is installed on the second tier of the Etihad Stadium to enhance the matchday experience for fans inside the stadium. This means it is not possible to hang flags over Level 2.
Code of conduct
If you ever witness crime, vandalism, violence, drugs, the use of smoke bombs and pyrotechnics or abusive behaviour from home or visiting supporters, inside or outside the Etihad Stadium, make contact with a steward as soon as you can and report your concerns. Visiting supporters must be seated in the visitors' section of the stadium, all other areas are for home supporters only. Persistent standing is not allowed during the match and you are asked to remain in the designated block at full-time until leaving the stadium. The pitch area should not be entered at any time.
After the match - Metrolink access
Due to external segregation after the match, Spurs fans will not be able to turn left towards the Etihad Campus Metrolink stop. You will be directed around the stadium. Both Holt Town and Velopark stops - the Metrolink stations on either side of the Etihad Campus - will not be operational for at least an hour after each the match. The consumption of alcohol is not permitted on Metrolink trams.
To keep up to date with the latest Etihad Stadium matchday information, follow @ManCityHelp.
You can call the Manchester City Supporter Services Team on +44 (0)161 444 1894 (option 1).