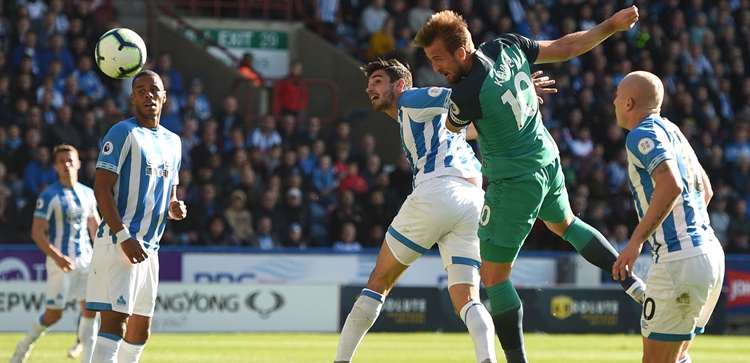 Harry and our all-time top goalscorers
@SpursOfficial
Sun 30 September 2018, 09:47|
Tottenham Hotspur
Harry Kane's double to fire us to a 2-0 win at Huddersfield took him up to fifth place on his own in the Club's all-time goalscoring list.
Academy graduate Harry, 25, now has 145 goals in 221 appearances in all competitions since his debut in the Europa League back in 2011.
He drew level with Jermain Defoe in fifth by scoring his 143rd goal in our 2-1 win at Brighton last weekend.
World Cup Golden Boot winner and twice Premier League Golden Boot winner, Harry will now have Cliff Jones in his sights – the double-winning winger and all-time great scored 159 goals for us between 1958-68.
'I learned a lot from Jermain'
Harry was a raw youngster in the Academy determined to learn his trade when Jermain Defoe was banging in the goals for us.
"I used to watch Jermain finishing in training," he said. "We built a good relationship so to go ahead of him is a nice feeling. I used to watch him scoring goals week in, week out at White Hart Lane and away from home as well. Obviously he scored a lot of Premier League goals and hopefully I can just carry on and score some more."
Our '100 Club' and all-time top goalscorers
1 - Jimmy Greaves - 1961-70 - 266 goals in 379 appearances
2 - Bobby Smith - 1955-64 - 208/317
3 - Martin Chivers - 1968-76 - 174/367
4 - Cliff Jones - 1958-68 - 159/378
5 - HARRY KANE - 2011- 145/221
6 - Jermain Defoe - 2004-2014 - 143/363
7 - George Hunt - 1930-37 - 138/198
8 - Len Duquemin - 1947-57 - 134/307
9 - Alan Gilzean - 1964-74 - 133/439
10 - Teddy Sheringham - 1992-2003 - 124/277
11 - Robbie Keane - 2002-2011 - 122/306
12 - Les Bennett - 1946-54 - 117/294
13 - Jimmy Dimmock - 1919-31 - 112/438
14 - Glenn Hoddle - 1975-87 - 110/490
15 - Bert Bliss - 1912-22 - 104/215
16= - Billy Minter - 1908-19 - 101/263
16= - Johnny Morrison - 1933-39 - 101/154